Seeing pictures of the latest riots and upheaval in Egypt has brought back vivid memories of our most recent visit this past January.
It was only 11 months ago that both Pat, my co-host of "Grannies on Safari," and I arrived in Egypt for a 12-day adventure. This wasn't a typical "Grannies on Safari" trip, because we weren't there to shoot for our show, but instead we escorted a group of Americans to show them the sights and sounds of this beautiful country.
It was also a special trip for me because my husband came along! Since I travel a lot to shoot footage for our Grannies on Safari television series, my husband opts to not come along because, as he says, "it's too much work." So you can imagine my excitement when he agreed to go on this trip. I assured him that it was going to be easy and enjoyable, no worry, no fuss -- nothing but a real experience walking in the shoes of the Pharaohs. Well, the trip was historic, and a bit more than he, I, or our group bargained for.
The day after we arrived, the revolution began and we were in the thick of it, as our hotel was a few blocks away from Tahrir Square. We smelled the tear gas and saw the bloody protestors walk past us. The "Arab Spring" had begun in Egypt.
Egyptians, for the most part in Cairo, marched and demonstrated peacefully. We met many friendly and helpful Egyptians who protected us and made us feel as comfortable as possible given the revolution and uprising unfolding around us. We soon left Cairo for Alexandria and then Luxor and decided to wait it out. Luxor was the calmest of the three, but we could still feel the contagion of unrest.
Was it scary? Yes. Did we want to end our trip early? Yes. Since travel in and out of the country was paralyzed, we contacted the U.S. State Department to begin the process of outbound options. We also did several media interviews with American networks such as CNN, CBS and ABC to give our perspective on what was going on. We were glad to have done the media interviews since we were able to validate the mood on the streets and our experience as witnesses. Within a few days, we were evacuated safely by the U.S. government. After I arrived home, I couldn't escape the fact that the entire experience reminded me of the American Civil Rights Revolution in the way that the police and military supported the people.
Throughout this year, I have stayed in contact with two Egyptians since our January visit -- our young guide Michael, who as a Christian, was positive and upbeat about the future of the country, and my friend Manal, an Arab and a travel provider. I was concerned for their welfare but both told me it was better and safer in Egypt now, and we should come back. Manal wanted us to visit and bring our production crew to shoot two travel shows so that people outside the country could see how safe it was for tourists to return. We told her we would be happy to come back and to let us know when it was a good time to return.
You can imagine how surprised, disappointed, and upset I was when I saw the pictures of large crowds rioting and clashes taking place on the streets of Egypt all over again this week.
What I see now is nothing like what I experienced in January. People are dying and the police and military are on the other side killing and hurting people. It makes me sad and I worry for my friends. This beautiful and historical country, home to so many archeological artifacts and treasures is in turmoil and it seems like there are no easy answers.
I was hoping to visit Egypt next year and now that seems unlikely. I worry about Manal and Michael and for all the people of Egypt. I want them to know that my hopes for a resolution are with them. They can make their country work again and it will be people like my friends who will do it. I pray for you.
Regina FraserGrannies on SafariIn Chicago and Praying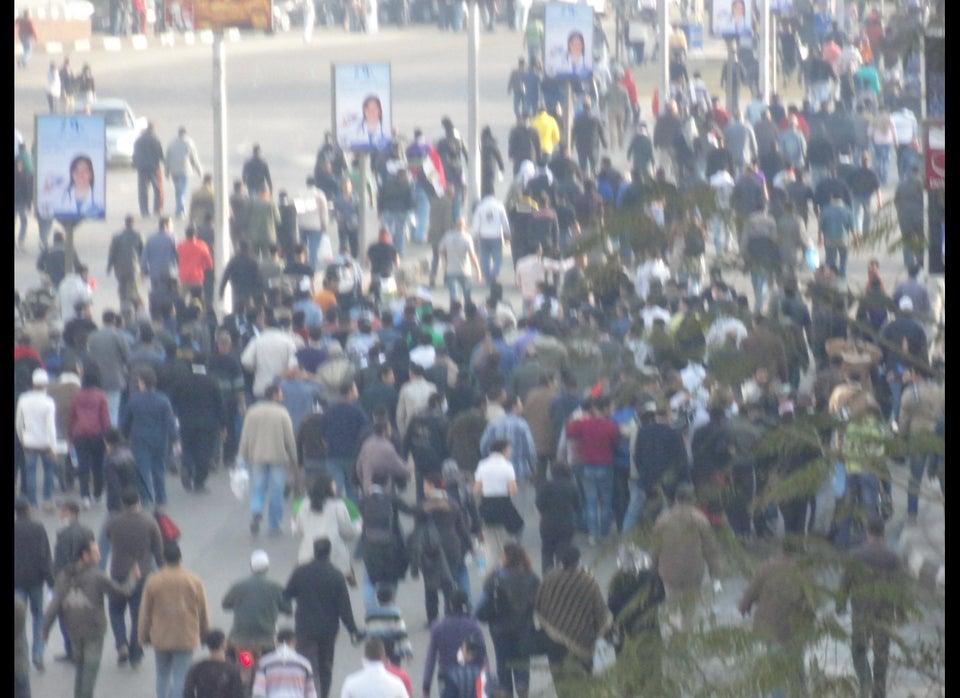 Egypt 11 months ago...
Popular in the Community