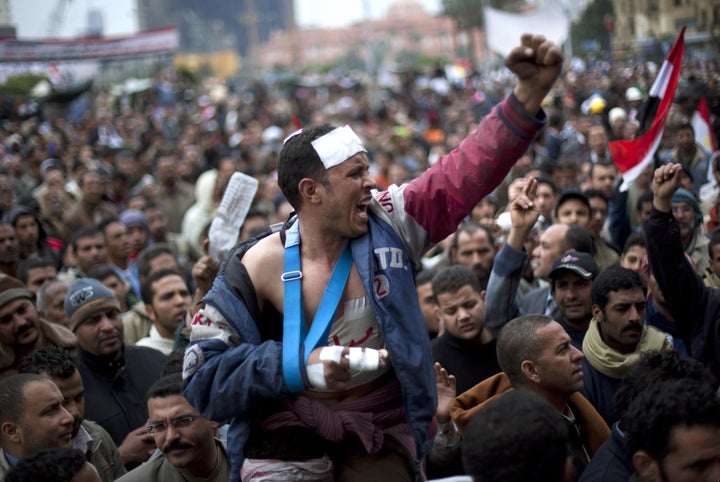 CAIRO - State TV says the top leadership body of Egypt's ruling party, including the president's son Gamal Mubarak and the party secretary-general Safwat el-Sharif, resigned Saturday in a new gesture apparently aimed at convincing anti-government protesters that the regime is serious about reform.
Protesters have shrugged off other concessions by the regime in the past 12 days of unprecedented street demonstrations, saying they will settle for nothing less than the immediate ouster of President Hosni Mubarak, Egypt's ruler for nearly 30 years.
State TV said the ruling party's six-member Steering Committee of the General Secretariat stepped down and was replaced. The council was the party's highest decision-making body, and el-Sharif and other outgoing members were some of the most powerful -- and to many Egyptians, unpopular -- political figures in the regime.
El-Sharif was replaced by Hossam Badrawi, a party figure who had been sidelined within its ranks in recent years because of his sharp criticisms of some policies.
The new appointments to the body were largely young figures, one of the replacements Mohammed Kamal told The Associated Press. "It's a good change. It reflects the mood of change that is sweeping the country," he said.
Gamal Mubarak, who was a member of the Steering Committee, was widely seen as being groomed by his father Hosni Mubarak to succeed him as president. But Vice President Omar Suleiman promised earlier in the week that Gamal would not run for president in elections due in September.
The younger Mubarak was also head of the party's powerful policies committee, where for the past decade he led a campaign of economic liberalization. State TV said Gamal was also removed from that post and replaced by Badrawi.
The announcement was greeted with scorn by some of the tens of thousands of protesters gathered in Cairo's Tahrir Square. Wael Khalil, a 45-year-old activist, said it would "reinforce their (protesters') resolve and increase their confidence because it shows that they are winning, and the regime is retreating inch by inch."
Have a tip you want to share? You can leave a message for HuffPost at 00-1-315-636-0962. If you know someone there and have email access, send us an email at egypt@huffingtonpost.com. Our Skype account is HuffPostReports.
Scroll down for the latest updates.
Related
Popular in the Community