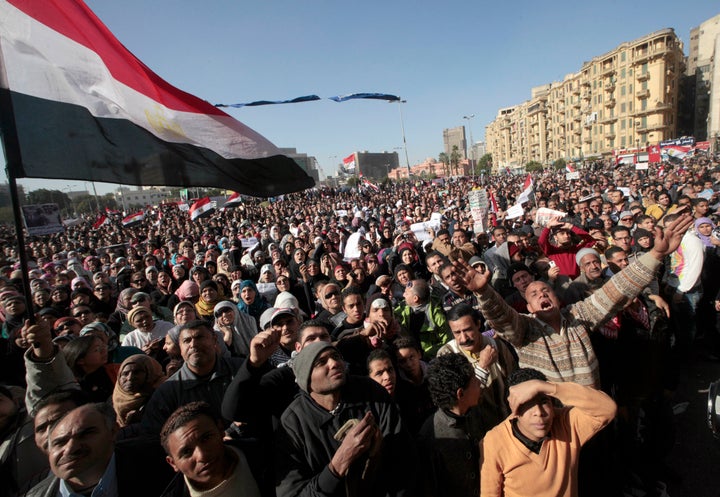 On the morning of February of 12th, the Egyptian national newspaper and the publication with the widest distribution in the Arab world, Al-Ahram, ran a headline over its banner declaring "The People have Toppled the Regime." For years, this government mouthpiece had been losing both credibility and readership. During the 18 days of protest that toppled Hosni Mubarak, Al-Ahram was reeling with confusion -- turbulently and confusingly reporting the uprising, using omission and vilification in equal measure. In a last-gasp attempt by the authorities to undermine the massive uprisings, all government media including the radio and television service which employ over 40,000 persons were replete with misinformation, disinformation, incitement, and fear-mongering. The end of the Mubarak era ushered in a feeling of media freedom and liberty, an expectation that government institutions would no longer participate in curtailing coverage. However, this has not materialized to date as state media have failed to reform. Instead, the ruling Supreme Council for the Armed Forces (SCAF) have created obstacles for the democratic process, stubbornly ignored the revolution's demands, ensured the revolution does not rule, and attempted to silence dissent against control, the state's media failed to put their record on the line or even ruffle a few feathers. During the numerous protests during the SCAF-led transition, most of which were highly critical of the military, the state media failed to relay any accusations leveled at SCAF. Instead, were walking on eggshells for fear of being accused of incitement against the military. This was particularly the case on March 9 when the military violently emptied Tahrir square of protesters, tortured some youth, and subjected the women among them to "virginity tests." None of these violations received airtime on state media.
The silence turned to complicity in the months that followed as state television and radio became again a player in the fabrication of evidence to absolve the military. On October 9, the military police attacked and killed 29 Coptic Christians protesters outside the radio and television building in Maspero, yet state media reported that the protesters themselves attacked and killed members of the armed forces. Press conferences by SCAF members denied any wrongdoing on the part of the military for such actions as running over protesters with armored vehicles. Similar treatment was given to two subsequent violent incidents, one in November near Tahrir where police forces killed over 40 protesters, and another in December at a sit-in before the Cabinet building which led to many deaths and became iconic for the attack and stripping of so-called "Tahrir girl." Following each of these incidents, SCAF gave a press conference dismissing any act of violence committed by their troops, and employing the state media as a platform to propagate their claims. However, these actions didn't go unnoticed. Some employees of state media have chosen to break from the mold and challenge authorities. One example in December, on the government radio's youth and sport program "Eye," hosts Hany Hathout and Nancy Mohammed were being investigated for incitement against the military because they took a two-minute call from the father of then-detained blogger Alaa Abdelfattah. As the term incitement features prominently on state media in reference to any coverage that might turn public opinion against SCAF, the military is gradually escalating the severity of its aggression against protesters both physically and rhetorically. Despite this, mutinies in the state media continue and many are demoted, fired, or have had charges brought against them. Yet, the pattern of dissent and punishment continues unabated. Where state media fails, private media excels. As government networks stubbornly crawl along in an attempt to rid themselves of the shackles of the Mubarak era and now-SCAF junta, the private satellite channels have emerged as the most significant players in Egypt's media scene. Talk-shows have become the dominant format as most Egyptians flip channels between competing talk-shows during primetime slots. The top players in this highly competitive are programs on Naguib Sawiris' channel ONTV which runs two extremely popular talkshows, Yousri Fouda's Akher Kalam (Last Words) and Reem Magued's Baladna Bilmasry (Our Country in Egyptian). Its competitors are Egypt's first private satellite network Dream TV which runs Mona El-Shazly's popular talk show Al-Ashera Masa'an (10:00 pm). Mehwar TV, owned by Egyptian businessman Hassan Rateb, is home to Moataz El-Demerdash's show 90 Dakeeka (90 minutes). In the last few months, at least 10 new networks joined the fray and created an even more competitive field. However the most notable among these are two networks most committed to the revolutionary fervor of the protest movements -- Al-Tahrir TV and January 25 TV. Al-Tahrir is the collaborative effort of Ahmed Abu Haiba, a Muslim Brotherhood sympathizer turned media entrepreneur, prominent journalist Ibrahim Eissa, and an engineer Mohammed Morad. It currently boasts talk shows hosted by veteran Mahmoud Saad, formerly of Egyptian state television, Ibrahim Eissa, SCAF dissenter Dina Abdelrahman, respected oppositional journalists Hamdy Kandil, scriptwriter and editorialist for Almasry Alyoum Bilal Fadl, and others. Both January 25 TV, run primarily by youth affiliated with the Youth Coalition for the Revolution and the April 6 Youth Movement are the channels most frequently exhibiting fearless positions in their criticism of SCAF's violations. On their side, SCAF's condescension and impunity when dealing with the media reflect an inability to deal with public concerns until squares are filled. Most of the statements from the military council are conflicting and inconsistent rhetoric, as if to suggest that there is very little concert in the development of media strategies, perhaps even carelessness and clumsiness. For example, on one occasion SCAF member Gen Roweini admitted on television to having been personally responsible for spreading rumors among protesters in Tahrir during the January revolution. Another incident has a Gen. Kato stating in an interview to an Arabic newspaper that protesters belong in "Hitler's gas chambers." Such significant public relations blunders suggest an overly simplistic and unseasoned approach to local and international media by the military. Additionally, SCAF has also tried to control the message through fear mongering through threats of trial and retribution. For instance, by using military courts that are notoriously unjust to silence dissent, cases such as Maikel Nabil Sanad who is the first person to be sentenced for expressing an opinion. Other strategies were employed to undermine the free expression, such as the appointment of a military censor for the press and a minister of information from the military ranks. Press conferences dismissive of all concerns, no blame taken, rejection of any wrongdoing, and blatantly one-sided presentation of evidence against protesters. Now they face the public campaign Askar Kazeboon (Military Liars) which takes video footage incriminating the military for violence and broadcast in public places across the country. Ahead of January 25th, with most media organizations committed to the goals of the revolution being accused of inciting against the military because of their criticism of SCAF, there is little chance these networks will back down. For many it is a battle for survival, one that they are not prepared to lose. A growing solidarity and collective empowerment is developing anchored in the belief that the square reigns supreme. With the first parliamentary elections nearing completion, and SCAF promising to hand over power once a new president is elected, and with some protesters calling for the toppling and trial of SCAF members, the first six months of 2012 promise to be combustible, dynamic, and decisive in relation to the future of media in Egypt. In the end, as Egypt moves forward into 2012, the tug-o-war between the state and private media will likely continue unabated. But in this stalemate, it appears more television networks than ever are following the developments and beginning to take risks. Today there are some promising prospects for long-lasting genuine free press in Egypt but this wont come without a struggle. It will take no less than a movement of citizen journalists, columnist, anchors and reporters to all demand no less than an overhaul of the state media, improving unhindered access to the private media, and subsequently, and an end to military rule. Until then, it appears the independent media have a critical and confrontational rendez-vous with the ruling military in the not-so-distant future. For a detailed timeline of the media highlights in Egypt since the toppling of Mubarak http://www.jadaliyya.com/pages/index/3642/a-year-in-the-life-of-egypts-media_a-2011-timeline
Calling all HuffPost superfans!
Sign up for membership to become a founding member and help shape HuffPost's next chapter