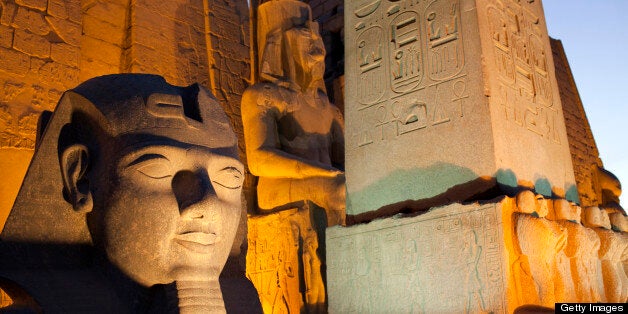 With the world's attention riveted on war-torn Syria, far too little attention has been focused on Egypt's economic woes and their long-term implications for the region. Heavily dependent on food imports for survival, Egypt desperately needs cash, but its foreign currency reserves have been shrinking dramatically and without more external aid, it's difficult to see how Egypt will manage to feed itself. In the end, Egypt may be too big and too late to save.
Earlier this month Qatar, Turkey, and Libya pledged a cash infusion of $6.2 billion so that Egypt could continue to purchase wheat, cooking oil, and other staples, but without a continuous flow of aid, it is hard to see how Egypt survives. For several months now Egypt has been attempting to negotiate a $4.8 billion loan from the International Monetary Fund, but Egypt's negotiator just quit, leading outside observers to wonder whether it might take several more months to iron out an agreement with the IMF.
With a population of 82 million, Egypt has more people than Saudi Arabia, Jordan, Palestine, Syria, Lebanon, Libya, and the United Arab Emirates combined. Half or more of Egypt's food, including its wheat, is imported. Egypt is also heavily dependent on diesel imports to transport its food and run its agriculture machinery.
For years, Egypt has relied heavily upon tourism to pay the bills, but unless political stability is restored, it has no hope of bringing the tourists back. And without a healthier economy, there's no end in sight to the political unrest.
Egypt's poor and middle class are heavily dependent on government food and fuel subsidies for their economic survival. Believing -- and correctly so -- that the subsidies are wasteful and inefficient, the IMF is insisting that the government agree to trim them. Doing so, however, would almost certainly fuel widespread protests and further undermine the government. It's a colossal Catch 22.
Given sufficient time and aid, Egypt might be able to muddle through for some years to come, but time may be running out and when it does, so will the aid. The IMF is not an international relief agency; it expects its loans to be repaid. Without a reasonable prospect of repayment, the IMF will not extend credit, and neither will many other international lenders.
Egypt is not just food dependent, it is young and poor. One-third of its population is under the age of 15, and, by some estimates, as many as 40 percent of Egyptians are living on less than $2 a day. Egypt's population growth rate, unfortunately, makes it highly unlikely that it will turn the corner on food dependency and poverty anytime soon. In 13 years or less, Egypt's population, currently 82 million, is projected to reach 102 million, and by 2050, 135 million.
Egypt's government is putting up a brave demographic front. Citing the large number of Egyptian young people as a source of potential economic strength, President Morsi hopes that Egypt will soon join the emerging economies of Brazil, Russia, India, China, and South Africa. He recently told an Indian newspaper that, "I am hoping BRICS would one day become E-BRICS where E stands for Egypt." Not likely. It would take a whole lot of education and foreign investment to productively employ Egypt's youth; Egypt is just too big.
If Egypt had curbed corruption, educated more girls, empowered women, and instituted economic reforms two or three decades ago, it might have had a fighting chance of turning its demographic corner and joining the BRICS, but it is getting ever more difficult to stitch together a plausible scenario for Egypt's political and economic recovery. Its food and foreign currency reserves are steadily shrinking; its population and number of unemployed youth are rising, and its political and economic prospects are plummeting.
And Egypt, of course, is not the only country in the region whose long-term prospects appear dim. Syria is a political nightmare. Yemen is a hydrological disaster; Sanaa, its capital city, could run out of water by the end of this decade. Who will ultimately bail these countries out? Not Saudi Arabia; Citigroup Inc. warned last year that the kingdom could be a net oil importer by 2030. Egypt, as one commentator recently put it, may be "too big to save."