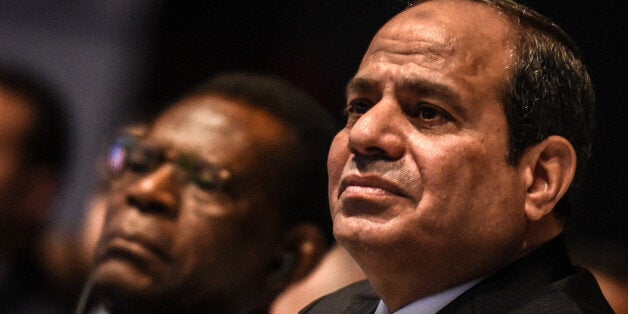 The awfulness of military strongman Abdul-Fattah al-Sisi's of Egypt is becoming scarily clearer by the day. Lawlessness and police abuse of citizens is the norm. Disappearances, common. Torture, a tool of choice.
All this is done in the name of fighting terrorism and an Islamic-based armed rebellion. But of course, as befits a venerable pattern of dictatorship, there is always time to repress and frighten any regime critics, real or imagined.
The brazenness of secret police abuse in Egypt makes this wave of government repression especially frightening. It's as if, having been driven off the streets by pro-democracy demonstrators in 2011, police are determined to remind Egyptians not only that they are back, but back with full impunity of action. Human rights activists inside and outside Egypt have decried the chronic abuse of the authorities, whose plainclothes agents now roam Cairo's streets.
On February 19, Sisi himself seemed to acknowledge that something is rotten. He ordered his toothless parliament to produce a law holding police "accountable" for killing citizens.
His order followed the police shooting of a taxi drive over a fare dispute. Demonstrations broke out in the Darb El-Ahmar neighborhood of Cairo -- despite the fact that since taking office in 2014, Sisi has cracked down on demonstrations of any sort. But there is nothing that scares the current Egyptian regime more than protests of angry poor people. Egyptian newspaper Al Masry Al Youm reported that a mob beat up the killer. He was transported to a hospital in "critical condition."
Last week, thousands of doctors and their supporters gathered outside the Egyptian Medical Syndicate in Cairo calling for the prosecution of police officers who assaulted two doctors in Cairo's Matareya hospital. The policemen attacked the physicians because they refused to authorize the officer's extended sick leave.
The officers involved were questioned about the assault and then released.
Violent police are simply let off the hook. Courts failed to punish killers responsible for the deaths of hundreds of demonstrators in 2011. And impunity goes on. This month, Egypt's highest court reversed a 15-year jail sentence handed down by a lower court to a policeman for killing in Alexandria Shaimaa Sabbagh, a demonstrator who marched during peaceful political protest in January, 2015.
Gone are the days when online activism could organize protest or express dissent. Instead of shutting down the Internet the way Hosni Mubarak did briefly during Arab Spring, Sisi has marshaled the Internet to spy on and prosecute dissidents. His police collect bulk data and courts harshly sentence online critics. Recently, a law student was given three years jail time for posting a picture of Sisi in a Mickey Mouse cap on Facebook.
Several activists involved in the 2011 efforts to oust Hosni Mubarak have been jailed among the thousands of Islamists put away. Not sure what this has to do with Sisi's war on terror.
Meanwhile, at least 25 journalists were jailed last year, according to the Committee to Protect journalists. "Perhaps nowhere has the climate for the press deteriorated more rapidly than in Egypt, now the second worst jailer (after China) of journalists worldwide. President Abdel Fattah el-Sisi continues to use the pretext of national security to clamp down on dissent," CPJ wrote last December. Supine television stations have been recruited to sliming regime opponents with accusations of engaging in sex escapades to working for foreign powers.
The West is mostly willing to ignore what goes on in Egypt. The old formula of partnering with dictatorship to put down radical Islamists reigns supreme. The possibility that Sisi is driving Egyptians into the hands of terror groups has apparently crossed nobody's mind.
The horrific disappearance and torture murder of Italian graduate student, Giulio Regeni, in Cairo momentarily prompted Western indignation. His death bore the hallmarks of police torture that has been visited on Egyptians for decades. Even if his death did not occur at the hands of security agents, the event served as a reminder of the endemic abuse faced by Egyptian at the hands of the authorities. An investigation is underway.
Of course, the Egyptian government counterbalances its investigative skills with the need to present a tranquil face to the world: Sisi has yet to acknowledge that last year's bombing of a Russian passenger plane over the Sinai Peninsula was an act of terror. If more than 200 dead can't elicit an account of what happened, the single death of an Italian student is unlikely to bring forth evidence of a government atrocity.
And anyway, if Regeni's death scares away students like him-he was researching labor unions, whose activities Sisi has effectively banned--that's a plus for the regime.
If the downside is frightening away tourists, well, that's just the cost of running a republic of dread.
Calling all HuffPost superfans!
Sign up for membership to become a founding member and help shape HuffPost's next chapter