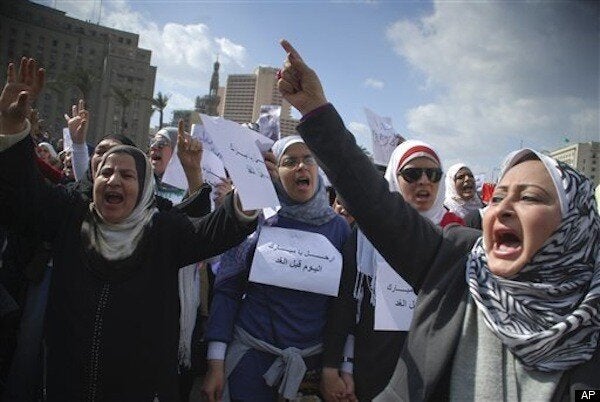 "If I wasn't pregnant, I would've just stayed home." Marwa Rakha told the Huffington Post by phone, explaining her attendance of the protests in Egypt while seven months pregnant. "I went out because of my baby. I owe this to him." Rakha, an adjunct professor at the American University in Cairo, is one of many women who has participated in the recent protests in Egypt. In these demonstrations, which have already led to Mubarak agreeing not to run for re-election, women have taken an active role: promoting them, leading crowds, and providing aid to harmed protesters. This is in a country where women typically don't have a large public role. Before their last election, Al Jazeera reported that even with election reforms, women would only hold 12 percent of the seats in the Egyptian parliament:
Last year, the assembly passed a law mandating the creation of 64 new seats in the house that must go to women. With only four women elected in 2005, that means parliament's female cadre will leap by a whopping 1,500 percent, and 12 percent of the new house will consist of women.
The Atlantic's Garance Franke-Ruta characterizes Egypt as "a country in which men and women are barely tolerated holding hands in public in the most liberal precincts of comparatively Christian Alexandria, and where public displays of affections are frowned upon and likely to be met with cutting glances and vicious neighborhood gossip elsewhere."
But in the recent wave of protests in Egypt, women have been important contributors and have been accepted by their male counterparts.
ABC News reported earlier that unlike past Egyptian protests, these protests were largely free of sexual harassment.
"Egyptian state TV was spreading rumors that in the protests girls were being sexually harassed," said Rakha. "That's a complete lie. In those protests, I've witnessed Egyptians that I didn't think still existed. They're very supportive of one another. If a girl fell, they would just pick her up, help her, no sexual harassment of any sort." Rakha said she went to the protests alone.
"I just took my cell phone and went," she said. "I met people and we just began talking, regardless of our religion, regardless of our gender, regardless of our age, regardless of our social class, regardless of anything, we were Egyptians out there who were very angry at lies we've been fed for the last 30 years." Anna Day, a 22-year-old American M.A. student who is studying conflict resolution, who is writing freelance on the Palestinians and lives in Israel-Palestine, traveled down to Egypt from Israel to attend and document the protests. Day told The Huffington Post by phone she stood out amongst the crowd. "Everyone wanted to talk to me because I was like the only white person there and I have blonde hair so I looked ridiculous," she said.
Having previously lived in Cairo, she "didn't expect many women to be at these protests," and she was surprised by the involvement of women in the protests. "Women were leading the chants and men were responding which I didn't expect to see in Cairo," she said. Women's role in the protests wasn't limited to their activity on the street, they were also involved in the online campaigns that led up to the protests. The New York Times reported on Asmaa Mahfouz who used social media to help spread the message of the protests. That's not to say women were the majority of the protesters. "If you look at the pictures, it's clearly mainly men," Day said. "But for the society of Egypt, the number of women at these protests and their role, they were at the front with tear gas and everything, their role was not something I expected to see."
The majority of women have been avoiding the more dangerous events. "In the evenings, I didn't see as many women out at nighttime," Day added. "At nighttime, it just does set a different mood. People get a little angrier, a little crazier, so I haven't seen women in the nighttime at the same rates as I've seen men." The number of female participants are in the protests are hard to determine. Slate looked into the participation at the protests on Tuesday:
"Ghada Shahbandar, an activist with the Egyptian Organization for Human Rights, estimated the crowd downtown to be 20 percent female. Other estimates were as high as 50 percent. In past protests, the female presence would rarely rise to 10 percent."
But the anecdotal evidence of their participation is everywhere. A "Women of Egypt" Facebook group has emerged to collect pictures of women at the protests. The Global Post has published photos of women. There have been photos of women kissing police officers. They've been interviewed. And they've been shown alongside men in videos. According to Day, women helped treat protesters who were overwhelmed by tear gas using Pepsi.
"If you put Pepsi in your eyes, it neutralizes the pain of the teargas," she said. "These cars full of protesters were bringing Pepsi and water to the protesters."
It was women who discovered the Pepsi trick, Day said. "They're bringing Pepsi and helping people back, putting Pepsi in people's eyes." Despite their increased role, the women still weren't the rowdiest participants. "They aren't the ones on top of government vehicles holding Egyptian flags," Day said. But, as the Egyptian feminist Nawal El Saadawi told Democracy Now, "Women and girls are beside boys in the streets."
You can also send us Egypt tips anytime at egypt@huffingtonpost.com or by leaving a message at 00-1-315-636-0962.
Related
Popular in the Community