EgyptAir Flight MS804 disappeared from radar early Thursday morning en route from Paris to Cairo, with 66 people on board. The Airbus A320, manufactured in 2003, was last recorded over the Mediterranean Sea, southeast of Greece:
Here's a timeline of what we know so far:
Wednesday, 11:09 p.m. (Paris time zone): Flight MS804 takes off from Charles de Gaulle airport in Paris, with an estimated arrival time in Cairo of 3:15 a.m.
Thursday, 1:24 a.m.: Officials in Athens acknowledge the flight as it enters Greek airspace.
1:48 a.m.: Pilots aboard the flight check in with Greek authorities at a scheduled waypoint.
2:27 a.m.: Greek air traffic controllers attempt to contact the plane 10 miles before it exits Greek airspace but receive no response. After repeated calls go unanswered, the controller calls the plane on its distress frequency, again with no response.
2:29 a.m.: MS804 exits Greek airspace and enters Egyptian airspace.
2:39 a.m.: The flight disappears from radar about 45 minutes prior to its scheduled landing. According to Greek Defense Minister Panos Kammenos, "The plane carried out a 90-degree turn to the left and a 360-degree turn to the right, falling from 37,000 to 15,000 feet and the signal was lost at around 10,000 feet."
2:45 a.m.: Greek officials begin search and rescue operations.
6:54 p.m.: EgyptAir reports that wreckage of what appears to be its plane has been found in the Mediterranean, near the Greek island of Karpathos.
Friday, 12:05 p.m.: The Egyptian military said it had found parts of debris from the missing plane 290 kilometers (180 miles) north of the country's coastal city of Alexandria.
The navy has also found passengers' belongings and is sweeping the area looking for the plane's black box, the military said in a statement.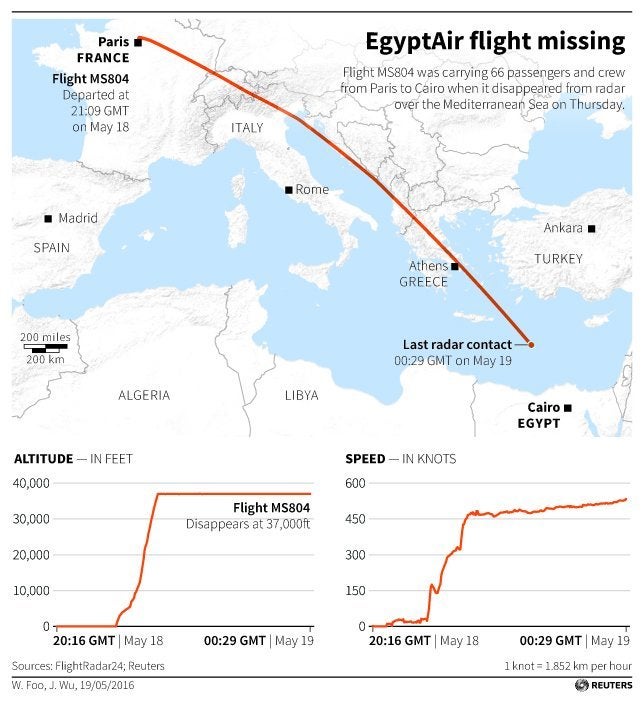 1:24 p.m.: EgyptAir said on Twitter it had confirmed that debris parts and passengers' belongings were found in the Mediterranean Sea near Alexandria.
1:43 p.m.: Search crews have found a body part among passengers' belongings off the coast of Alexandria, said Greece's defense minister Panos Kammenos, citing Egyptian officials. Egyptian authorities have yet to comment publicly on this claim.
5:20 p.m.: Egyptair posts in a Twitter update that the Egyptian military and marine forces have uncovered body parts along with personal belongings and plane debris. The search is still in progress, it adds.
Saturday, 12:27 p.m.: Egypt's military published the first photos of the debris from Flight MS804 that search teams have collected.
Among the wreckage in the images are seat parts and lifejackets.
Other noteworthy facts:
- The plane sent signals indicating that smoke was detected onboard before it crashed into the Mediterranean Sea, according to investigators from France's air accident investigation agency BEA.
- Authorities have not ruled out a terrorist attack as the cause of the crash, though they say it is too early to jump to conclusions based on the available details.
- Cairo is leading the investigation with help from France, the U.S. and United Kingdom, as they search a 5,000 square-mile area of the Mediterranean Sea. ​
- The 56 passengers included 30 Egyptians, 15 French nationals, two Iraqis and one passenger each from Algeria, Belgium, Canada, Chad, Kuwait, Portugal, Saudi Arabia, Sudan and the U.K.
- The pilot on board had more than 6,000 hours of flight experience, according to EgyptAir. The co-pilot had close to 3,000 flying hours.
- Three of the 10 crew members aboard the flight were security personnel. French transport minister Alain Vidalies told the Guardian that's "the usual practice."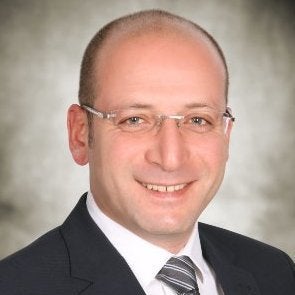 These Are The People Missing After The EgyptAir Crash
Popular in the Community