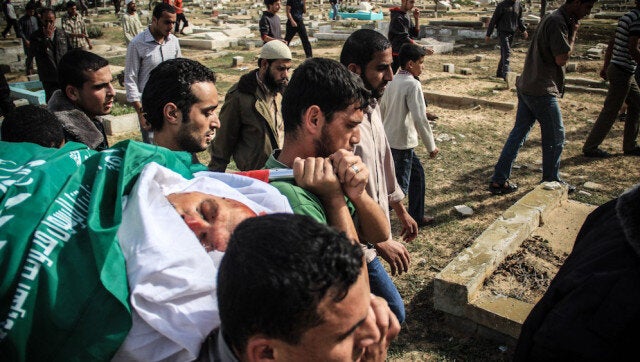 A convoy of about 500 Egyptian activists crossed into the Gaza Strip last week to deliver medical supplies and show solidarity with Palestinians as the conflict between Israel and Hamas raged on.
According to participants, the convoy of activists, many of whom were at the frontline of protests that eventually overthrew longtime Egyptian dictator Hosni Mubarak, were allowed to cross into Gaza on Sunday, Nov. 18.
"We are telling the Palestinians that we are on their side," activist Adam Mubarak told the Associated Press. "Our visit is a message to Israel that we will not abandon the Palestinians in Gaza," he added.
Traveling with the convoy were several photographers, who documented the group's trip in images and tweets. Egyptian journalist and activist, Gigi Ibrahim tweeted on Sunday:
Egyptian activist and photographer Mosa'ab Elshamy told Twitter on Nov. 19:
Mubarak, Israel's longtime ally, had poor relations with Hamas and teamed up with Israel to blockade Gaza after the militant Hamas seized the territory in 2007. The new Egyptian president, Mohamed Morsi, comes from the Muslim Brotherhood, the parent group of Hamas and has met with Hamas leaders in Cairo.
While Morsi is more sympathetic towards Hamas than his predecessor and eased Egypt's blockade in 2011, Palestinians still face restrictions when trying to cross from Gaza into Egypt. Although the number of travelers going back and forth between Gaza and Egypt has increased since the blockade was eased, the AP reported that no more than 900 Palestinians crossed the border on any day during last week's violence, making the journey of the Egyptian convoy all the more significant.
Take a look at Ibrahim's and Elshamy's photos from Gaza in the slideshow below:
PHOTO GALLERY
Egyptian convoy to Gaza
CORRECTION: A caption mistakenly said that half of the victims in Gaza were children. The slideshow has been changed to reflect this correction. This entry has also been revised to provide additional context and sourcing for the original reporting.
Calling all HuffPost superfans!
Sign up for membership to become a founding member and help shape HuffPost's next chapter