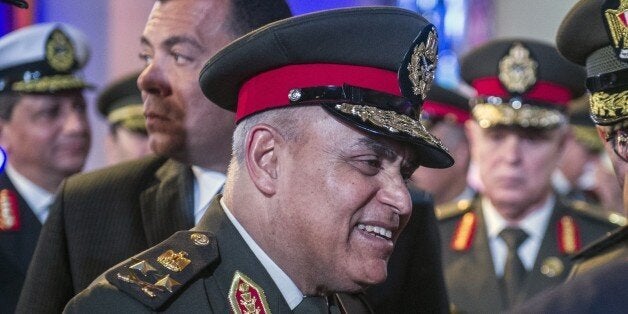 Some people are so well known in their field, or beyond, that they're only referred to by their first name. No one ever says Adele Who? Or ooooh THAT Kanye. That's how it is for Mozn, a prominent human rights defender based in Cairo who is the founder and Executive Director of Nazra for Feminist Studies since 2007. She's known in Egypt and across the region as a leading expert on Egyptian feminism, child marriage, and gender-based violence, and as a peaceful dissident critical of the current regime. Which is why she's now in serious trouble. She has been summoned for questioning by the authorities next Tuesday, March 29 in the notorious "NGO Foreign Funding" case, more officially known as Case 173 of 2011. Last week, three of Nazra's staff were summoned and questioned in relation to the case and asked about Mozn, who they say officials referred to as "the defendant". Case 173 is an attack on human rights organizations and activists. In 2011 the Egyptian government set up an inquiry to determine which NGOs weren't properly registered under Law 84, Mubarak-era legislation designed to control the operations of human rights organizations. In 2013, 43 employees of foreign NGOs were sentenced to between one and five years in jail, and a number of organizations including the International Republican Institute, the National Democratic Institute, and Freedom House were closed down.
Now the Egyptian government has launched a new wave of attacks under the law, targeting Mozn and others. She's the first defendant officially summoned in the case. Upon hearing last week that her staff were to be questioned, she returned from participating in the UN's Commission on the Status of Women in New York to accompany them to court.
Egyptian NGO EIPR reports that in the last six weeks Nazra is just one of six organizations whose staff have been summoned, banned from travel, had their assets frozen, or been closed down. Dozens more organizations are believed to be at imminent risk.
Like other organizations being investigated, Nazra hasn't been operating covertly or secretly, and was properly registered as an association on December 28, 2007. It's an internationally recognized NGO that has had consultative status at the United Nations for over two years. Mozn herself is an award-winning human rights defender with an impressive international reputation. But now she faces prosecution because she is seen as a dissident responsible for exposing the Egyptian government's record on human rights, including failing to adequately address the problems of mob sexual violence in Cairo and elsewhere.
I've worked closely with Mozn and Nazra for several years and know them well. Nazra staff are brilliant leaders in the fight against sexual violence. Nazra and other human rights organizations are in real danger of being closed down in the coming weeks, and their senior staff jailed. Washington's response to this years-long attack on civil society by its military ally has been underwhelming. Last week Secretary Kerry finally urged the Egyptian government to stop attacking civil society, correctly pointing out that "Restrictions on the space for civil society activity will produce neither stability nor security." But what the United States intends to do if Mozn and others go to prison, or their organizations closed down, is unclear. Complaining about it afterwards isn't much help, however much "deep concern" the State Department press releases might convey. Washington needs to show, and show now, what consequences there will be for the crushing of Egypt's human rights community. Egypt is an even more dangerous place without its human rights community, and is showing itself to be an increasingly erratic and unreliable ally. Egypt and Egyptians won't be safer if Mozn Hassan is sent to prison, or if Nazra is closed down. Despite protestations of limited leverage, the U.S. government can make a difference to what happens in Egypt in the coming weeks. It just has to want to enough.
Related
Popular in the Community