Human rights groups decried reported attacks and torchings targeting dozens of churches in Egypt amid a mounting death toll as fighting between supporters and opponents of ousted President Mohammed Morsi continued Friday.
It's unclear how many churches have been affected during violence that has left more than 600 dead, but several non-governmental agencies and international media reports have cited at least 50 church attacks in cities including Cairo, Alexandria, Minya and Suez. Many churches have been burned to the ground.
Much of the violence has been against Copts, a religious minority that represents about 10 percent of the 84 million people in Egypt. Attacks against Anglican and Catholic churches as well as Christian schools also have been reported.
Members of the Muslim Brotherhood, which called for a "day of rage" on Friday after government forces killed hundreds of its pro-Morsi demonstrators and injured thousands this week, have denied involvement with the attacks on churches. Coptic rights groups and U.S.-based monitoring organizations have questioned that claim.
Religious freedom issues for Christians and minority groups in Egypt have arisen frequently in recent years, in particular since President Hosni Mubarak was overthrown in 2011. According to reports from Egypt, some suspect that attacks against Copts in particular could be retaliation against the church's leader, Pope Tawadros II, who supported Morsi's overthrow.
"The level of violence against Coptic Christians, their property and businesses is unprecedented in modern Egypt, both in its scope and the number of churches and structures attacked," said USCIRF Chairman Robert George. "This could portend even worse violence ahead if the situation is not brought under control. Assaulting religious minorities is not a legitimate form of protest against government action."
Christian Solidarity Worldwide, a United Kingdom-based group, also expressed concern. The violent breakups of pro-Morsi protests this week and "the excessive loss of lives will only serve to polarise Egyptian society even further," said Daniel Sinclair, a spokesman for the organization, which advocates with international governments on behalf of religious minorities.
"CSW is also deeply concerned at the unwarranted and continuing targeting of the Coptic community. We urge the government to ensure comprehensive security to all Egyptians, regardless of their religion," he said.
In the U.S., home to about 200,000 Copts, several Coptic churches announced services to pray for the violence in Egypt to stop. At St. Mark's Coptic Orthodox Church in Jersey City, N.J., worshippers gathered for an urgent meeting Thursday and for a divine liturgy service on Friday morning to pray for peace in Egypt. In California, Bishop Serapion of the Coptic Orthodox Diocese of Los Angeles released a statement calling for "all the people of the church to unite in prayers and fasting."
"What is happening against innocent Copts is the result of the suffering of Christians for many decades of hate speech and incitement against them and the repeated attacks on their lives and their churches and their property with the inability of the consecutive governments to provide them with security, safety, and the rights of citizenship," the bishop said. "We are confident that the people of Egypt, both Muslims and Christians, can come together against the evil forces of terrorism."
In Suez, the Anglican Bishop of Egypt, the Rev. Mouneer Anis, wrote in an open letter this week that St. Saviour's Anglican church was targeted with "stones and Molotov cocktails." Anis asked readers to "please pray and ask others to pray." The request has spread across Anglican media, with churches worldwide calling for prayers.
"Please pray that the situation will calm down, for wisdom and tact for the police and the army, for the safety of all churches and congregations, and that all in Egypt would be safe," wrote Anis. "May the Lord bless you!"
Before You Go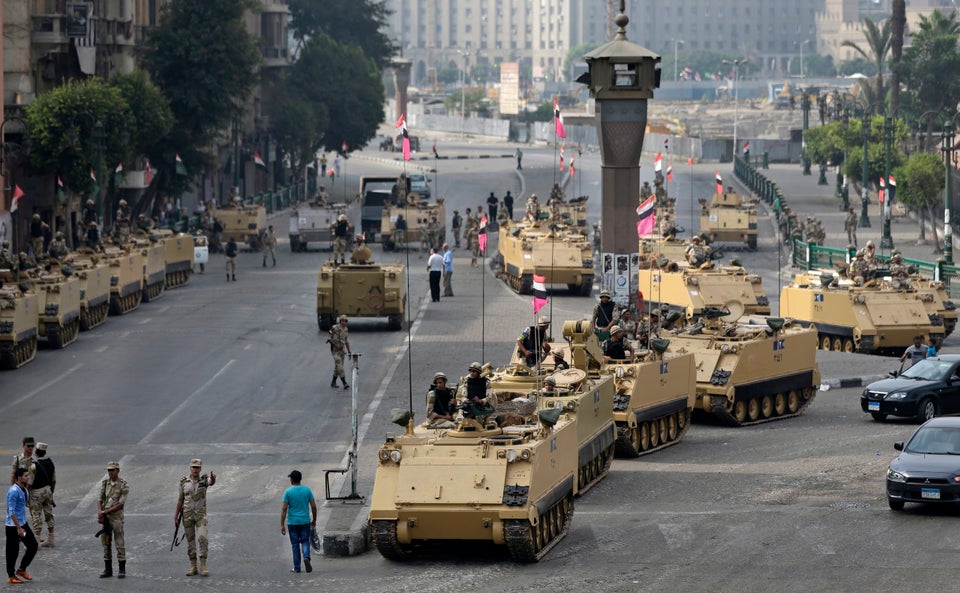 Clashes In Cairo (Warning: Graphic Images)
Popular in the Community