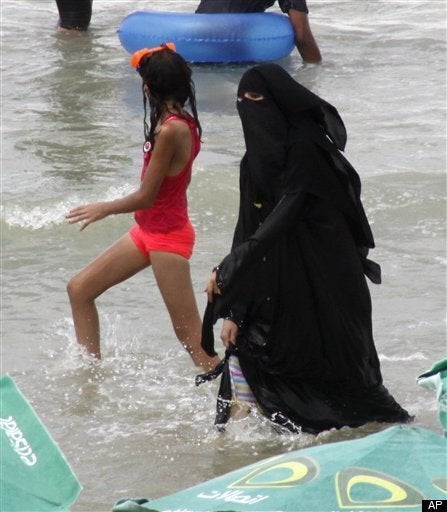 Egyptian divorcées are no longer alone decrying their fate in a dark corner, fearful of being stigmatized by their conservative society. Now they can commiserate, seek advice, and feel empowered, thanks to an online radio station just for them.
"Motalakat (Divorcées) Radio"
Motalakat is the outlet launched by Mahasen Saber, a thirty-something Egyptian divorcée and mother of a boy, whose cyber broadcasts emerged from an earlier website, Ayza Atala Wa, (I want to get a divorce, and...) dedicated to women whose marriages had failed and were up against tremendous legal odds.

The webcasts and blogposts are delivered in easy to understand casual colloquial Arabic. "Motalakat Radio: See life differently," Saber wrote in a blogpost promo ahead of the official launch.
To reinforce her argument, the veiled and modest Saber appeared on Egyptian talk shows making the case for divorced women who demanded their rights under what many consider arbitrary laws.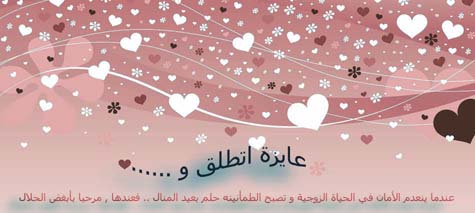 Ayza Atala Wa website logo
"When a woman in our society says she wants a divorce, people give her a weird look, so I wanted to say that it's not "haram" (inviolable, or a taboo)," said Saber on a popular Egyptian TV show hosted by movie star Hussein Fahmy.
The program also featured a Moslem religious figure speaking favorably of men taking wives who had been previously married, and who would make good partners because of their upbringing, faith and caring for their families.
"It's a woman's right in the Koran and there are verses in the Holy Book that address the issue," Saber added in her TV interview.
Her desire to help other women emerged from her bitter experience of going through Egypt's exasperatingly arcane and snail-paced court system when she sought to separate from her husband.
The runaround procedures took three years to complete.
"That's when I discovered blogging and began to write about what I saw in court," she explained of the ordeal she faced and the condescending attitude of attorneys hired to help divorcées.
Even when women pleaded with judges in cases against abusive husbands, the common refrain they heard was: "Get a life!"
"So I started the blog to rectify the image society has of divorced women and for these women to assert themselves and demand their rights," Saber said, adding that she wanted society to view divorcées in a humane fashion.
Ayza Atala Wa blog visitors include men -- several regulars -- who discuss marital life and recount problems faced by female relatives or friends.
Saber's online biography describes her as a self-assured woman who wants to be remembered for having helped others, and who enjoys the music of Brian Adams, Sting, Tchaikovsky, and is a fan of Robert de Niro, Al Pacino, Jack Nicholson, Ed Harris, and Omar Sharif.
Her project is one of several that have thrust Egyptian women into the blogosphere.
Last year an enterprising Egyptian young woman launched a web-based radio station called "Banat w' Basssss" (Girls Only), the first such venture in the Arab world.
The webcasts produced in a suburban Cairo apartment target girls but are not of the stereotypical fashion, cosmetics and emotional problem-solving variety.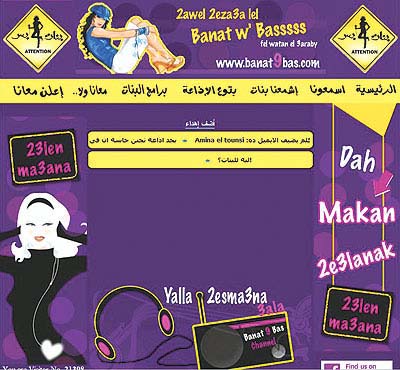 "Have a problem with the government? We'll help you solve it. Don't know what you want from life? We'll help you with your choices and priorities," the station boasts.
The radio station is the brainchild of Amani El Tunsi, a computer science graduate and one-time graphic designer who was haunted by the thought that Egyptian girls were more focused on husband-hunting or working until "Mr. Right" came along, than on self-fulfillment and developing themselves.
El Tunsi identified herself as the eldest child in her family, but because of traditions, she always had to defer to male siblings and relatives.
"If I complained to my father that my younger brother was rude and shouldn't address me in a disrespectful way, my father would say 'he's your brother, he has a right,'" she recounted.
Her relatives would even blame her for being insolent if she tried to defend herself, reflecting a general trend in Egyptian society.
El Tunsi told the pan-Arab daily Asharq Al-Awsat she'd planned to start a magazine but since most of the people she wanted to reach didn't read, she decided to launch webcasts for girls instead.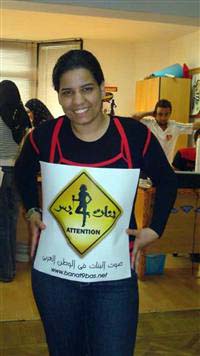 Amani El Tunsi (Daily Star Egypt)
She countered criticism that her web radio content was anti-men, saying her goal was to solve girls' problems since most media focus on preparations for marriage but don't zero in on helping girls develop or choose their partners.
While the webcasts are aimed at all segments of society, their main objective is tackling problems faced by girls in Egypt such as sexual harassment, violence against women, and issues of liberty, El Tunsi said.
She admitted to self-censorship to avoid besmirching Egypt's and the Arab World's image.
The project was started by 25 media students of both genders with a budget of $30,000, according to Lebanon's Assafir newspaper. The station broadcasts news, music, cultural, social and entertainment programs.
Popular in the Community