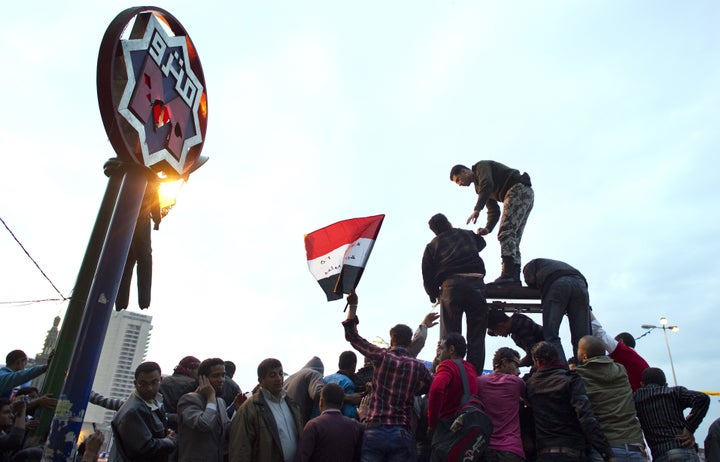 I thought I had it all figured out. I wasn't going to leave anything to chance. I'd registered to vote back in April and booked my flight to Cairo weeks in advance. Nothing was going to stop me from casting my first ever vote in my country's first post-revolution election. Like many Egyptian expats I'd played my part in campaigns calling for the right to absentee voting. And despite being granted that right a couple weeks before elections, I didn't want to run the risk of a u-turn on the part of the military rulers or any logistical mishaps getting in my way. Little did I know that five days before parliamentary elections were set to begin on November 28 I would find myself sitting restless on board my flight from London to Cairo not even knowing if elections would go ahead at all. Elections were thrown into doubt nine days before voting started when violence broke out in Cairo and other cities as thousands demonstrated against Egypt's interim military rulers. The unrest, which went on for 8 days, saw 42 dead and thousands injured. The ruling supreme council of the armed forces, known by its acronym SCAF, assured that elections would go ahead despite ongoing protests calling for an immediate transfer to civilian rule. Many demonstrators are convinced SCAF wants to hijack the revolution and cling to power. They cite a delayed handover to a civilian authority and a proposal granting the army permanent political power, free from oversight. Others are frustrated at SCAF's failure to manage the transition over the past ten months. The fact is, apart from Mubarak stepping down back in February, little else has changed. The emergency law is still in place. Dissent is not tolerated and activists like Michael Nabil and Alaa Abdel Fattah remain in jail for critiquing the army. Civilians continue to face military trials. Nobody has been held accountable for the vicious attacks against Coptic Christians on October 9 and SCAF has also yet to prosecute -- or identify -- perpetrators of the violence against peaceful demonstrators during the January uprising in which more than 800 lost their lives. The families of victims still await compensation and it was those victims' relatives who camped out in Tahrir on the night of November 18 demanding justice. Instead, their tents were cleared away with brutal force. The excessive use of force against the small camp galvanized public anger against the military and tens of thousands descended upon Tahrir. Political activist Asmaa Mahfouz was among them. Months earlier she herself made headlines when a critical tweet got her arrested and sent to a military tribunal. It was only after human rights groups intervened that SCAF dropped the charges. The night we meet, 3 days ahead of elections, she is curled up under a blanket in front of the Cabinet building protesting the hasty appointment of a Mubarak-era premier, Kamal El Ganzoury, to lead a 'salvation' government, apparently intended as a conciliatory gesture. Given the violence of the past ten days I feel silly for having worried about whether I'd get to cast my ballot in person or via a consulate in London. Adding to my confusion, many of the activists are calling for a boycott of the elections, saying they give legitimacy to SCAF. Also, for all the furor about absentee voting rights, only a small percentage of the 8 million expats eligible to vote had registered. Many said the online system was hit and miss but still, I was expecting more expats to fly back to vote like me. But an Egyptair official confirmed they had spare capacity and at Heathrow check in, I discovered they'd switched to a smaller aircraft due to lack of demand. Also not figured out was the actual electoral system. This may seem odd to a western reader but it may help to know that I, along with millions of Egyptians, have never voted before. Why? Because since I've been alive we've only had one president (Mubarak) and the outcome of every 'election' for the past three decades was always known in advance: Mubarak wins. Although the previous electoral system was entirely corrupt, the new one, despite being designed to be fairer and more representative, has been marred by confusion. Candidate lists were published only 10 days before voting, the process is staggered over three stages spanning six weeks because of the limited number of judges available to monitor the vote and there were hundreds of candidates in each district and a multitude of new parties. Egyptians are voting for members of parliament in the People's Assembly by selecting individual candidates as well as specific parties or alliances of parties. In the days leading up to voting, lists were circulated and all manner of voting guides circulated in an effort to promote awareness and inform voters which parties endorsed which candidates. The ballot itself consists of new separate sheets of paper, one where you select a party and one where you select two individuals from candidates running as independents or as 'laborers'. This rule dates back to Egypt's socialist past and aims to give labor unions and farmers representations in parliament. And in case you're wondering, these aren't presidential elections. Those aren't till next year. June 2012 we were told last week -- a concession the generals offered after four days of bloodshed, bringing the date forward from a previous timetable of early 2013. I arrive in Cairo on the eve of a million-man march billed "Final Chance Friday". In Tahrir I'm greeted by a carnival-like atmosphere. Gone (for now) are the tear gas plumes and rubber bullets. Instead, along with chants, banners and flag-waving, street vendors sell everything from corn on the cob to baked yams. Later that night I find myself in a smoke-filled flat overlooking the square with a mix of people, most of whom I'd never met before. We don't bother with social niceties or name-exchanges and delve straight into politics. Again, I don't have everything figured out. A couple days later, as I stand in line at my polling station at El Kamal school in the suburb of Heliopolis, bright and early on a sunny election day, I think about how tricky it is to ever really hedge your bets in Egypt. The nature of our society and the opaque and sometimes inexplicable machinations of the state make it difficult to ever know anything for certain in advance. The best way to describe the Egyptian psyche towards making plans is that you're never quite sure any given event will take place until it actually happens. Hence a tendency for last minute planning -- something that drives my British husband insane. Many Egyptians add 'Inshallah' or 'God Willing' to sentences referencing the future. But what if 'God' is not willing? And what does God have to do with it anyway? Quite a lot, actually. Just as faith plays a part in elections in the U.S., religion is used as a political tool here in Egypt: mainly by Islamists like the decades-old and established Muslim Brotherhood and the newly-formed hard line and ultra-conservative Salafists. The Muslim Brotherhood's numbers are staggering and their political skill impressive. And although they are expected to dominate in the elections, recent indications point to their waning popularity. They stayed away from the latest protests and vociferously called for elections to go ahead on time, banking on a big win at the polls and wanting to capitalize on weeks of intense campaigning. Many say this exposes their intended power grab and the newly formed fledgling secular parties are hoping to gain some ground. I finally cast my ballot after a five-hour wait in line, choosing one party out of a list of about a dozen and two separate candidates out of a list of 94. The results won't be in until mid January and a lot could happen until then, but at least for now, I've figured something out: I'm not the only one confused. The entire country, with its 80 million inhabitants, is learning as it goes along. And I'm just proud I got to play my part.
REAL LIFE. REAL NEWS. REAL VOICES.
Help us tell more of the stories that matter from voices that too often remain unheard.