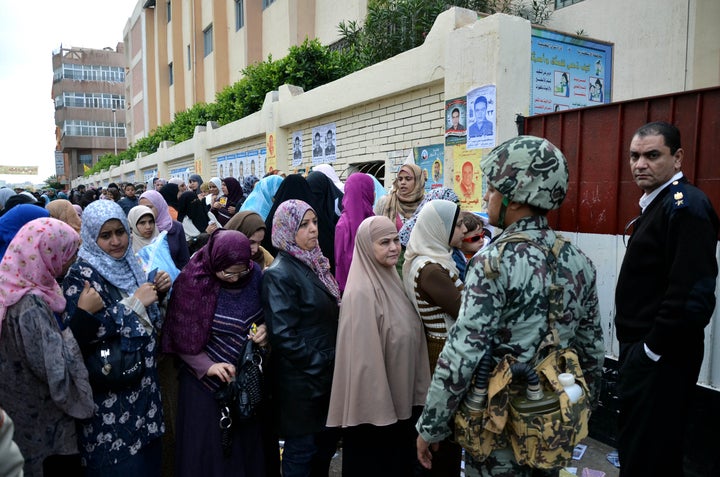 Nobody believed that Egyptian democracy would come easily. The recent clashes between protesters and security forces in Tahrir Square generated widespread foreboding. But this week's parliamentary election shows that Egyptians deserve more credit for making progress than they usually receive in the pessimistic headlines.
True, the 10 months leading up to Egypt's first free election for parliament this week have been messy. Egyptians and foreign onlookers alike have agonized about gloomy scenarios such as an Islamist takeover, Muslim-Christian civil war, and perpetual rule by the military officers who stepped into the void after the ouster of former President Hosni Mubarak. To some, the ransacking of the Israeli embassy by a mob of protesters seemed to presage a radical re-direction of Egyptian foreign relations.
The officers of the Supreme Council of the Armed Forces often appear adrift. They were heroes for acquiescing to the ouster of Mubarak. Since then, in many eyes, they have become villains for ruling the way Mubarak did. SCAF's moves to break up demonstrations resulted in the deaths of dozens of protesters in October and dozens more in November. A disastrous pattern was emerging.
Or, was it? Perhaps the truer measure of Egypt's progress became evident in the early morning hours of Monday, when long lines of Egyptians formed outside polling stations in Cairo, Alexandria, Luxor, Port Said, Kafr El-Sheikh, and other cities. The massive turnout over the two days of voting is a resounding expression of their will to be free citizens, to have a say in their country's future. Not the specter of more violence, not the demands of protesters for a postponement, not disillusion over the military's intentions, could keep them from the polls.
The elections should call attention to the valuable role that common Egyptians play as the country moves away from decades of dictatorship. It is a role that illustrates Egypt's essential moderation, tolerance, peacefulness, wisdom and patriotism. Those characteristics were on display during the January 25 revolution, which drew in millions of Egyptians and empowered them for the first time. Now in Egypt's first post-revolution election, Egyptians are consecrating their values with an effusive embrace of democracy.
Surveys conducted by the Al Ahram Center for Political and Strategic Studies in August, September and October give a picture of Egyptian attitudes that reflect those values. Perhaps the most interesting one showed that despite the turbulence of the transition, including an alarming rise in crime, Egyptians are in fact very optimistic about the future. Sixty-seven percent of respondents believe that Egypt's economy will improve soon, and 63 percent felt their own family's financial situation will get better.
On the issues, Egyptians are looking forward, and favor a conservative rather than radical approach. Thirty-six percent listed security and stability as a major concern, with 26 percent citing unemployment and 19 percent inflation. Egyptians seem to feel that positive political change is now inevitable, the surveys indicated.
In contrast with, say, the 1979 revolution that toppled the Shah of Iran, Egyptians are not giving vengeance a very high priority. Sixty-seven percent of Egyptians believe that Mubarak's trial on charges of killing protesters and corruption should be completed no matter what, and 78 percent said they would accept the court verdict. Only 15 percent said that the only acceptable outcomes would be a jail sentence or the death penalty.
Egyptians are showing enthusiasm for Islam but not necessarily for an Islamic state. The survey showed 35.7 percent support for the Freedom and Justice party, the political wing of the Muslim Brotherhood. Adding in smaller parties, Islamists could emerge with a parliamentary majority after the three rounds of balloting are completed in January.
Yet, 53 percent of the survey respondents preferred a democratic-civil state compared to 38 percent who preferred an Islamic state. Forty-one percent cited Saudi Arabia-a conservative kingdom that enforces the strict Wahhabi brand of Islam-as a model state. But Danish analysts who studied the results believe that besides Islam being a factor, a major reason for the preference was due to the Kingdom being a place of employment for 1 million Egyptians who support families in Egypt through remittances. Only 1 percent pointed to the radical Islamic Republic of Iran, ruled by a supreme cleric, as a state worth emulating.
It appears certain that a liberal bloc will have a significant influence in the Egyptian parliament. A liberal, nationalist party, the New Wafd, registered 26.2 percent support among Egyptians surveyed. And Egyptians revealed their nationalistic colors in their overwhelming preference for Amr Moussa in the presidential election, due to be held before next July.
Moussa served as Mubarak's foreign minister and later as secretary general of the Arab League, positions that enabled him to appear as a constant defender of Egyptian and Arab dignity against the West and Israel. Only 4 percent of Egyptians favored preparing for war against Israel, and just 15 percent said the U.S.-mediated Egyptian-Israeli peace treaty should be terminated. Seventy-four percent of respondents favored developing close ties with other Arab states rather than with the West. As much as freedom, justice or the end of a dictatorship, the January 25 revolutionaries sought Egypt's independence.
Protests will continue in Tahrir Square until an Egyptian democracy is finally in place. The demonstrators are the guardians of the revolution. Whoever seeks to disregard the people's will-whether the ruling military officers, or a future Islamist government-will find Egyptians pushing back. As the polls closed, I went to Tahrir and spoke to Sameh Alam, a 33-year-old slaughterhouse worker, who was elated. "I've been here for the past month, to be sure that the revolution doesn't die," he said as he tugged on the kaffiyeh wrapped around his shoulders. "The election is great. It means that Egyptians will finally have a voice. It is impossible to stop Egypt now."
Scott MacLeod is a professor at American University in Cairo and managing editor of the Cairo Review of Global Affairs. He was Time magazine's Middle East correspondent from 1995 to 2010.
Support HuffPost
The Stakes Have Never Been Higher
Related
Popular in the Community