"El shaab yureed taghiir el naqeeb (the people want to change the union's president)," chanted members of Egypt's journalists syndicate, on a variation to the mantra protesters have been repeating in their call for ousting President Hosni Mubarak.
It reflected their displeasure with yet another symbol of the maligned Egyptian regime and of the syndicate head's close ties to the country's president.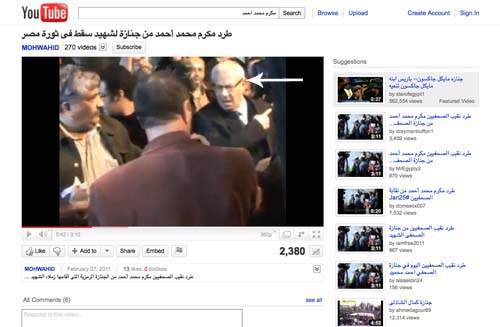 Egyptian journalists union head Makram Mohamad Ahmad (white arrow)
dissed outside his office (Abu-Fadil)
"Barra, barra (out, out)," the journalists shouted aggressively as they shoved Makram Mohamad Ahmad and tried to prevent him from reaching his office.
They were outraged the union hadn't stood in solidarity with them when a reporter was felled by a police sniper's bullet while he filmed security forces' attacks on demonstrators with his phone camera from an office balcony.
Angry journalists held a symbolic memorial for the murdered journalist, Ahmad Mohamad Mahmoud, in front of the union's headquarters.
"Ya naqeeb, ya naqeeb, bi't shaheedna bi cam geneih? (union president, for how much did you sell out our martyr)?" they demanded to know.
The journalists slammed government-run TV channels and some privately-owned stations for broadcasting disinformation in what they deemed "a professional and moral crime," the independent daily Al Dustour reported.
The journalists carried signs saying the union's president did not represent them, notably since President Mubarak approves the appointment of the heads of the journalists syndicate and of state-run media.
Makram Mohamad Ahmad once served as editor of Rose El Youssef, a leading Egyptian magazine, whose current editor is Abdallah Kamal, a member of the discredited ruling National Democratic Party.

Elsewhere, noted TV talk show host Amr Adib also drew Egyptians' ire.
He was booed, pushed and heckled in Cairo's Tahrir Square when he tried to talk to demonstrators.
"Irhal ya 'ameel (leave, you traitor, you agent)," they yelled as they pushed him out of their circle in the square teeming with protesters.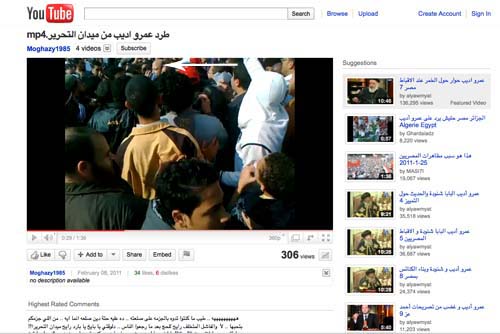 Amr Adib (white arrow) chased from Tahrir Square (Abu-Fadil)
Adib, who was dismissed from the Saudi-owned Orbit TV channel, recently hosted a show on the Egyptian Al Hayat (life) station owned by the nominal opposition Wafd party for which he was accused of kowtowing to the government.
It's not the first time official, semi-official and independent Egyptian media have come under attack for twisting facts or cozying up to the regime.
"Media prostitution was an instigator to murder, so will those responsible be tried like in Rwanda?" asked a headline in Al Dostour.
That paper's editor is the provocative Ibrahim Issa who was fired by its new owners, but who later turned to publishing a parallel version online.
Omar Abdel Hakim wrote in the paper:
Those who killed our youth during the revolution of rage are not only [ousted interior minister] Al Adly's or Mubarak's troops, or prison alumni and National Democratic Party thugs and corrupt tycoons...they're media prostitutes, graduates of the state security services and mercenaries of the ruling party's policies committee.
Journalists working for major state-run dailies and television channels have revealed, off the record, that senior officials in their news organizations were corrupt, abused power, hired cronies, and lined their pockets at taxpayers' expense.
According to journalist Hanan Abouldiaa of Al Wafd newspaper, state TV's losses total 11 billion Egyptian pounds (almost $2 billion) thanks to the misappropriation of funds, waste, and production cost overruns for serials, entertainment programs and talk shows.
Such charges have prompted concerned Egyptian journalists to file a complaint with the attorney general in a bid to bar editors in chief and members of the boards of state-run newspapers from traveling outside Egypt.
Complaints about skewed reporting have led Egyptians to seek information about their revolution elsewhere, mostly on Arab and Western satellite channels, although they, too, have been criticized for hyping the unrest.
"We should fix our media before condemning others' media," noted an anonymous writer in Al Youm Al Sabeh (The 7th Day) newspaper. "I wish we could eliminate the Ministry of Information entirely, in our efforts to become a civil democracy."
Despite criticism of the Qatar-based Al Jazeera channel's coverage of events and charges it aimed at toppling the Egyptian regime, it remains a key source of information for Egyptian viewers who can access it.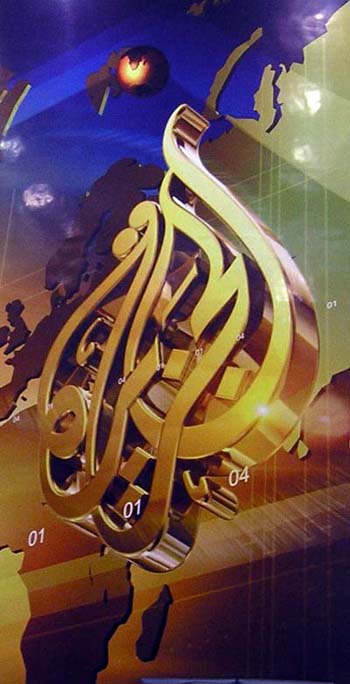 Al Jazeera logo (Abu-Fadil)
A little girl in Tahrir Square carried a sign addressed to the Egyptian president that read: "Uncle Hosni, can you please leave so that Dad switches off Al Jazeera and turns on cartoons for me?"

Calling all HuffPost superfans!
Sign up for membership to become a founding member and help shape HuffPost's next chapter