The ax is falling and heads are rolling in Egyptian media to rid once stodgy state-run organizations of deadwood noted for hampering professional and balanced news reporting.
It was a busy week of moves to purge the media of figures whose careers had flourished and who were said to have made fortunes by polishing ousted president Hosni Mubarak's image.
Prime Minister Essam Sharaf sacked government-run broadcast officials who attacked the January 25 revolution and incited to violence against demonstrators.
Also canned were senior officials of government newspapers, like the leading daily Al Ahram, whose editor Osama Saraya and CEO Abdel Moneim Said were closely linked to the former regime.
And in a bold move, the new editor Abdel Azeem Hammad pledged to stop publishing the lead editorial on the paper's front page.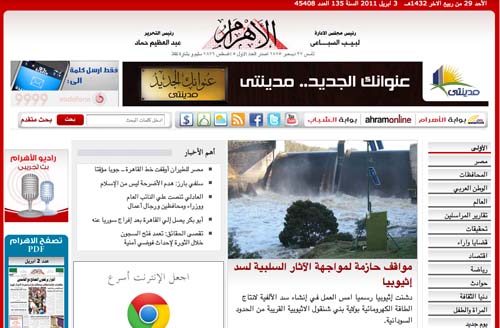 Al Ahram with new editorial lineup banner (Abu-Fadil)
"This tradition's time has come to an end in major papers like Al Ahram," he wrote.
Earlier this month experts, academics and independent media figures met to chart a new course for the country's print and broadcast outlets by ensuring the free flow of information, the establishment of democratic means of communications, and the need for media to be unfettered by state controls.
Critics had complained state media had been mobilized to support Mubarak, his family and his cronies in presidential, parliamentary and local elections.
"My participation in the former president's electoral campaign was just a job," Lamis El Hadidi told an interviewer after her From the Heart of Egypt show was yanked off the state-run Nile Life TV channel's air.
Although she was spared being lumped with other pro-government journalists and stayed off the air during the height of the Egyptian revolution until Mubarak stepped down, and despite her popularity, her show got axed.
She told the pan-Arab daily Asharq Al-Awsat that the head of the Egyptian Radio and Television Union (ERTU), Sami El Sherif, had dealt a hard blow to post-revolution freedom, something the previous regime had threatened repeatedly to do because of her gutsy interviews, but never did.
"In the past I had many run-ins with (former information minister) Anas Al Fiqi, and everyone knew it, and he couldn't stop the show, but today we see a clear crackdown and tyranny," El Hadidi said of official media's transition into the new era.
According to the media monitoring site Rassd, El Sherif is having a hard time filling slots of ousted broadcasters.
El Hadidi's claims of new forms of oppression followed the Egyptian military's arrest of blogger Maikal Nabil Sanad after he reportedly defamed the armed forces, the Paris-based Reporters Without Borders (RSF) said.
"How can one trust an institution that promises a democratic transition with civil society's participation and then jails a pacifist blogger and conscientious objector at the first sign of any criticism?" RSF secretary general Jean-François Julliard asked. "This arrest raises questions about the reality of free speech in Egypt and whether the armed forces are ready to respect it."
Human Rights Watch also weighed in with its support for Sanad and urged the current ruling Supreme Council of the Armed Forces to drop charges against him.
"It's pretty stunning in Egypt's supposed new era of rights to see the military government prosecuting someone in a military court for writing about the military," HRW's Middle East and North Africa director Sarah Leah Whitson said. "This trial sets a dangerous precedent at a time when Egypt is trying to transition away from the abuses of the Mubarak era."
That notwithstanding, Facebook continues its upward trend in Egypt, Desmond Shephard wrote in Bikyamasr.
"According to companies in Egypt, Internet and Facebook use has dramatically increased since the January 25 revolution toppled now former President Hosni Mubarak," he said of the social networking site that along with Twitter was instrumental in rallying net-savvy activists to Cairo's Tahrir Square.
Meanwhile, a sit-in by students and faculty of Cairo University's School of Communications to demand the firing of the dean and Mubarak loyalist Sami Abdel Aziz was entering its second month.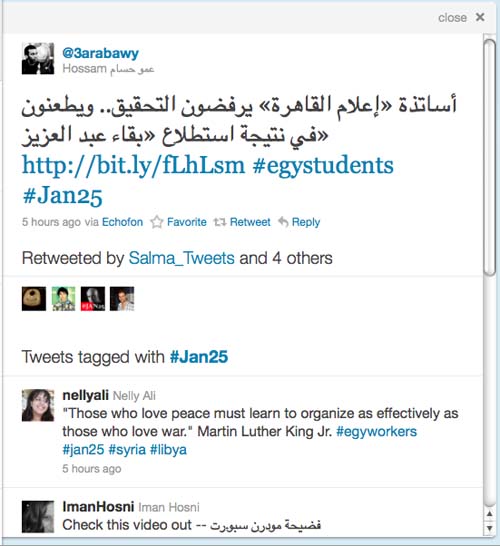 Tweet about Cairo University School of Communications faculty demanding dean's removal (Abu-Fadil)
The independent daily Al Masry Al Youm said the students had begun an open-ended hunger strike and had called for demonstrations to "purify the university."
Abdel Aziz is a member of the discredited former ruling National Democratic Party (NDP) and a former member of the disbanded and mostly rubber-stamping ancien regime's Consultative Council.
Association with the NDP's Policies Committee - once headed by Gamal Mubarak, son of the ousted president - have also haunted Nile TV chief Hala Hashish, despite her denials she was a member of that party's decision-making body.

Hala Hashish (Abu-Fadil)
A number of the channel's staffers said they were notifying the attorney general Hashish had smeared demonstrators, maligned the revolution and insulted noted Egyptians, Al Dostour newspaper reported.
Another journalist in the doghouse is Amal Othman who wrote in a state-run paper: "The revolution can go to hell."
News of her insulting remarks was posted on YouTube for all to see.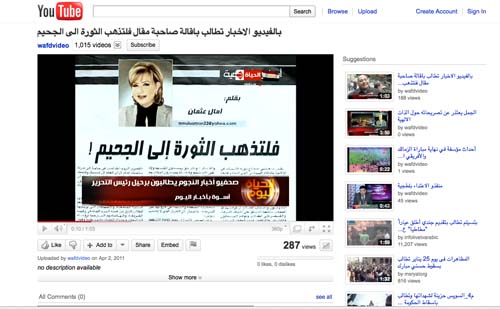 Amal Othman tells revolution to go to hell (Abu-Fadil)
It will be interesting to see if the Supreme Council of the Armed Forces really adapts to the winds of change or retains the old repressive practices of the Mubarak regime and seeks its own set of cheerleaders.
Calling all HuffPost superfans!
Sign up for membership to become a founding member and help shape HuffPost's next chapter