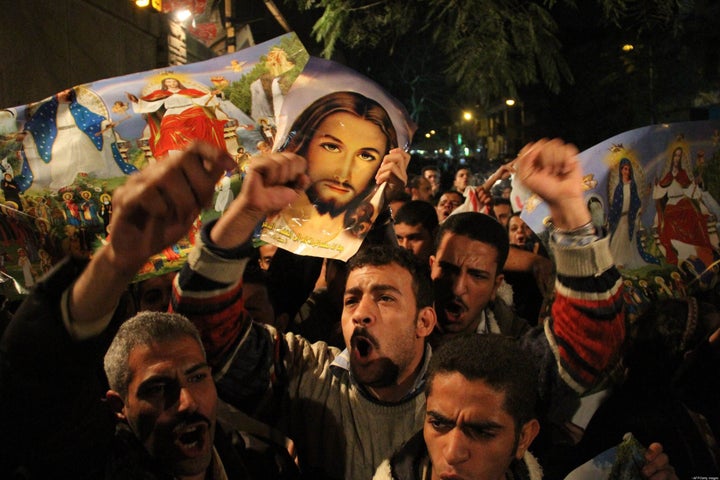 Egypt's Muslim community followed through on their promise to support the country's embattled Christian population as they celebrated their Christmas Eve masses on Thursday night.
Anxiety among the nation's Coptic Christians, who make up approximately 10 percent of the population, was at a fever-pitch in the wake of the New Years day attack on Saints Church in Alexandria.
Egyptian newspaper al-Ahram reported that prominent Islamic leaders and celebrities had called for a massive show of support by Egypt's Muslims in order to send a message that the majority of the nation would not stand for extremist violence and persecution.
"We either live together, or we die together," was the sloganeering genius of Mohamed El-Sawy, a Muslim arts tycoon whose cultural centre distributed flyers at churches in Cairo Thursday night, and who has been credited with first floating the "human shield" idea.

Among those shields were movie stars Adel Imam and Yousra, popular preacher Amr Khaled, the two sons of President Hosni Mubarak, and thousands of citizens who have said they consider the attack one on Egypt as a whole.

"This is not about us and them," said Dalia Mustafa, a student who attended mass at Virgin Mary Church on Maraashly. "We are one. This was an attack on Egypt as a whole, and I am standing with the Copts because the only way things will change in this country is if we come together."
Read the whole story from al-Ahram here.
Related
Popular in the Community