Fallout from Egypt rattled cages at the pan-Arab, Saudi-owned satellite channel Al Arabiya when presenter Hafez Al Mirazi on Saturday threatened to quit if he was not allowed to discuss the revolution's impact on Saudi Arabia.
"Would Saudi papers dare to say anything about King Abdullah or the Saudi regime?" he asked veteran Egyptian journalist Hamdi Qandil in a press review segment on his (Al Mirazi's) show called "Studio Al Qahira" (Cairo Studio).
He found out on Sunday, when the show wasn't aired and rumors filled cyberspace that Al Mirazi would be fired.
Some Arab media observers thought his provocative dare on the air was unprofessional, while others lauded him for highlighting shortcomings on a channel criticized by Egyptian viewers for what they considered siding with the regime of former President Hosni Mubarak.
"The producer told them (management) I was preparing to present the (Sunday) episode, but they told her coverage of events had been reduced and that the show had reverted to being a weekly, although there was an agreement to air it daily until the Egyptian presidential elections next September," Al Mirazi told Saudi blogger Hasan Almustafa.
What added fuel to the fire was Al Mirazi hosting Qandil, a known Egyptian TV figure who had been barred from the local airwaves for skewering the Mubarak regime.
During his appearance on Studio Al Qahira, Qandil said the game of criticizing other countries and not one's own, or criticizing other TV stations and not one's own station owners, had been exposed in the coverage of events in Egypt, and that it was no longer sustainable.
"That ended yesterday," Qandil said. "After that, nobody will be able to impose anything on us; not those in power, or those with money."
Qandil said journalists should be proud of their profession and their mission, adding that the fourth estate drew its authority from the people.
Al Mirazi then turned to the audience and said if journalists could not express their views, they should stop.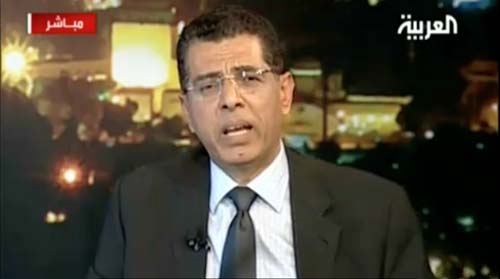 Hafez Al Mirazi threatens to quit Al Arabiya (Abu-Fadil)
He announced that in the next episode of his program he would discuss the Egyptian revolution's effect on Saudi Arabia.
"If we can do that, then Al Arabiya is an independent channel. If not, I bid you farewell and thank you for watching our show," he concluded as he signed off.
Al Mirazi, a veteran of the BBC, had headed rival Al Jazeera's Washington office and hosted a successful talk show from the U.S. capital, before moving to Cairo and working for the Saudi-owned Al Arabiya news channel.
Both channels have come under attack for their coverage of events in Egypt, with Al Jazeera taking the lion's share of barbs, amid accusations that it stirred the pot and instigated violence during the unrest.
Egyptian officials have had a long-running feud with the Qatar-based Al Jazeera, and the leaders of both countries hadn't always seen eye-to-eye.
At the height of the recent revolution, Egyptian authorities shut down Al Jazeera's Cairo bureau, revoked its correspondents' accreditation, briefly detained several of its reporters, and bumped its broadcasts off the government-controlled carrier NileSat .
But Al Arabiya was not entirely immune either.
Its bureau chief Randa Abulazm was accused by Egyptian demonstrators of being too soft on the regime of ousted President Hosni Mubarak and of covering events in a vague fashion.
"What's strange is that she is the only person, who, through her sources, managed to leak a segment of Mubarak's recorded speech, which clearly means she's part of the Egyptian regime's conspiracy against the people's revolution," wrote a detractor on the Rassd media monitor's Facebook page.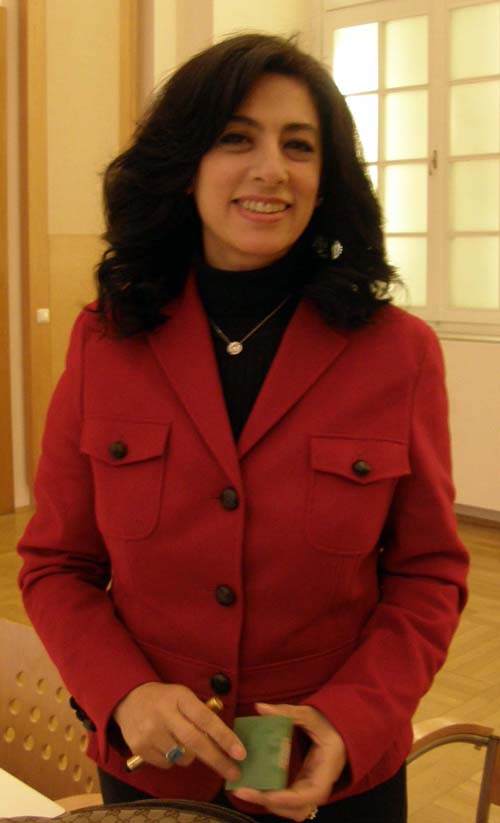 Randa Abulazm (Abu-Fadil)
But the strongest criticism was aimed at Egyptian state-run media for being the regime's cheerleaders, and, since Mubarak's resignation following a 30-year grip on power, for an about-face in their coverage of events.
"Put them on trial for misleading the people," was the headline of a scathing article by Issam Shaltout in Al Youm Al Sabeh (The 7th Day) about the editors of Egypt's leading government-controlled newspapers.
Egyptian state television headquarters were surrounded last week by protesters who objected to broadcasts slamming the revolution and siding with the government.
They carried signs that said: "Exclusive lies broadcast on Egyptian TV."
But after Mubarak stepped down, official TV changed its tune and congratulated the Egyptian people and army on the success of "the great revolution."
"Egyptian media turn 180 degrees to catch up with the revolution," said the pan-Arab daily Asharq Al-Awsat.


Asharq Al-Awsat (Abu-Fadil)
It said on Friday morning state TV had interviewed guests who ripped into anti-Mubarak demonstrators by calling them Iranian agents, but in the evening broadcast footage of a poster that called for the regime's overthrow.
According to Egypt's Al Wafd newspaper online, the military command council that took over the affairs of state on Friday deposed Information Minister Anas Al Fiqi and his entourage at the ministry.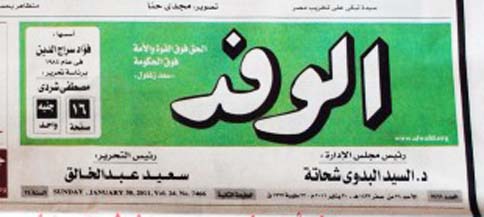 Al Wafd newspaper (Abu-Fadil)
But a breaking news bulletin on Al Jazeera late Saturday said Al Fiqi had resigned two days earlier and was barred from leaving the country, and placed under house arrest, while a caretaker cabinet would handle matters until a new government is formed.
Al Wafd had also accused Al Fiqi of being a pet of former first lady Suzanne Mubarak who, it charged, helped him suddenly rise to a cabinet position although he was ill-qualified for the job and later squandered millions of dollars during his tenure.
The paper reported that journalist Sahar Al Geara wanted Al Fiqi tried for inciting to violence against the demonstrators in Tahrir Square. She said state-run media, at the minister's instructions, had accused the young protesters of being agents and traitors.
Meanwhile, the discredited journalists syndicate's president, Makram Mohamad Ahmad, said he would take an extended leave of absence (read resign) after he was heckled by members of his union who pushed him out of the building.


REAL LIFE. REAL NEWS. REAL VOICES.
Help us tell more of the stories that matter from voices that too often remain unheard.