By Alastair Macdonald and Maggie Fick
CAIRO, June 14 (Reuters) - Syria's president and his Shi'ite allies were denounced by leading Sunni Arab voices on Friday, including Egypt's ruling Muslim Brotherhood, which had reached out across Islam's sectarian divide but has now called for jihad.
The Brotherhood accused Shi'ites of being at the root of sectarian conflicts throughout history and threw its weight behind holy war - just months after a high-profile rapprochement with Iran, which backs Bashar al-Assad and Lebanon's Hezbollah.
"Throughout history, Sunnis have never been involved in starting a sectarian war," spokesman Ahmed Aref said, adding that Hezbollah provoked the new sectarian conflict in Syria.
As the United States swung the force of its arms behind the mainly Sunni rebels, calls to jihad from the mosques of Mecca and Cairo could speed weapons, and fighters, into Syria.
And, with anger flaring across the Sunni-Shi'ite faultline that divides the Middle East, a conflict that has also split world powers along Cold War lines risks spilling over elsewhere.
The Muslim Brotherhood had been "vague" on Syria, said Khalil al-Anani, an expert on Islamist movements at Washington's Middle East Institute: "But now they have decided to join the kind of sectarian war against Hezbollah, Syria and Iran."
Assad, whose dominant Alawite minority is an offshoot of Shi'ite Islam, says he is fighting to preserve Syria's once tolerant patchwork of faiths; but after two years of fighting an uprising inspired by Egyptians' overthrow of military rule, his forces and their foes are both accused of sectarian atrocities.
Disparate rebel groups, broadly backed by U.S. ally Saudi Arabia, are fighting alongside radical Sunni Islamists, some linked to al Qaeda; but Hezbollah's despatch of militiamen to help Syrian troops retake a strategic town has electrified broader Sunni opinion against Iran and Shi'ites this month.
Many saw it as proof of an Iranian drive for regional power.
Representatives of dozens of Sunni religious organisations met in Cairo this week to issue a call to jihad in Syria - a call endorsed by the Brotherhood, whose spokesman Aref said on Friday the gathering had "awakened the conscience of the world".
President Mohamed Mursi, who hosted his Iranian counterpart in Cairo in February, will make a speech to the conference on Saturday, Aref said, in which he may clarify Egypt's position on whether to encourage the faithful to go to Syria to fight.

Hezbollah leader Sayyed Hassan Nasrallah said in a speech his men would battle on in Syria against what he called a threat from the United States, Israel and "takfiri" - hardline Sunnis.
In another mark of how high sectarian feeling is running, Friday's televised sermon for weekly prayers at the Grand Mosque in the holy city of Mecca included an outspoken personal attack on Assad - a tyrant whose troops he said had raped women, killed children and destroyed homes over the past two years.
Sheikh Saoud al-Shuraym said: "All of that puts on the shoulders of each one of us a share of responsibility before God ... to take a unified and conscious stand.
"Our brothers need more efforts and determination to be exerted to remove the merciless injustice and aggression through all means and with no exceptions," he told worshippers.
Saudi clerics usually reflect a government line and the comments were unusually explicit in their political nature.
Since the 7th-century schism between Sunni and Shi'ite Islam, relations have been punctuated by conflict. In modern times, the strict Wahhabi school of Sunni Islam adopted by the Saudi monarchy has generally been more hostile to Shi'ites than has the Brotherhood, a movement founded in Egypt in the 1920s.
That the Brotherhood now echoes Saudi hostility underlines a hardening of attitudes which could fuel unrest that has already troubled Lebanon, Iraq and some Gulf states, as well as Syria.

One Egyptian government newspaper published a plea from an Iranian cleric for understanding between the faiths.
But state television broadcast a sermon in Cairo by a leading Saudi cleric, Mohammed al-Arifi, who called for jihad in Syria "in every way possible"; some worshippers waved Syrian rebel flags and dozens of Egyptians gathered outside afterward to chant their support for bringing down Assad.
Some young men said they were ready to go and fight: "We see children dying every day," said Ahmed Fouad. "We will fight for the sake of God, God willing."
Another would-be volunteer, Hassan Mohamed Hassan, said: "The Egyptians will not hesitate and stand idly by in the face of these actions by Hezbollah and Hassan Nasrallah."
The scholars meeting in Cairo stopped short of echoing an explicit call by Egyptian scholar Youssef al-Qaradawi, a Qatari-based television preacher linked to the Brotherhood, for able-bodied Muslims to travel to the battlefields and fight.
An aide to Mursi said on Thursday that Egypt disapproved of external intervention in Syria, notably that by Hezbollah. It was not sending fighters but the government could not stop Egyptians from travelling and would not penalise any who went.
The aide played down fears Egyptians might return as militants from Syria. The Brotherhood disavowed violence in the 1970s but other militants did not. Mursi also faces a political challenge from ultra-conservative Salafi Islamist parties.
Khalil al-Anani suggested that Mursi's administration may see domestic policy benefits from a harder line toward Assad.
Rallying Egyptian opinion over Syria could, he said, deflect attention from discontent that is driving plans for street protests on June 30, the first anniversary of Mursi's election.
And it could also dampen criticism from Salafists who were incensed when Mursi welcomed President Mahmoud Ahmadinejad for the first such visit since Iran's Islamic revolution of 1979. (Additional reporting by Tarek Fahmy in Cairo, Sami Aboudi in Dubai and Dominic Evans in Beirut; Writing by Alastair Macdonald; editing by Mike Collett-White)

Before You Go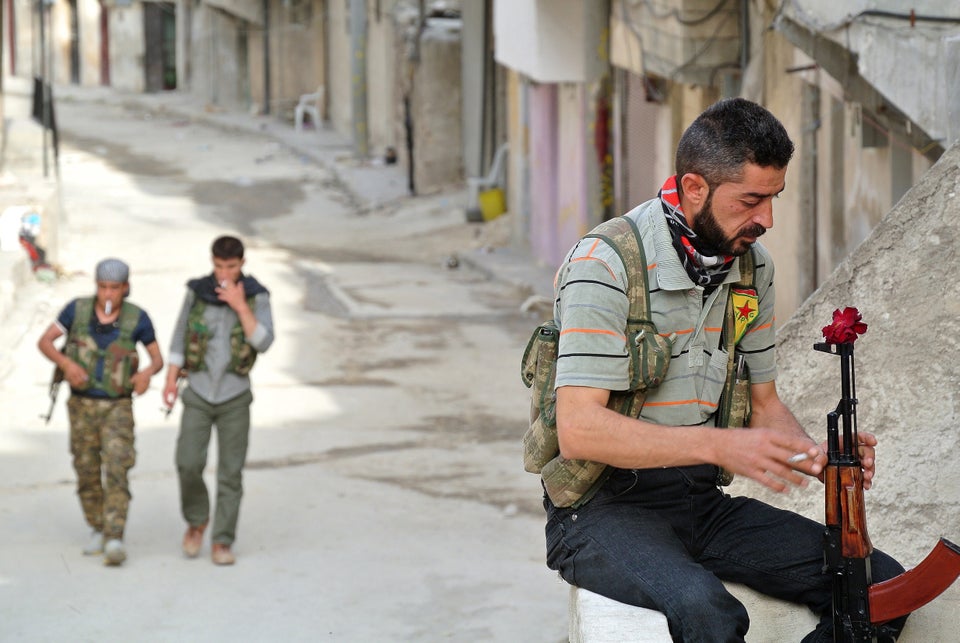 Syria In May: Stalemate Breaks In Qusair
Popular in the Community