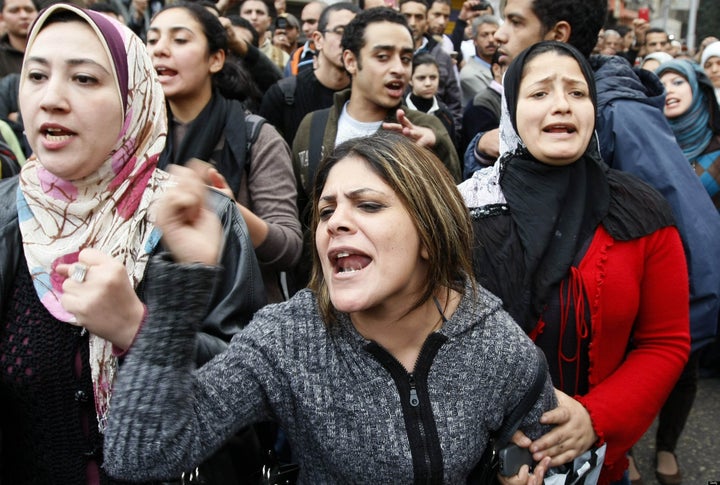 Pitched battles in Cairo's Liberation Square aren't the only place where Mubarak supporters and opponents have been fighting it out over the past week. In her old neighborhood, writer and academic Shereen El Feki found family friends feuding over the future of their president and their country. When Mubarak is out of the picture, these rifts can start to heal. For all the trouble ahead -- and there will be plenty of it -- Egypt's uprising has done more to unite its citizens than drive them apart, and bought Egyptians something the regime's much-vaunted economic growth never could: pride once again at being Egyptian.
"Ya, Shereen, we are scared, so scared." After days of trying to get through, I finally reached my close friend A. by phone early last week. In her early 40s, she lives with her husband and three kids in a lower middle class area of Maadi, a suburb in the south of Cairo. "I don't sleep before 3 a.m., and only for little hours. I just go out to the supermarket, to see the sun and not to feel so scared," she told me, her voice breaking with exhaustion and emotion. "Oh my God, what is happening to my country?"
A. and I met in happier times, in 2008 when I moved to Cairo to do research on the everyday lives of Egyptians. Although I was raised in Canada and the UK, my roots are in Egypt through my father, in a family line that stretches back generations and runs along the Nile, from the concrete of Cairo to the coast of Alexandria. I moved back because I wanted to understand what makes Egyptians tick, and in the process, better understand my own identity as an Arab and a Muslim -- pressing questions in a post-9/11 world.
To those who know Egypt, the uprising was both inevitable and unimaginable. In 2009, I was part of a team which developed a survey of Egyptian youth, asking 15,000 people aged 10-29 across the country about various aspects of their lives, from female circumcision to civic participation. The findings were dispiriting, to say the least: around 20 percent unemployed, less than half satisfied with their schooling, more than a quarter of young men planning to migrate at the earliest opportunity. Only 12 percent of eligible youth were registered to vote, fewer than half even talked about politics and less than 5 percent participated in any sort of organized activity. Most young people, it seemed, had gone offline from their country, young men in particular focused on finding a job to make enough money to get married, get laid in the only socially-acceptable context -- matrimony -- and move out of their parents' home.
"I always used to say before, this generation has nothing to do but stay on their computers and play," Mahmoud Hadi told me. He's a retired army-general in his 50s, who lives with his wife and two children around the corner from A. "But I was very wrong. At the beginning I was very surprised by the demonstrators, the decency, the civilized way they presented their ideas. This generation has proved to me that they have plans for the future, and they know how to work for it." In just over a week, Egyptian youth have gone from being layabouts to leaders in Mr. Hadi's eyes. A., too, has seen the change; she often fretted about her 20-year-old's lack of maturity. Not anymore, though. "They are guarding the house, both my sons," A. told me. "This week, they have become men." For the gerontocrats of Mubarak's regime, this sudden coming of age of Egyptian youth is not exactly good news, but if this new sense of empowerment and responsibility can be sustained, it is one of the most significant developments of these days of turmoil.
Yasmine, Mr Hadi's 21-year-old daughter, is living proof. Just back from the "million man march" in Liberation Square, she was gushing with enthusiasm. "I wasn't politically involved before. I was not a demonstrator girl." However, after receiving a message on Facebook calling Egyptians to the streets, heeded by hundreds of thousands, Yasmine decided to join them. "I'm always thinking I'm alone, so we don't do anything. But I can see the power of all people."
This newfound solidarity is another important outcome of recent events. Egypt, once a melting pot of peoples, classes, cultures and religions, has, after 30 years of Mubarak's rule, become a place of intolerance and distrust of the other.
These demonstrations have brought people together in a way that few could have imagined a year ago. Yasmine recounted:
I was protesting, and on my right there was a man who cannot walk. He was over 80, and [so poor] he is not having shoes. And on the other side, there is a famous journalist. I am just a small student, and he is a journalist and this poor man, we tried to help him to walk with us.
There is similar unity, at least among these families in Maadi, on Egypt's key problems. "Better education, helping youth to find work, to marry without a lot of financial burden, also for my husband to find better work, better salary, these things we hope," says A. of her wishlist for change, speaking not just for her neighbors, but most Egyptians as well.
While both families agree on what's wrong with Egypt, they differ sharply -- in increasingly heated arguments -- in whom they trust to put it right. A. and I had never talked politics, because we were never quite sure who was listening. But I had assumed, because of her everyday economic struggles, and because of her job at the American University in Cairo, a comparative bastion of liberal values in Egypt, that she would be all for Mubarak's departure.
But I would be wrong. "I love Mubarak. I respect him a lot. Yes, we have troubles, but I don't think he is only to blame." A. praises Mubarak for the 30 years of peace he has brought Egypt, protecting it from invasion by America and/or Israel. With him gone, she fears "we will be very weak like bread, everyone will come and eat us." She craves stability; now that Mubarak has changed his cabinet, that's enough transition for her. "We should not say to our father, Mubarak, go leave the house, because he is our house."
Meanwhile, I assumed Mr. Hadi, ex-general turned civil servant, would support his former commander-in-chief. But I was in for a surprise there too. "I have very defined requirements: reform the house of representatives, plan for clean and transparent elections and put an end to a deeply-rooted corruption from top to bottom." But it could only begin, for Mr Hadi, with the removal of the Mubarak. "We enslaved ourselves [to the president]. We manufactured a god and we started to worship him, but with time we forgot that we made that god ourselves."
The very fact that Mr Hadi and his family, who oppose Mubarak, are willing to see their names in print is one measure of the seismic shift now shaking Egypt. But it is hard to stay silent at the scenes unfolding by the hour. Since these protests began, Egyptians have regained a sense of purpose and a passion for the future of their country -- for and against the current regime. That's a victory for Egyptians, no matter how this crisis ends.
Shereen El Feki is a writer, broadcaster and academic. She is an expert on social change in the Arab region, particularly as it relates to sexual and reproductive life and is a UN Global Expert, a project of the UN Alliance of Civilizations.
Support HuffPost
The Stakes Have Never Been Higher
Related
Popular in the Community