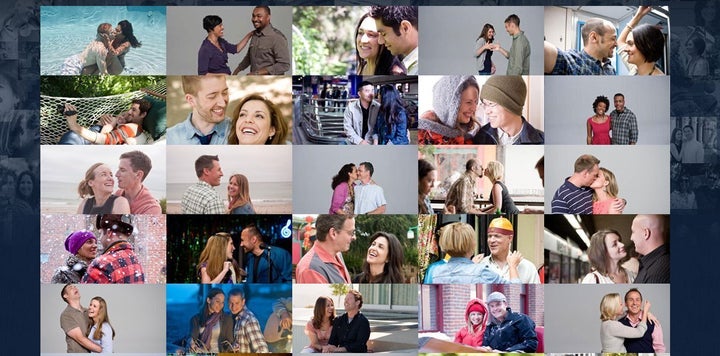 Shortly after visiting eHarmony's enormous new billboard in Times Square, eHarmony CEO Greg Waldorf sat down with the Huffington Post in New York to discuss the future of online matchmaking, same-sex dating on eHarmony (which has been a point of controversy for the site), and his take on tech from iPads to Twitter.
Huffington Post: Where do you see social media fitting in with online dating? Greg Waldorf: If you ask most people how social media plays into dating, they'll say [social networks are] not dating [sites]. Whether they're on Facebook or Twitter, people clearly use social media for dating, and yet they'll tell you it's not about dating. To some extent social media is a great complement to paid dating because paid dating is about "I'm looking for a relationship." There's no question about why people are there and that has a real benefit to users. If you talk to people who were successful on eHarmony, they'll say, "One of the reasons I came was that I wanted to know that the other people who were here were interested in the same thing I was interested in." It's not about reading the tea leaves of someone's status indicator. It's there for a stated purpose. Social networking is such a powerful experience on so many levels, but it's about a lot of different things. I think [paid dating] creates a private environment.
Do you see social media as an asset for paid dating sites? Social media and paid dating coexist very well as long as the paid dating sites are very mindful that you'd better be delivering a lot of value when people are paying you. That's why we invest a lot of resources, money, and time into the matchmaking system...[Social media] pushes us to work harder because these other things are free.
What does "real life" dating offer that you can't yet get online? I think the hardest thing is the shared social experience of dating. Dating, in particular for women, is an inherently shared experience... When it comes to online dating, you hear a lot from users "We decided to do it together." Friends, coworkers decide to become proactive at the same time. But once they're in, it is not inherently that much of a shared journey, it's more solitary. And I think that is one of the things that, if we bridge better into social media, hopefully we can let people do. That [shared social experience] is one of the things that makes dating easier. If you're nervous about asking out that person at a party, you might have more courage if you can walk up with a friend.
And what does online dating offer that you can't yet get in "real life"? It gives you more efficiency and it's purposeful. You're in a process where you should be connecting with other people who are interested in some type of relationship. Why does eHarmony have a separate site for gay couples, Compatible Partners? [eHarmony settled a class action lawsuit earlier this year, which was brought against the company by a group of gay and lesbian individuals who alleged the site discriminated against users looking for same-sex relationships. Under the settlement, "eHarmony will link its straight and gay Web sites and allow people to use both without paying double fees," the AP explains.] To answer that question, you have to look at how the industry works...Online dating is about effective marketing. There are a lot of sites that only do same-sex and they are very clear about being same-sex only and they don't try to be straight...There are many, many sites which are around certain types of dating. Consumers have shown that they clearly find benefit in these community of interest sites...For us, we did it because we thought we'd be more successful, but the important thing is that you can go to eHarmony and say you're a man looking for a man or a woman looking for a woman, and be immediately able to sign up--and hundreds of thousands of people have. I just think that at this point, why should I have anything to explain other than the success of the site? I feel so good about the success. Do you measure the marriage rate for gay couples? You know I don't think it'd be showing up as a significant number if you think about how few states you can get married in. You noted that, on average, 540 eHarmony couples get married every day, up from 90 couples per day in 2006. You track marriage rates, but do you measure divorce rates? We don't. It's a tough one to figure out and it's one we would like to figure out, but for a bunch of survey reasons it's challenging. We're working on it. I hope to have something in a year or two.
You've developed specific set of questions every member must answer in order to be matched with a compatible user. Have you done research to see whether the qualities that make for compatible, heterosexual couples are the same for same-sex couples? We haven't yet, but we're getting closer to that. By this time next year we will have that research complete. It's not as easy as it sounds. With the regular eHarmony research, you have the definition of saying "Okay, everyone in the research is a married couple." But in the research we're doing on same-sex couples, people can be...in committed relationships, so recruiting is a little bit different, but we're working on it.
Is the eHarmony questionnaire the same for different countries? [eHarmony is currently available in the U.S., Australia, Canada, and the U.K.] In every market we redo the matching model for the local cultural dynamic of what are the norms for relationships in that place. Some of the things are different, but there are also some really universal qualities that come through in this type of research. According to your research, what are the "universal qualities" that people across different countries and cultures look for in a mate? You hear some version of the following statement [from men]: "I want to be appreciated for whom I am and be with a woman who's not going to try to change me." That's a really common statement for guys. Women universally, in all countries we go to, are looking for men who are dependable, reliable, and good communicators--someone who tells the truth. You tend to find those things, interestingly, no matter where you travel, no matter where you go...I can say this based on [research from] Asian countries, North America, South America...These are really universal qualities. Free association--tell me the first thing that comes to mind for each of the following terms: Craigslist: Haven't used in years Steve Jobs: Inspiring Facebook: Powerful Webinar: Boring Twitter: Surprisingly useful. (He adds: "I find Twitter surprisingly useful to follow. If you have just a little bit of time, you can do something surprisingly meaningful with it.") Microsoft: There's a lot you can learn from them. 3D: No time Google: Every day BlackBerry: My first love iPad: Incredible (He adds: "I honestly think that the iPad has really changed the computing paradigm. It's always on, the battery lasts a really long time, and it's not a cluttered environment. It think one of the reasons people like apps so much is that you have a very meaningful experience. You're there to do something...You don't have the clutter...I love the iPad.")
Calling all HuffPost superfans!
Sign up for membership to become a founding member and help shape HuffPost's next chapter