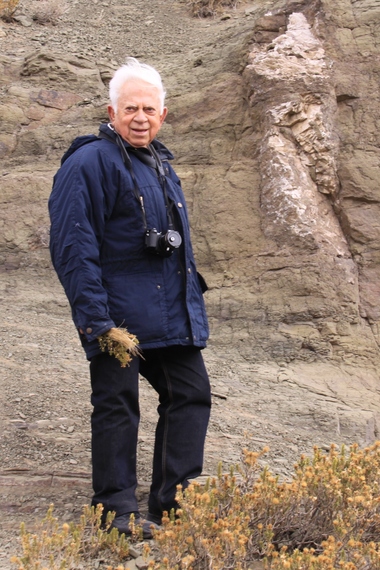 EVIATAR NEVO
(photo by Yanming Zhang, courtesy, E. Nevo)
"Human life depends on it. Philosophically, evolution theory is the basis of all sciences. Not only biological sciences and physical and chemical sciences, but also humanistic sciences. Evolution is the basis of everything." -- E. Nevo
Evolutionary biologist Eviatar Nevo was born into a family of nature enthusiasts, teachers, composers and philosophers in Palestine, then under British mandate. Nevo says his early years were a continual love affair with nature, which eventually led to a formal education in biology. His MSc and PhD degrees in biology -- both summa cum laude, from Hebrew University -- were followed by five years as a postdoc in the US. Nevo then returned to Israel in 1970 and founded the Institute of Evolution at the University of Haifa, serving as the institute's director until 2008.
Along the way, Eibi Nevo has "cared for animals" at the Zoological Pedagogical Institute and "prepared skeletons and skins of vertebrates" at the Zoological Museum of Seminar Hakibbutzim. He's been a vegetable gardener, grower of grapevines and raised cattle." As part of Israel's Hemed Geological Army, Nevo helped to map the Negev and Sinai deserts.
Eviatar Nevo's professional publications include 1,200 scientific articles and 24 books. He's discovered hundreds of animal species, 77 different Dead Sea mushrooms, and has studied the blind subterranean mole-rat for 60 years, the latter he details in his book, Mosaic Evolution of Subterranean Mammals: Regression, Progression, and Global Convergence.
Eibi Nevo is a Foreign Member of the Linnean Society, National Academy of Sciences (USA), and the Ukraine Academy of Sciences. He has received three honorary doctorates among other awards.
Nevo is professor emeritus at the University of Haifa, Israel. His research includes environmental stress and evolution, speciation, and model organisms. Our interview follows.
Suzan Mazur: Do you see an evolution paradigm shift underway?
Eviatar Nevo: I think we have to regard the evolution theory as an evolving theory. It evolves with our better understanding of the world. . . .
Genomics was a shift. Not so much in paradigm. Well, maybe in paradigm, it depends. However, it is clear that the remarkable developments in regulation by noncoding DNA and epigenetics have contributed dramatically to the evolution of evolutionary theory, in particular, regarding nonrandom, directed or adaptive mutations, the genome as a read-write memory system, and in what James Shapiro calls "natural genetic engineering."
Suzan Mazur: What is the way forward? Is it important to define a new theory?
Eviatar Nevo: A new spirit, insight and innovation is what I think is very much needed. . . .

The advancement we need now in evolution theory is to emphasize the strong link between ecology and genomics, and to evaluate the genome dynamics caused by environmental stress and changes in building novel adaptations and new biological species -- the capacity to change is itself adaptive. The potential of organisms to change their heredity, and the tempo of this process, and how it is transmitted trans-generationally needs much more research at the genotypic and phenotypic levels.
Suzan Mazur: Do you share the view of Oxford physiologist Denis Noble that the Modern Synthesis is "beguiling" and its terms metaphorical?
Eviatar Nevo: I haven't read the Noble paper, so I don't want to comment. We don't know yet the proportion of adapted or directed or non-random mutations. This is a field that should be developed . . . .
Then there is natural genetic engineering that Jim Shapiro developed. I think that is a very, very interesting paradigm. . . . In a nutshell, natural genetic engineering represents the ability of living cells to manipulate the DNA molecules and generate novel adaptive systems.
The most important aspect of evolution is variation. . . . This perspective of diversity of form -- that much of the evolutionary process may be non-random -- is a point Darwin could not appreciate. Even the Modern Synthesis could not appreciate it. That perspective needs substantial advancement.
Suzan Mazur: You've said:
"At all organization levels of genes, genomes, phenomes, and biomes, abiotic (thermal, chemical, climatic) and biotic (parasites and pathogens) -- environmental stress and challenges usually drive genetic and genomic diversity higher."

Eviatar Nevo: Yes, to understand genomic dynamics we need to link it to environmental stress, which is the main dynamo of evolutionary change. . . .
Suzan Mazur: What about the thinking that the cell instructs the genome -- that evolution is not gene-centered.
Eviatar Nevo: I prefer not to go into cell biology because this is not my field. . . . [T]he idea that the cell instructs the genome is meaningful. The idea that DNA is a read-write memory system underlying active evolution seems to me very plausible . . . [but] our information and knowledge about regulation remains very, very slim. . . .
[T]he future of evolutionary biology lies in better understanding regulation of the non-coding areas that have been wrongly or unjustifiably called junk DNA. . . .
[Here in Israel] we are doing work in this field in microscale -- I refer to this as "Evolution Canyon" . . . Evolution Canyon is a microsite where you get the interface or the abutting of two continents on opposite slopes. Like a meeting of the African and European continents across a distance of 200 meters.
This means the macroclimate and the geology are the same on both slopes of the canyon, and yet, if you look into the African slope, the south facing slope, which gets up to 800% more solar radiation than the European north facing slope -- you see dramatic differences in the biodiversity between the savannoid African and forested European slopes. . . . This represents a cradle of sympatric speciation, i.e., the origination of new biological species within freely inbreeding populations of abutting slopes. . . .
We've found that all organisms including bacteria, plants, fungi, animals, all biodiversity, all really speciate incipiently, and this is why I called it the "Israeli Galapagos". . . .
Suzan Mazur: You mentioned bacteria. How does including microbes, viruses and viroids reframe the picture of evolution?
Eviatar Nevo: The subject of bacteria and viruses is having a tremendous effect on current thinking. The viral world contributes enormously to the genomes of cellular life and thereby shapes the evolution of life in general. Take, for example, the mouse genome -- it has about 10% of viral sequences in it. . . .
It is amazing that blind mole-rats that originated some 47 million years ago still retain viral sequences in their placenta. . . .
The mole-rats are a mosaic of regressive, progressive, and convergent evolution, illustrating how evolution advances. . . .
About 45 to 35 million years ago there was a very great climatic turnover globally during which many, many mammals went underground and became very small -- the moles and mole-rats on all continents are examples. Those animals had to learn to live with underground stresses. . . .
The underground gave shelter from predators and from wild climatic fluctuations but it also brought stresses like total darkness, hypoxia, hypercapnia, energetic problems related to digging, high infectivity and high pathogenicity. So the entire organism had to change, and it did so mosaically, generating adaptive innovations for life underground. . . .
Let me give you a concrete example. I'm now working on the evolution of a new species of blind mole-rat [in]. . . two sharply divergent ecological habitats in the eastern Upper Galilee: basalt and chalk . . . separated by only a few meters.
[T]he whole genome [of these blind mole-rats] is changing. . . .
The idea of the Modern Synthesis was that in order to generate new species, you needed to be isolated geographically to develop a new genetic structure. . . .
I'm speaking more about the whole organism, rather than a cell, but clearly their cells are dramatically differentiating in the divergent ecologies as the DNA deciphers.
Suzan Mazur: Convergent evolution happens.

Eviatar Nevo: Of course it does. For example, underground hypoxia can go down to 7%, 6%, 5%, 4% or 3% oxygen. For subterranean mammals, hemoglobin was very important in overcoming hypoxia. There is hypoxia-resistance convergent evolution in all subterranean mammals across the world. . . .

Suzan Mazur: You began to say that 10% of the mouse's genome is virus. How do viruses factor in further regarding evolution.
Eviatar Nevo: Viruses are evolving dramatically. Probably most biodiversity mass is that of viruses. Viruses are the dynamo of change that we see in the modern genome. . . .

Viruses were among the first organisms to appear on the globe when life that we know very little about originated. . . [T]he total number of virus particles exceeds the number of cells by at least an order of magnitude. Viruses are major geochemical agents. . . . They are dynamos that enter genomes and affect organization and may bring novelty. They have an immense role in providing DNA to modern genomes. They are like transposon elements in many ways.

Suzan Mazur: Do viruses affect an organism's form?
Eviatar Nevo: I don't think we know anything definitive yet. . . .
Suzan Mazur: The virosphere needs to be included in any new evolutionary synthesis?
Eviatar Nevo: Absolutely.
Suzan Mazur: What is your definition of life?
Eviatar Nevo: Our understanding of origin of life is very slim. . . . [First] life didn't fossilize. The best we can know about origin of life may be from viruses we are looking at. They could have been at the origin of life before they parasitized it, or became symbionts in prokaryotes and eukaryotes. . . .

Suzan Mazur: How important is it that we arrive at a new understanding of evolution?
Eviatar Nevo: Human life depends on it. Philosophically, evolution theory is the basis of all sciences. Not only biological sciences and physical and chemical sciences, but also humanistic sciences. Evolution is the basis of everything. Languages evolve, institutions evolve, and human cultures evolve. . . .
Support HuffPost
The Stakes Have Never Been Higher
Related
Popular in the Community