The timing of the holiday in many parts of the world depends on when Saudi Arabian religious authorities see the new moon at the start of the Dhu al-Hijjah month, according to the Islamic calendar.
Muslims celebrate Eid al-Adha to commemorate Abraham's willingness to sacrifice his son Ishmael in obedience to God in scripture. Today, some celebrants mark the day by slaughtering animals to feed the poor.
According to the Quran, when Ishmael (known as Isma'el in Arabic) was 13, his father, Abraham, or Ibrahim, began having dreams in which God instructed him to sacrifice Ishmael (Quran Surah 37). Unbelievable as the dreams were, Abraham decided to follow Allah's instructions — but not before asking Ishmael if he would agree to this. 
His son did not hesitate, showing ultimate submission to God's will by telling his father to go through with the sacrifice. But at the very moment that Abraham raised the knife, Allah told him to stop — they had passed the test — and to replace Ishmael with a sacrificial ram. In the Quran, Abraham is rewarded for his faith with a second son, Isaac.
Muslims observe and prepare for Eid al-Adha in a number of ways. At dawn on the day of Eid, Muslims recite the traditional declaration of faith, the Takbir, followed by the pre-sunrise communal prayer, Salat al-Eid, which is also said on Eid al-Fitr. Worshipers then greet friends with the traditional Arabic salutation of Eid Mubarak ("Have a blessed Eid") and exchange gifts.
In a symbolic act, some Muslims who can afford it slaughter a cow, goat, sheep or camel, keeping a portion to feed themselves and distributing the rest to friends, family and those in need. Those who can't afford it frequently buy meat from a halal butcher to distribute. Giving out this meat, in addition to the morning prayers, is considered an essential component of Eid al-Adha.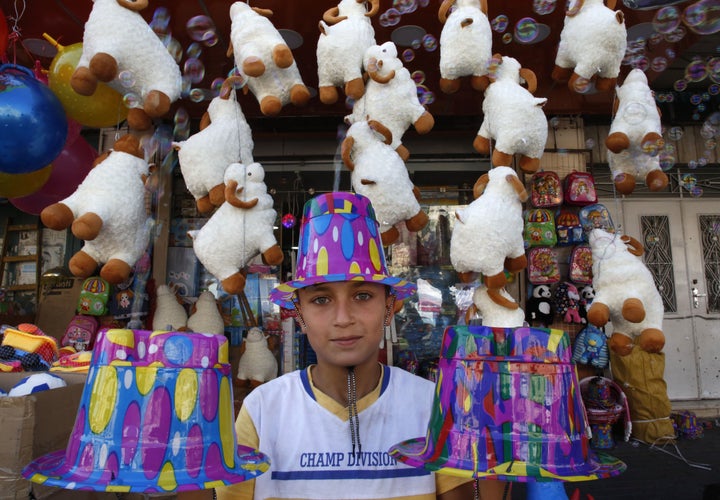 This year, the Council on American-Islamic relations is urging Muslims in the U.S. to donate the equivalent of whatever they would spend on the sacrifice to assist in relief efforts for those impacted by Hurricane Harvey.
The devastating storm, which made landfall in Texas as a Category 4 hurricane on Aug. 25, has displaced more than 32,000 people from their homes. At least 35 people were confirmed dead as of Wednesday. 
A number of Houston mosques opened their doors to displaced residents throughout the week. CAIR encouraged Muslims around the country, who will celebrate one of the faith's most sacred holidays this week, to help support relief efforts.
CAIR national executive director Nihad Awad said in a statement: "We urge members of the American Muslim community to donate an amount equivalent to the cost of their sacrifice to help those who are in such desperate need because of the unprecedented natural disaster in Texas."
REAL LIFE. REAL NEWS. REAL VOICES.
Help us tell more of the stories that matter from voices that too often remain unheard.
BEFORE YOU GO
PHOTO GALLERY
The Annual Hajj Pilgrimage