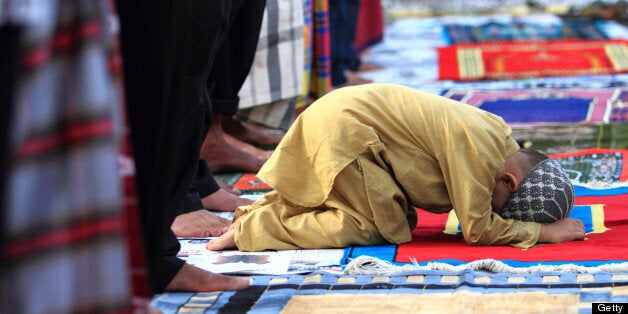 Today is Eid al-Fitr, the festival marking the end of the Islamic holy month of Ramadan, during which observant Muslims fast during the hours of daylight. As with Lent in Christianity and Yom Kippur in Judaism, this fasting creates space for reflection, humility and compassion. Current events in many Muslim countries give cause for all three.
In Syria, the scale of the human catastrophe has lost none of its power to shock: the conflict has killed over 100,000 people and turned millions out of their homes. Helping to end the plight of the refugees and the internally displaced should be every nation's number one priority. The British government has contributed our largest ever single package of crisis aid, worth over half a billion dollars. We are also putting our full weight behind international efforts to find the peaceful, political solution that the people of Syria so desperately need and deserve.
By contrast, there is welcome news on the conflict between Israel and the Palestinians, in the shape of an agreement, brokered by Secretary of State John Kerry, to resume negotiations. As the Foreign Secretary, William Hague, said, "This is a beginning, not an end." Nevertheless, it is an important step toward peace.
Secretary Kerry welcomed the Middle East negotiators to Washington with an iftar, the traditional meal to break the Ramadan fast at sunset. On Monday evening, I hosted my own iftar at my home, for around 100 guests of all faiths and denominations. As in previous years, my co-hosts were the American Islamic Congress and the American Jewish Committee. I am always impressed with the number and diversity of guests who come to my home to break the fast. This year was no exception.
I was delighted to introduce as our guest of honour and main speaker Professor Akbar Ahmed. Professor Ahmed, who teaches at American University's School of International Service, is one of the world's foremost experts on Islam today. He is also a former Pakistan High Commissioner (the term for an ambassador of one Commonwealth country to another) to the UK.
Britain's relationship with Pakistan is one of the most important we have. Today, Pakistan is experiencing what Prime Minister David Cameron describes as a "golden moment": its first ever transition from one democratically-elected government to another. Foreign Secretary William Hague, International Development Secretary Justine Greening and David Cameron have all visited recently. Secretary Kerry's visit just last week underscores the importance the US also attaches to its ties with the country.
Our cooperation with Pakistan in the fight against extremism and instability is well known. Other aspects of the UK-Pakistani relationship are perhaps less talked about, but they are equally important to the strength of our partnership.
We are essential economic partners. Britain is already the second-largest investor in Pakistan. Last year, the Pakistan-UK Trade and Investment Roadmap set a target of expanding bilateral trade, already over £2 billion ($3 billion) to £2.5 billion ($3.8 billion) by 2015. When the Prime Minister visited in June, he and Prime Minister Nawaz Sharif agreed to raise that target further, to £3 billion ($4.6 billion). We also enjoy deep and widespread cultural ties, mainly through the over 1.2 million people in Britain of Pakistani descent. British Pakistanis have made it to the upper echelons of all kinds of professions. One of the highlights of my time in Washington was introducing British boxing star Amir Khan at a press conference in advance of his world title fight here in 2011. Khan, one of the most successful British boxers ever, was born in Bolton to a family with roots in Pakistan, and describes himself as proud to be both British and Muslim.
Sadly, Monday's iftar was my last in Washington. I hope my successor will carry on the tradition; and that he will have, with each passing Ramadan, increasingly positive news to reflect on from around the Muslim world. Eid Mubarak.
REAL LIFE. REAL NEWS. REAL VOICES.
Help us tell more of the stories that matter from voices that too often remain unheard.