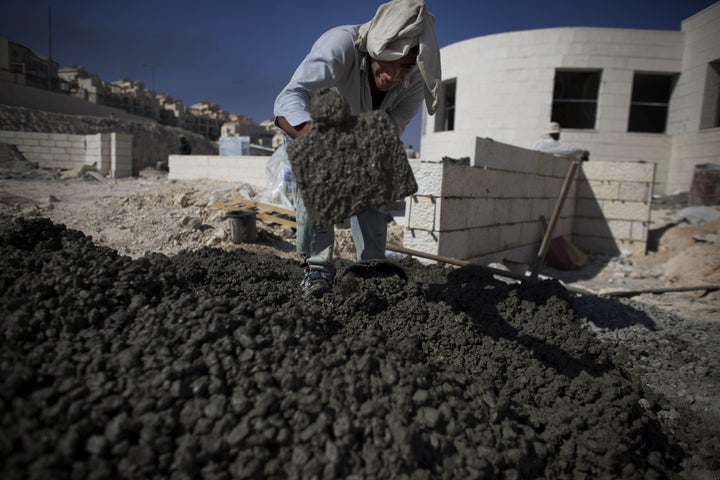 Al Eid is a holy time of the year for Muslims. Families gather and visit each other over the four-day holiday, which are for most a time for families to be together. When one member of the family is missing, it makes it hard to enjoy Al Eid in the same way. Thousands of families of Palestinian political prisoners are suffering because a family member is in prison. For me as the wife of Abdallah Abu Rahmah, who has now been held for one year in Israeli jail under the accusation of "incitement," every day without a husband is difficult. It's painful to see my children missing their dad not only during Eid, but every day. Our daughters Louma (8) and Layam (7) used to go with Abdallah on family holiday visits, and now cry when talking about their dad. His one-and-a-half-year-old son Layath does not even remember his dad as he was only 7 months old the night Abdallah was arrested. He says Baba when he sees Abdallah's picture, but of course he does not know him, since he was just a baby. Also, for Adeeb Abu Rahmah's children, Eid is not the same without their father. Both our families were hoping to have the children's father home for Eid, but the military prosecution managed to postpone the release in both cases.
Arrested in front of the children I recall the night when our family was brutally woken up by the Israeli Army breaking into the house. I woke up by someone knocking the door 1:30am on the 10th of December (2009). Abdallah said it might be soldiers -- because who else would come to pay a visit at that time? Suddenly the door was broken down, and armed soldiers stormed the house. Abdallah was taken out in the stairway, with four soldiers blocking him from seeing me and the children. He was not allowed to go back to say goodbye or to change his clothes, only our two daughters could pass the soldiers to see him one last time. He had to change from night clothes in the stairway. Nine army jeeps, with dogs, were waiting outside the house. Our daughters asked: "Am I dreaming? Did soldiers take my dad?" They both thought it was a nightmare.
In the months leading up to Abdallah's arrest almost one year ago, the army was carrying out frequent raids to look for him. Our children were used to being woken up by masked soldiers entering the house at night, and were traumatized. After their father was arrested in the last night raid, 7 year old Layam told me that she was happy that the soldiers would not come back now. Imagine how sad it is for a mother to hear that! But now, when we speak about Abdallah, Layam cries. They both laugh and cry in the same time, because they miss him and love him, and remember him as a caring father and a friend. And I miss him too.
Our one-and-a-half-year-old son's name is Layath. The name means 'Lion'. He is small, but he is strong. He has to be strong. He does not know what happened to his father, but he will when he gets older. The families of the people involved in Bil'in's non-violent struggle against the Wall and settlements cannot sleep safely at night. Dozens of houses have been raided at night, and children are suffering from trauma after seeing fathers and brothers brutally taken away by masked soldiers. Sleep disorders and bedwetting are common consequences among children who have experienced Israeli soldiers storming their homes at night. Many, like our children, have also seen soldiers beat someone up during a raid.
Five months before Abdallah was taken from his home, his cousin Adeeb Abu Rahmah was arrested in a demonstration in Bil'in. His wife has only been allowed to visit him once at Ofer Military Prison where both Adeeb and Abdallah are held. Adeeb's daughter Radja (20) has not been able to see him at all, on account of what Israel calls "security reasons". This Eid has not been the same as before neither for us nor Adeeb's family that consists of Adeeb's wife and 9 children, aged from 4 to 20. Radja says, "This Eid there is not happiness like there used to be in this family. In Eid our family used to be together, visiting and having guests. Our father is not here, and we all miss him. Eid is not Eid without him."
After Adeeb' arrest, the family hoped he would be released shortly. However, after weeks and then months of waiting, the Israeli Military Court sentenced him to 1 year, and his family hoped that they would see him soon since he had almost served his sentence. But the military prosecution appealed and now Adeeb is to be released the 12th December. Exactly 1.5 years will have passed since Radja saw her father the last time.
The financial situation has been hard the last 1.5 years. There is no big brother to help support the family financially. The eldest son Mohammed is 16 years old and still in school. Two daughters are in university, and are now struggling to pay the fees. The family's income is from their small market, but their household is suffering from the absence of Adeeb's income as a taxi driver. Umm Mohammed is also alone in her responsibility to raise the children; though they are all helping out as best they can, most of the children are not old enough to have responsibility. She also misses Adeeb, and has attended each of his court hearings so that she can at least see her husband. But she has not been allowed to talk to him except for the one time she was allowed to visit. Radja explains how Batoul (4) reacted when she visited her father in prison: "She did not understand why he could not be home. At home she cried and was constantly nervous. She asked: Why did they take him? When she saw him in prison she was in shock, she would not speak. After a while, when she realized that he is not coming home, she started to talk. But what can we answer to her question? It's clear that they took him and still are keeping him because they are afraid of the success of the non-violent demonstrations. It scares them that through the demonstrations the world can see what Israel is doing to us, so they fabricate evidence against the leaders and put them in prison. All Batoul knows is that her father is taken away from her and she does not understand why."
Success in spite of suffering
As families who have our loved ones imprisoned and face no choice but to manage without our husband and father, we have to remain strong. We have been waiting in uncertainty for months before the trials, and suffering severe disappointment since the appeal, which deprived the children of their fathers for another half a year. In July Adeeb Abu Rahmah was sentenced to 1 year for "encouraging violence", and another 3 months added when the prosecution appealed his sentence. My husband Abdallah Abu Rahmah was, according to the first court decision, supposed to be released Thursday 18th of November, but his release is now postponed. We have been waiting so long, first for his release and when that did not happen, for the decision about what will happen to Abdallah now. We were supposed to know by now, but the decision is postponed and we still don't know anything about the future. Will he be in prison for another 6 months, as the procecution has asked for?
Despite the frustrations and constant ache, we maintain hope -- because we know why exactly they were arrested. My husband was visible. He went to every demonstration, and spoke up against the Wall and the settlement. In spite of our suffering, and his son now growing up without knowing his father, we know that his actions were successful. Israel was so threatened by the demonstrations that they had to remove strong characters like my husband and Adeeb.
REAL LIFE. REAL NEWS. REAL VOICES.
Help us tell more of the stories that matter from voices that too often remain unheard.