Each day of this Passover holiday I'll post a gourmet way for Jews to honor the commandment to eat matzah, aka "the bread of affliction": eight easy recipes that are friendly to modern tastes and diets, and with a little less added affliction. Yesterday was was the tasty North African egg dish, "Shakshuka." Day one: Julia Child's "Trout Meuniere."

When I posted the recipe for the North African egg dish "Shakshuka," I duh-fully overlooked the comparison to "matzah brei" -- a dish that scrambles eggs with matzah (although there are as many recipes for this as there are for shakshuka). As I was thinking about this, the phrase "matzah brie" took hold, and I began to imagine ways to combine the two. It helped that I was having friends and family coming over to dinner. I was determined to come up with a way to serve matzah with cheese that wasn't just, you know, matzah with cheese ("Don't you have any nice crackers?")
A little bit of websurfing pulled up this Bon Appetit recipe for baked Brie with carmelized onions. However I wasn't expecting a huge crowd and did not want to invest in a big wheel of Brie (but if you are, hey, go for it). So I adapted the recipe to fewer people (my total number of dinner guests: 6), and made individual servings that could be served on a platter or cheese board.

"Matzah brei," pun aside, Brie is a very boring, creamy cheese. These days it's the French equivalent of Kraft slices. It's secret, however, lies in its very blandness. Unlike Kraft slices, it can be a delightful and sophisticated cheesy vehicle for so many different toppings. And here's what's great about this recipe: the onions are carmelized but also sauteed with wine, garlic and thyme. By the time you rest a melted pile of Brie under it, atop a firm, crunchy piece of matzah, no one is going to complain that you haven't served them the fancy English biscuits with some snootier type of cheese. (By the way, if you want to follow the original recipe, there's no reason you can't just have your guests dip shards of matzah in a baked wheel of Brie. Just note that in my version, the matzah is buttered and toasted along with the Brie, so I think there is a bigger yumminess factor). For a really earthy, wine-y version, substitute a robust red wine for white.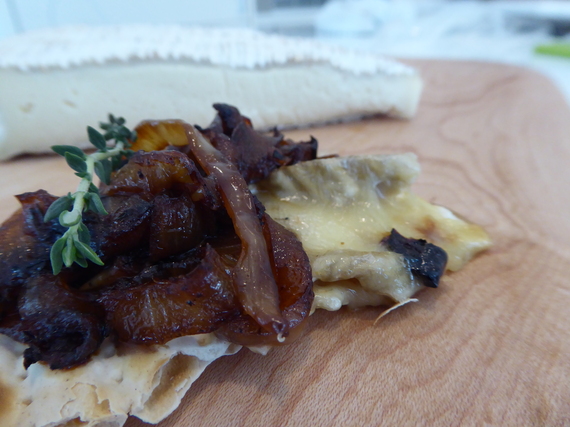 2 tablespoons (1/4 stick) butter
2 cups sliced onions (about 2 large)
1 tablespoon minced fresh thyme
4 garlic cloves, chopped
1/2 cup dry white wine
1 teaspoon sugar
Salt and freshly ground pepper to taste
1 large hunk (at least 8 oz) of good quality French Brie
3 tbs melted butter
4 whole matzahs
Melt butter in heavy very large skillet over medium-high heat. Add onions; sauté until just tender, about 6 minutes. Add minced thyme, reduce heat to medium and cook until onions are golden, stirring often, about 25 minutes. Add garlic and sauté 2 minutes. Add 1/4 cup wine; stir until almost all liquid evaporates, about 2 minutes. Sprinkle sugar over onions and sauté until soft and brown, about 10 minutes. Add remaining 1/4 cup wine; stir just until liquid evaporates, about 2 minutes. Season to taste with salt and pepper. Cool. (Can be prepare 2 days ahead. Cover and refrigerate.)
Preheat oven to 450°F. Spray with olive oil or other non-stick spray a large baking sheet. Unwrap Brie, and cut into 1/4-inch slices. Brush matzah with the melted butter and break into single-size serving pieces (maybe 2 X 2 inches, or longer narrow shards. Remember you want people to be able to pick this up without dripping it all over their shirts.) Top Brie pieces with a dollop of the onion mixture. Bake until cheese just melts, about 3 minutes (keep checking!). Transfer Brie to serving platter. Garnish with sprigs of fresh thyme. Serve immediately.
For more content like this, and beautiful modern products for Jewish lifestyles, please visit www.figtreeandvine.com. Fig Tree & Vine is a new and stylish destination for contemporary Jewish living. Follow us on Instagram @figtreevine and Facebook, or subscribe to our newsletter.

Calling all HuffPost superfans!
Sign up for membership to become a founding member and help shape HuffPost's next chapter