Each day of this Passover holiday I'll post a gourmet way for Jews to honor the commandment to eat matzah, aka "the bread of affliction": eight easy recipes that are friendly to modern tastes and diets, and with a little less added affliction. Yesterday I offered matzah squares with Brie and caramelized onions; day two, the tasty North African egg dish, "Shakshuka;" day one, Julia Child's "Trout Meuniere."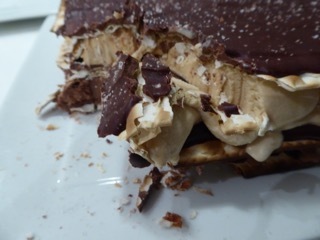 At some point this week I felt that I should post a matzah dessert recipe, even though I am a) not a baker; and b) not a big dessert eater. If I'm going to squander my daily sugar allowance, I'd rather do so on a nice glass of red wine. Or two.
But I'm probably in the minority: I suspect most North American Jews, and certainly children, endure strong cravings for cakes and other sweet baked goods over the eight days of Passover.
And let's face it: Great Aunt Myrtle's "Matzah Meal Honey Cake" isn't going to satisfy those cravings, let alone be worth blowing the calorie budget for. My late mother-in-law Barbara Frum was always on a quest for a Seder cake that didn't disintegrate like sawdust when you cut into it. "Let's try this one!" she'd say brightly each year, cutting into yet another disintegrating sawdust cake.
Fortunately, there is now this thing called the Internet, and a simple Google search of "gourmet Passover desserts" pulls up many choices. I joked to my family that I was going to hunt for a matzah "mille feuille" recipe. And I found one, sort of: an ice cream cake composed of stacked, chocolate-coated squares of matzah with ice cream filling, courtesy of Martha Stewart. Not quite mille feuille -- but the closest we are going to get to a matzah version in this life.
Moreover, it was fun and dead easy to make, even for non-baker me. I'd recommend making this with young kids. They CAN'T mess it up, plus they get to smear chocolate sauce all over pieces of matzah -- a good way to inculcate early Proustian memories associating matzah with sweetness and joy.
The Martha Stewart recipe is made with chocolate mint-ice cream and sprinkled with almonds. I've adapted it to my preference for chocolate with salted caramel (and dusted with pink Himalayan sea salt for a slightly more grown-up taste). But you could really throw in whatever kind of ice cream you like. The frozen chocolate-coated matzahs work brilliantly as a layered crust. When you cut into them, they don't crumble but slice cleanly and add a nice crunch, as opposed to being soggy.
I wish my mother-in-law could have tasted it.
3/4 cup heavy cream
6 ounces bittersweet chocolate, chopped
3 large matzo crackers
1 pint best quality chocolate ice cream
1 pint best quality caramel ice cream
Coarse pink Himalayan sea salt, to taste.
In a small saucepan, bring cream to a boil over medium-high. Immediately remove from heat and add chocolate. Let sit five minutes, then whisk until chocolate is melted and smooth, one minute. Place one matzo cracker on a parchment-lined baking sheet. Spread 1/3 cup chocolate mixture evenly over matzo and freeze until set, five minutes.
Working on sheet, arrange scoops of caramel ice cream in an even layer on chocolate-covered matzo, sprinkle with salt, and top with another matzo, gently pressing to adhere. (I used an on-the-small-side ice cream scoop, which allowed for approximately four scoops across, five rows down.)
Spread 1/3 cup chocolate mixture on top and freeze until set, five minutes. Repeat process with chocolate ice cream, matzo, and chocolate mixture, and top with another few grinds of pink salt. Freeze until set, 20 minutes (or up to two hours), then serve.
For more content like this, and beautiful modern products for Jewish lifestyles, please visit www.figtreeandvine.com. Fig Tree & Vine is a new and stylish destination for contemporary Jewish living. Follow us on Instagram @figtreevine and Facebook, or subscribe to our newsletter.

Calling all HuffPost superfans!
Sign up for membership to become a founding member and help shape HuffPost's next chapter