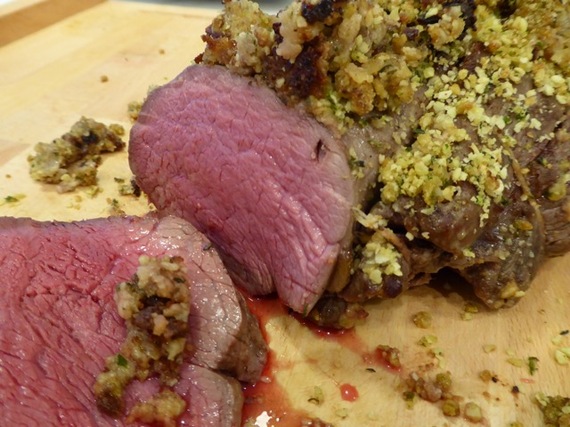 Today I wanted a dish that would knock it out of the park for Friday evening -- the night before we finally say goodbye to our overstaying friend, Mr. Matzah. I know it's only Wednesday but I wanted to give you time to plan in case you, like me, will be cooking on Shabbat. And if you, like me, are expecting to be very busy during the day on Friday, you will want something brain-dead simple to make. Still, it's the last night of Passover -- and if you had a blow-out Seder on the first night, it's a shame to let the holiday to go out on a whimper.
One of my go-to, bang-for-the-buck simple dishes is an old Jacques Pepin recipe for sirloin steak. Basically you take a big whacking piece of sirloin, pack it on both sides with pepper and salt, brown it in a cast iron pan, and then shove it in a 500-degree oven for about five to seven minutes. You pour some broth on it when it comes out, let it sit for 15 minutes or so, then remove it to a platter to carve. Reduce the juices while you slice it, and prego, you have a dish worthy of the finest steak houses in Florence.
This recipe for a mustard-crusted whole beef tenderloin is grander and more elegant than the Pepin version, but no less easy to make.* Often tenderloin, when left to its own devices, is one of the blander cuts of meat -- thus chefs are always covering it in sauce. Roasted whole with a tangy crust, however, the cut really comes into its own: meltingly juicy and robustly beefy. Definitely a crowd pleaser.
(Note: I make the matzah crumbs myself in a food processor, as opposed to using store-bought matzah meal. The latter tends to be too finely ground; a coarser crumb works better for the coating. To serve up to 12 people, buy a second tenderloin and double the ingredients. I adapted this recipe from Food & Wine's version here.)
One 3-pound center-cut beef tenderloin roast, at room temperature
1 tablespoons extra-virgin olive oil, plus more for rubbing
Salt
2 tbs coarsely cracked black peppercorns
1 cup matzah crumbs
2 tbs Dijon mustard
1 garlic clove, finely chopped
1 tbs finely chopped thyme
1 tbs coarsely chopped flat-leaf parsley
Freshly ground black pepper
1 cups dry red wine
1 cups veal demiglace
Preheat the oven to 425°. Rub the tenderloin all over with olive oil and season with salt and the cracked peppercorns. Set the tenderloin on a large, heavy-gauge rimmed baking sheet, and roast in the upper third of the oven for 20 minutes.
In a medium bowl, mix the matzah crumbs with the mustard, garlic, thyme and parsley. Blend in the one tablespoon of olive oil and season the crumbs with salt and pepper.
Carefully pack the bread crumbs on top of the tenderloin. Lower the oven temperature to 400° and roast the meat for about 20 minutes, or until an instant-read thermometer inserted in the center registers 130° for medium-rare. Transfer the tenderloin to a carving board and let rest for 15 minutes.
Meanwhile, set the baking sheet over 2 burners. Add the wine and bring to a simmer over moderately high heat, scraping up any browned bits from the bottom. Strain the wine into a medium saucepan and simmer over high heat until reduced to 1/2 cup. Whisk in the veal demiglace and bring to a boil; simmer for 3 minutes. Remove from the heat and let the sauce stand for 5 minutes. Season the sauce with salt and pepper.
Using a gentle sawing motion, carve the beef tenderloin into 1/2-inch-thick slices and serve, passing the remaining sauce at the table.
(Note: The herbed bread crumbs can be refrigerated overnight. Let the bread crumbs return to room temperature before proceeding.)
* For observant Ashkenazy Jews who don't eat mustard over Passover, you can substitute 2 anchovy fillets per the original recipe from Food & Wine, and omit the mustard. If you can't find a Kosher tenderloin, substitute it with a three pound whole sirloin and cook as you would the tenderloin although use a meat thermometer on the timing, which will be slightly different.
For more content like this, and beautiful modern products for Jewish lifestyles, please visit www.figtreeandvine.com. Fig Tree & Vine is a new and stylish destination for contemporary Jewish living. Follow us on Instagram @figtreevine and Facebook, or subscribe to our newsletter.

Calling all HuffPost superfans!
Sign up for membership to become a founding member and help shape HuffPost's next chapter