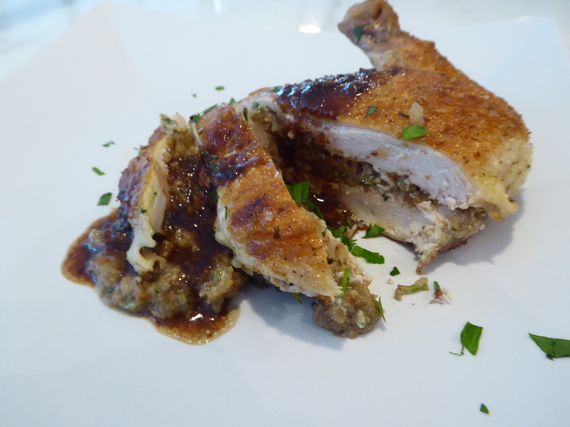 When I started this Passover series, I was unprepared for how controversial a recipe could be, although of course I should have been. Even the seemingly most abstruse points of Jewish dietary laws and practices have been debated for hundreds of years. Although non-Orthodox myself, I hoped I'd been careful to ensure that each recipe met the standards of Kashrut. Hah!
I'll confess: my family eats mustard during Passover, as do all Sephardic and less observant Ashkenazy Jews. More observant Ashkenazy Jews refrain, as they refrain from peas and rice. So there it was, in the crust of yesterday's recipe. As an alternative, I suggested substituting it with anchovies. Many readers protested that it was not right to mix meat with fish. True, this is a custom followed by some very observant Jews, but it is by no means universally accepted.
Then a debate arose over the cut of meat itself: tenderloin, sirloin and other cuts from the hind quarters of a cow located near the sciatic nerve are also not always considered kosher. According to the Chabad website:
Technically, filet mignon is as kosher as any other cut of meat. The problem with filet mignon and other cuts from the rear is that they are located near the sciatic nerve and fatty deposits known in Hebrew as chelev, which are Biblically forbidden...
As a result, the custom has arisen of avoiding beef from the haunch altogether. If this is your practice, you'll want to substitute another cut of beef; the recipe would also work really well with a rack of lamb. If not, one reason we're all thankful to have escaped the poverty of eastern Europe is that we can now enjoy cuts other than brisket.
To all of you who spoke out on these points, thank you for your intervention and your enthusiasm.

Meanwhile, here is today's uncontroversially delicious matzah recipe, Porcini-Stuffed Chicken Breasts in Red Wine Sauce, adapted from my cook book, From a Polish Country House Kitchen, co-authored with the historian Anne Applebaum.
Don't be intimidated by the idea of making a stuffed chicken breast: the small extra effort is worth the impressive outcome. It took me maybe 20 minutes to make the stuffing and prepare the breasts for pan-roasting. You can use boneless, skinless breasts or, as I did, boneless, skin-on breasts with the small wing bone still attached (a butcher can do this for you).
2 cups boiling water
1 oz dried porcini mushrooms (or other wild mushrooms if you can't find porcini)
3 tbs olive oil
1 small onion, peeled and chopped
Handful of chopped fresh flat-leaf parsley
1 tbs coarse matzah crumbs or meal
4 large boneless chicken breast halves (with skin or not, as you prefer)
1/2 cup dry red wine
1 tsp potato starch (optional)
Salt and freshly ground pepper
Pour the boiling water over the dried mushrooms in a heat-proof bowl, and set aside for at least 30 minutes (you can also do this the day before and let sit). When ready to use, strain the mushrooms through a fine-mesh strainer lined with a paper towel or cheesecloth, reserving the strained liquid. Rinse the mushrooms thoroughly, pat dry and roughly chop. Set aside.
Pour 1 tbs of the olive oil in a medium frying pan, and turn the heat to medium-high. Add the onions, mushrooms and parsley, and saute the onions for a few minutes until soft. Add the matzah crumbs and toss to coat the other ingredients. Saute for a minute or so more, season with salt and pepper, and remove from the heat. Transfer the ingredients to a food processor and whizz for a few pulses -- you want everything finely chopped but not mashed. Taste and correct for seasoning. This is the stuffing.
Wash the chicken and pat dry. Using a very sharp knife, cut a 3-inch slit into the thick side -- the long edge -- of each chicken breast half and slide the knife in deeper to create a pocket. Divide the stuffing among the four pockets and seal the edges, using toothpicks or short metal skewers.
Add the remaining 2 tbs of olive oil to a large heavy non-stick frying pan (I like cast iron) over medium-high heat. Place the breasts skin-side down (if you are using breasts with skin on), and lightly brown each side. Remove from the pan, raise the heat to high and pour in the reserved mushroom broth and red wine. Bring the liquid to a boil while scraping up and brown bits of chicken or leaked stuffing (don't worry about the latter -- it adds to the sauce).
Return the chicken breasts to the pan and simmer, uncovered, turning once or twice, until the breasts are cooked, 20 to 30 minutes. Remove the breasts to a warmed serving platter and turn up the heat to high. Let the sauce boil and reduce to about a cup and a half. If you want to thicken it a little, mix the potato starch with some of the warm sauce and then add, stirring until the sauce coats the back of a spoon -- but you don't want it too thick. It's not a gravy.
Drizzle the breasts with the sauce and sprinkle with chopped parsley. Serve immediately.
For more content like this, and beautiful modern products for Jewish lifestyles, please visit www.figtreeandvine.com. Fig Tree & Vine is a new and stylish destination for contemporary Jewish living. Follow us on Instagram @figtreevine and Facebook, or subscribe to our newsletter.