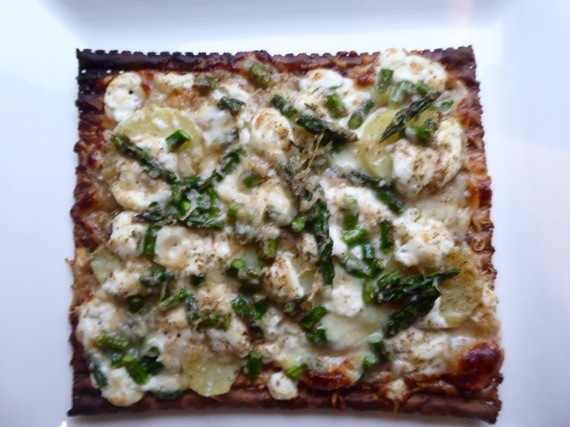 If there are two dishes my three children miss most during Passover, it's pizza and pasta. When they were little, and ss the longings grew worse over the course of the week, they'd begin fantasizing aloud of their favorite versions of these dishes -- recounting each sauce or topping with the loving detail of two prisoners passing the time by remembering meals on the outside.
Tomorrow, the last day of Passover, I'll deal with the craving for pasta. Today my goal was to come up with a Passover version of a thin-crust gourmet pizza -- something to which matzah, surprisingly, lends its itself really well. The edges become brown and crispy, while the rest of the matzah absorbs the sauce and becomes soft without being soggy. This delicious, sophisticated vegetarian version, which I adapted from a pizza recipe at Epicurious, makes use of the early asparagus of the season. Served with a green salad, it's a simple light spring meal you'll be tempted to make at other times of the year, too. My 13-year-old daughter said, as she gobbled up a slice, "This is the first time I've really enjoyed matzah."
You can use the regular, out-of-the box matzah for the "pizza"; if you have the large, holiday round version the pizza will look even more authentic.
Makes for approximately 3-4 square pizzas or 1 round.
5 ounces fingerling potatoes
3-4 squares of matzah or 1 large roung matzah
2 tablespoons extra-virgin olive oil, divided
1 garlic clove, pressed
4 green onions, thinly sliced, divided
1 1/3 cups grated whole-milk mozzarella cheese (about 6 ounces)
4 ounces soft fresh goat cheese, crumbled
8 ounces asparagus, trimmed * (see note below)
1/2 cup grated Parmesan cheese
Salt and freshly ground pepper to taste
Place potatoes in small saucepan. Add enough water to cover by one-inch. Sprinkle with salt. Bring to boil and cook until potatoes are tender, about 10 minutes. Drain. Cool. Cut potatoes into thin slices. Meanwhile blanch the asparagus in a medium saucepan of boiling water for approximately 2 minutes. Drain and cool, and trim as directed by the note below.
Mix 1 tablespoon olive oil and garlic in small bowl. Brush garlic oil over matzah pieces. Sprinkle 3/4 of green onions over, then mozzarella, leaving 1/4-inch plain border. Top with potato slices and goat cheese. Toss asparagus and 1 tablespoon oil in medium bowl. Scatter asparagus over pizza. Sprinkle with Parmesan, then lightly with salt and generously with pepper.
Bake matzah until edges are browned, the cheeses have melted and the asparagus is tender, about 10-12 minutes. Transfer to cutting board. Sprinkle with remaining green onions, and serve immediately.
* Note: I used pencil-thin asparagus, from which I broke away the tough stem, and, after blanching, cut into 1/4-inch slices, leaving the heads intact. If you use regular asparagus, break as above and peel up to the heads. Then slice as directed in the original recipe: each spear cut in half lengthwise, then crosswise into approx 2-inch pieces (or slice thinly, whatever you prefer).
For more content like this, and beautiful modern products for Jewish lifestyles, please visit www.figtreeandvine.com. Fig Tree & Vine is a new and stylish destination for contemporary Jewish living. Follow us on Instagram @figtreevine and Facebook, or subscribe to our newsletter.

Calling all HuffPost superfans!
Sign up for membership to become a founding member and help shape HuffPost's next chapter