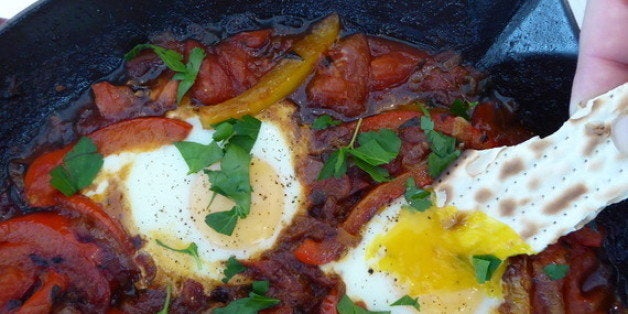 Each day of this Passover holiday I'll post a gourmet way for Jews to honor the commandment to eat matzah, aka "the bread of affliction": eight easy recipes that are friendly to modern tastes and diets, and with a little less added affliction. Today it's the tasty North African egg dish, "Shakshuka." For Day One: Julia Child's "Trout Meuniere."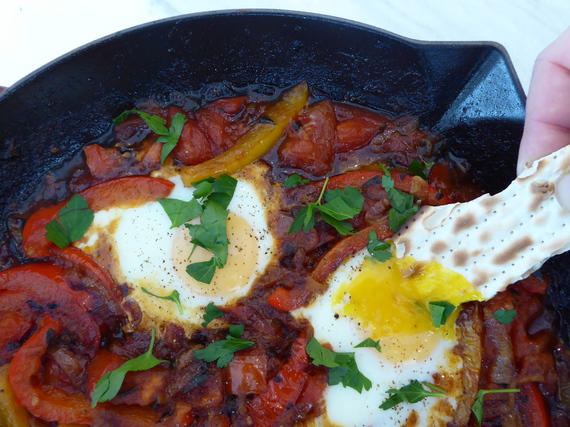 I first encountered "Shakshuka" at the famous Dr. Shakshuka restaurant in Jaffa. Under a ceiling cluttered by old cooking pots, waiters brought individual cast iron pans bubbling with eggs, tomato sauce and whatever other ingredient you'd asked to have thrown in.
There are as many recipes for this dish as there are those who claim theirs is the only legitimate way of making it. From Tunisia to Turkey, everybody says they and they alone invented it. And no wonder: It's maybe the best breakfast-in-a-pan going. The familiar North American breakfast of bacon and eggs resembles an insipid fat cousin to its exotic and robust African counterpart. And the latter, of course, is Kosher (and vegetarian, if that's your bag too).
Traditionally, shakshuka is served with hunks of fresh bread to be dragged through the center of the pan, collecting as much dripping egg/tomato/carmelized onion/peppers/spice as the bread will absorb. If you have a very large cast iron pan, you can make Sunday brunch for a crowd.
But what happens if you are not eating bread? I wondered whether shakshuka could still be enjoyed if you had only, for example, some thin bricks of highly unabsorbent, bland matzah on the side. The answer: Yes, yes and resoundingly yes. Indeed I'd venture to speculate that shakshuka was exactly what the Jewish slaves ate -- or should have eaten -- with their unleavened bread as they fled Egypt. This one-pan dish of humble yet deliciously rich ingredients seems made for matzah: the latter, when dipped into the yolks or even broken up and scattered amidst the shakshuka, adds a toasty, welcome crunch to the slurpy sauce. Makes eating it with bread seem frankly ... insipid.
I've adapted this classic shakshuka recipe -- by London-based chef, Yotam Ottolenghi, author of the cookbooks, Jerusalem and Plenty -- to a Passover version with matzah. I've also kept it to one pan (Ottolenghi's recipe will have you divide the eggs at the end into four pans, for each serving, but that's way too much washing up for me). What I love about the Ottolenghi version is how the onions and peppers are carmelized with a sprinkling of sugar before the tomatoes are added, resulting in a sweet, smokey taste when combined with the zazzier cayenne. If you can't find good tomatoes this time of year, the dish is not hurt too badly by substituting canned San Marzano tomatoes. Try adding other ingredients too, like feta cheese or your favorite herbs. My husband doesn't like eggs, so I serve his shakshuka with sauteed merguez sausage.
½ tsp cumin seeds
3/4-cup light olive oil or vegetable oil
2 large onions, peeled and sliced
2 red and 2 yellow peppers, cored and cut into 1/4-inch strips
4 tsp muscovado sugar
2 bayleaves
6 sprigs thyme, picked and chopped
2 tbsp flat-leaf parsley, chopped
1 bunch fresh coriander, chopped
6 ripe tomatoes, roughly chopped
½ tsp saffron strands
Pinch of cayenne pepper
Salt and pepper
Up to 1 cup water
8 free-range eggs
In a large cast iron pan, dry-roast the cumin on high heat for two minutes. Add the oil and sauté the onions for two minutes. Add the peppers, sugar, bayleaves, thyme, parsley and two tablespoons of coriander, and cook on high heat to get a nice colour. Add the tomatoes, saffron, cayenne, salt and pepper. Cook on low heat for 15 minutes, adding enough water to keep it the consistency of a pasta sauce. Taste and adjust the seasoning. It should be potent and flavoursome. You can prepare this mix in advance.
When ready to add the eggs, clear small "holes" or spaces in the mixture for each egg (so the eggs will cook in place, hemmed in by the peppery-tomato sauce), and turn the heat to medium. Break the eggs into each hole. Sprinkle with salt, cover and cook very gently for 10-12 minutes, until the eggs just set. (If you're going to add feta, do it at this stage so the cheese is melted when the eggs are done). Sprinkle with coriander and serve with matzah, either broken into large dippable pieces or chunks to be scattered in. Serve immediately on individual plates -- or as I do, in the pan at the breakfast counter, letting everyone just dive in.
For more content like this, and beautiful modern products for Jewish lifestyles, please visit www.figtreeandvine.com. Fig Tree & Vine is a new and stylish destination for contemporary Jewish living. Follow us on Instagram @figtreevine and Facebook, or subscribe to our newsletter.