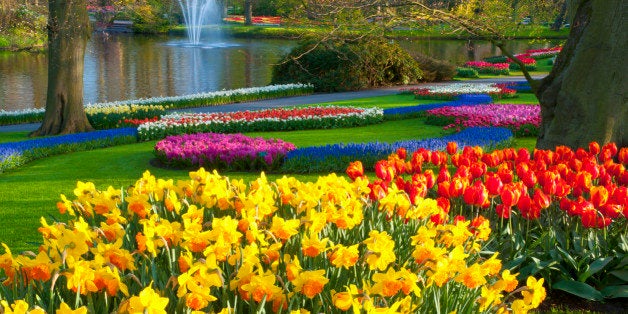 By winter's end (or, let's be honest, well before), we get that nature-starved feeling and start looking everywhere for signs of spring. And in these eight spots in the U.S. and abroad, you won't have to look far: Mother nature pulls out all the stops, serving up rich explosions of color at every turn.
1. Lisse, Netherlands
Spanning almost 80 acres, Keukenhof is one of the world's largest flower gardens. Quite simply, it's the stuff of dreams. More than seven million bulbs are planted annually in the wooded parkland, creating a dazzling kaleidoscope of color -- like something out of The Wonderful Wizard of Oz.
2. Mount Vernon, Washington
Nestled between Seattle and Bellingham in Washington State, and hemmed in by the Puget Sound and Cascade Mountains, the Skagit Valley is home to gorgeous, multihued tulip fields stretching as far as the eye can see. Mt. Vernon celebrates the tulips' arrival with an annual festival.
Cherish the Cherry Blossom
3. Mt. Fuji, Japan
Is there anything so springlike as cherry blossoms? Sure, one could make a compelling case for daffodils or magnolias, tulips or irises, but there's no question these pale pink flowers are one of the prettiest, most heartening signs of the season. In Japan, Mt. Fuji forms a stunning backdrop for the ornamental trees. Stay in nearby Hakone for a good soak in the hot springs after your hike.
Get Pop-Eyed for Poppy Fields
5. Santorini, Greece
As if ancient architecture, jaw-dropping views and spectacular beaches weren't reason enough to visit, the most popular Greek island also boasts fields of bright, beautiful poppies, painting the hills red every spring. No filter needed.
6. Lancaster, Calif.
The California poppy grows wild throughout the Golden State, turning the landscape into an ocean of orange. It's particularly abundant in Lancaster, site of the annual California Poppy Festival held every April. Pop by and see for yourself.
7. L'Haÿ-les-Roses, France
Located south of Paris, the largest rose garden in France is La Roseraie du Val-de-Marne. But that's not the only place you'll encounter these scented beauties: They bloom along winding roads and on chateau grounds throughout the French countryside. C'est magnifique!
8. Portland, Oreg.
From April to October, the International Rose Test Garden in Portland's Washington Park is abloom with 7,000 rose bushes. Conceived as a test ground for new varieties, it's an enchanting place to wile away an afternoon (and maybe witness a few marriage proposals). No visit to the City of Roses is complete without a trip here.
Related