When it comes to a city that has it all, consider Vancouver. It has beauty, a waterfront, art, culture, delicious food, and a plethora of fun things to do. Here are my favorites: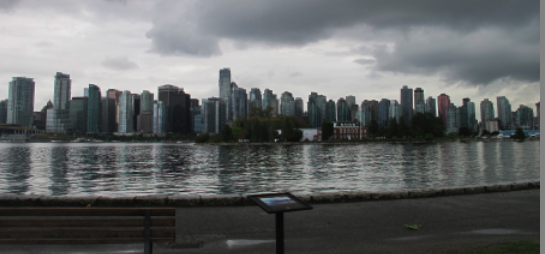 Vancouver from the Stanley Park (photos courtesy of Margie Goldsmith)
1. The Rapid Canada Line Transit
The brand new above/below the ground Rapid Canada Line http://www.translink.ca metro is clean, fast, and silent. Sure you can take a taxi from the airport to downtown Vancouver, but why spend $30 plus and get stuck in traffic when for under $9, you can take the Canada Line directly from the airport (with escalators everywhere so you'll never have to drag your suitcase up or down stairs) to downtown. Forgot to change money? No worries. Pay with your credit card as you wait for the train to arrive.
2. Sins of the City Tour at Vancouver Police Museum
2012 is the 100th anniversary of the first policewomen in Vancouver, but there are many more reasons to visit the Vancouver Police Museum http://wwwvancouverpolicemuseum.ca the former city morgue and CSI lab. Check out the museum's 20,000 objects including leg irons, revolvers, the oldest complete set of fingerprints, bloody axes and much more; then, take the guided "Sins of the City" tour and learn about brothels, bootlegging joints, gambling houses and opium dens.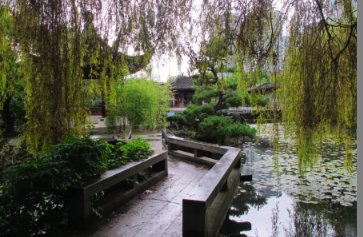 Dr. Sun Yat-Sen Garden
3. Dr. Sun Yat-Sen Classical Chinese Garden
This serene oasis http://www.vancouverchinesegarden.com/visiting next to Dr. Sun Yat-Sen public park is so quiet that the only sound you'll hear is trickling water into the jade green Koi ponds. Sit on a bench and just breathe -- the ideal place to get away from it all.
4. UBC Museum of Anthropology
This spectacular Arthur Erickson-designed glass museum http:// www.moa.ubc.ca houses over 38,000 objects including spectacular totem poles and other unique Northwest Coast First Nations carvings and artifacts -- everything from a Japanese abacus to a Cree dress yoke from Saskatchewan. MOA is one of the finest museums in North America not only for because of its soaring architectural perfection, but because it offers the visitor a complete panorama of Canada's unique heritage.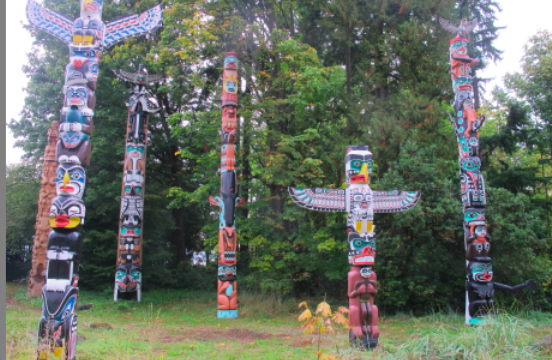 Totem Poles of Stanley Park
This 1,000-acre evergreen oasis includes the 14-mile-long Sea Wall, a flat paved bike trail that snakes around the perimeter of the park along the water and gives Central Park a run for its money. The best way to see it all is to take a 3-hour guided bike tour with Cycle City tours http://www.cyclevancouver.com through the best of old-growth cedar, hemlock and fir tree forests, cedar ponds, totem pole displays and public beaches.
6. Skyride Gondola or Grouse Grind
Head to Grouse Mountain's Skyride http://www.grousemountain.com and climb 3,700 feet in just 8 minutes on the Skyride while surrounded by a pristine mountain wilderness above and the entire city of Vancouver below. From the top you'll see the Pacific Ocean, inlets and bays and even the Gulf Islands. In winter, you can ski. In other seasons dare yourself to hike the 2,800-step Grouse Grid trail as I did recently http://www.huffingtonpost.com/margie-goldsmith/grouse-grind-and-other-ad_b_1086477.html When you return down the mountain, visit three wolves (in their pen) at the back of the parking lot.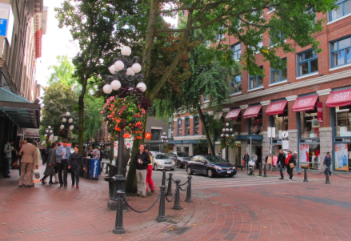 Gastown
Gastown is Vancouver's answer to Greenwich Village. The neighborhood features cobblestone streets, one-of-a kind clothing boutiques, First Nations Art Galleries and scores of mouth-watering restaurants. For delicious tastings and pairings try: the tiny Judas Goat http://Taberna www.judasgoat.ca a tapas bar; Salt Tasting Room xhttp://salttastingroom.com for artisanal cheese, cured meats, and wine flights; and Two Chefs and a Tablehttp:// www.twochefsandatable.com which also has its own butcher shop.
Just a bridge away is Vancouver's Granville Island http://www.granvilleisland.com with a public market of colorful stalls selling the freshest produce and gourmet delicacies, aromatic breads and pastries, mouth-watering chocolates and perfect fruits. Nibble from the market or chose one of the many al fresco restaurants. Leave some room to sample beers at the Granville Brewing Company, then head off to some of the local craft sellers.
Those are my favorite things -- try them out and be sure to tell me your favorite things to do in Vancouver.