It is hard to believe that already two years has passed since the divine Dr Wayne Dyer left his earthly vessel on the 30th August, 2015.
I had only seen Wayne just over a week prior to his passing and was fortunate enough to have met him a number of times over the years. Wayne was my mentor and my spiritual teacher and he had a profound influence in my life. Before the teachings of Dr Wayne Dyer came into my life, I lived a life where I was constantly rushing and trying to cram so much into each day. I would sink into bed at night-time, exhausted but sleep would allude me as my mind went over the events of the day and anticipated the problems that might eventuate the next day (and of course with an attitude like that, these problems always showed up!!)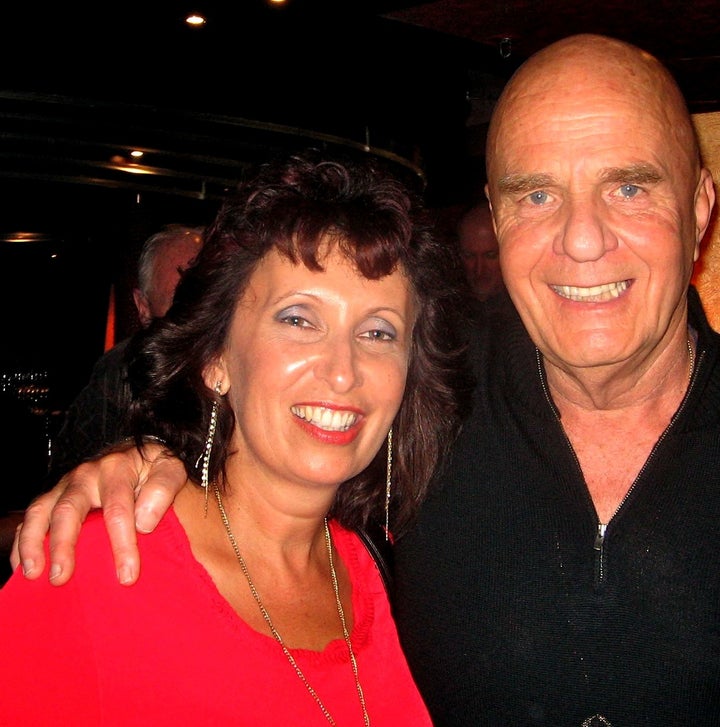 His teachings and lessons on life will live forever in the hearts and minds of the countless people he touched. I want to share with you eight of the most important lessons that I learned from Wayne and how it changed my life to one of joy and meaning.
HEAVEN ON EARTH IS A CHOICE YOU MUST MAKE, NOT A PLACE YOU MUST FIND
"Loving people live in a loving world. Hostile people live in a hostile world. Same world." WOW! Just think about these powerful words. I sometimes close my eyes and imagine the wonderful world that we live in, where there is no judgment, no intolerance, no hate. Wait – some of you are thinking what fantasy land do I live in? Well, the world I see in my imagination, IS possible. If we could all focus on being loving and accepting of each other, then we could have such a world. Just think – there would be no wars and no persecution of others simply for being different.
"You have everything you need for complete peace and total happiness right now." I love this quote from Wayne because if we can truly get that we DO have everything that we need for complete peace and happiness, then we truly would find Heaven On Earth.
REMEMBER, IT'S ALL ABOUT BEING IN HARMONY WITH SOURCE. YOUR THOUGHTS CAN EITHER EMERGE FROM A BEINGNESS THAT'S IN RAPPORT WITH INTENTION OR IN CONTRADICTION WITH IT
This was a lesson that came to me later in life. I wasted too many years worrying about the things that may or may not go wrong. As a single mum with sole responsibility for two gorgeous sons, and having no choice but to work full-time, I struggled with guilt at how many hours I didn't get to spend with my children because of the demanding nature of my job. I should have instead focused on the beautiful quality hours we did spend together and the lovely memories that we made.
When I started to live with more intention in my life and to really get what Wayne meant when he said: "You get what you think about all day long" more and more of the good things showed up in my life. I stopped the worrying that had become a deeply entrenched habit and instead trusted in the Universe to provide the things that were needed. Amazingly, miracles started to show up in my life. The daily stress that I used to live with disappeared and my life became more joyful and the things that I started to focus on started to show up in my life. My sleep improved dramatically as I no longer went to bed worrying about all the things that could go wrong. Instead, I employed one of Wayne's techniques where I would spend the last five minutes before I went to sleep, placing in my mind all the things I wanted to manifest in my life as well as thinking about all the things that I am grateful for. Wayne called it "marinating in your sleep" and this simple technique really does work!
WE ARE NOT OUR BODIES, OUR POSSESSION, OR OUR CAREER. WHO WE ARE IS DIVINE LOVE AND THAT IS INFINITE.
How many of us go through life "always striving, but never arriving"? In our endless search to have more and more, we often lose the ability to be truly grateful for what we have. Wayne often told a story that he had a suit hanging in his wardrobe and that he had cut the pockets off the suit because when he departed from this world, he needed no possessions. In our quest for acquiring the latest and best of everything, we forget to enjoy the journey along the way.
Life is too precious and too short to not enjoy the moments along the way. I've seen too many people put themselves in enormous financial debt and stress in their quest for having the latest and best of everything. I have a dear friend who has worked hard to get a beautiful home, but sadly she has to work a lot of hours to afford to pay the mortgage on it and I can't help but wonder if she would be happier with a smaller home that she had time to enjoy.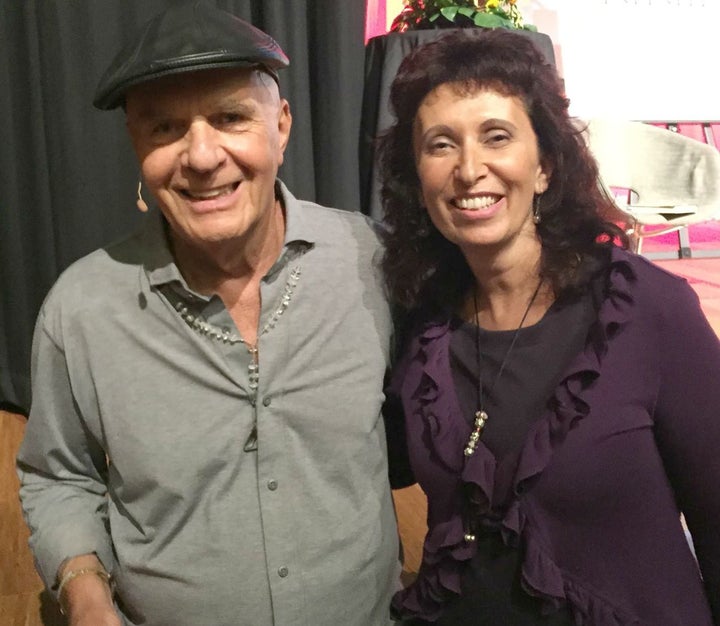 THE SPACE BETWEEN THE WORDS
There are so many powerful lessons that I learned from Wayne, but perhaps the greatest one was to listen. To truly listen to a person and not just hear the words that they were saying whilst waiting for a pause to add your own words but to really listen to what was being said and very importantly to listen and watch for the space between the words.
I know that since I truly learned the art of listening to the space between the words, that my relationships became deeper and I connected with loved ones at a level that is pure. However, it not just with family and friends that this is important, but also with the people you come into contact with in your day-to-day life. Recently, I sat with a homeless man, Shaun and just listened to him tell his story and connected with him. He said to me that having someone give him the time of day and to talk and listen to him, meant more to him than a warm bed and food which is pretty remarkable as they are things he doesn't have. Shaun said that though he lives on the street and spends every day on a busy major street, that he feels invisible. People don't look at him and avoid eye contact. I felt so sad hearing those words. Take time, to really listen to people and find out what they are really saying in the space between the words.
DON'T DIE WITH THE MUSIC STILL IN YOU
For many years, I lived with a strong yearning in my heart to do something else than the career I was in. I was a high-school teacher and I loved teaching but felt constrained at times by the ridiculous mandates put on teachers by the government and other authorities. I felt at times, that I couldn't be my authentic self.
I was a single mum and so the practical part of me resigned myself to stay in teaching as it is a reliable job with good holidays and it meant that I could be home with my children when they were on school holidays. So I soldiered on doing the "responsible" thing, meeting the needs of my children and the countless children I taught over the years. However, I had a burning desire to try working in the health industry. When I started to talk about it to my family, I was generally met with resistance and disbelief that I would willingly throw away a great job for something completely unknown. My parents and one of my siblings suggested that I would better off waiting for retirement to do the things that I wanted to do! That was years away and I didn't want to wait until then. Wayne, often spoke about the powerful need to live one's dharma and to be true to one self and so I decided to take the plunge and go into the health industry full-time. Sure there are days, when the practicalities of a dwindling superannuation fund, no sick or holiday pay, etc become stark realities, but on the whole, each day, I get to play my music and I get to dance to my own tune and I love it. I feel like I have lost at least ten years of my physical age as I feel so much more youthful and energetic living my purpose. I encourage you all not to dance to someone else's tune and to be authentic and to live your passion NOW. As Wayne said: "Genuinely feeling successful is possible when you detach yourself from the things you desire and allow them to flow to you AND through you".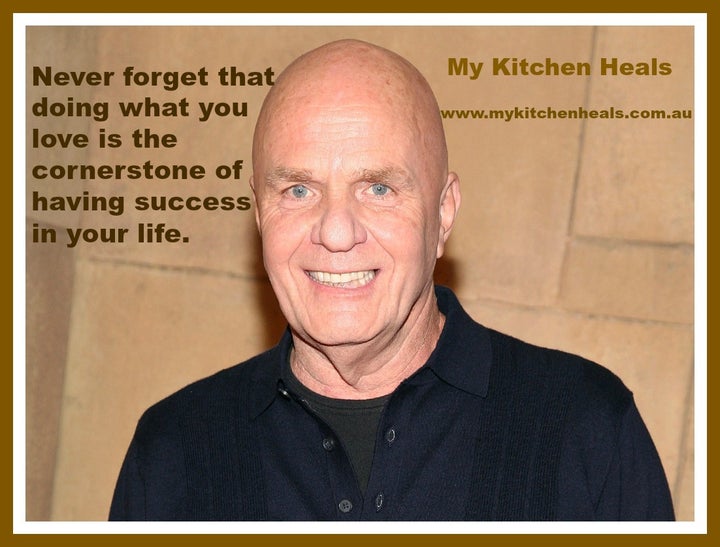 MEDITATE, NOT MEDICATE! YOU DON'T NEED ANOTHER DIET, WORKOUT MANUAL OR PERSONAL TRAINER. GO WITHIN, LISTEN TO YOUR BODY AND TREAT IT WITH ALL THE DIGNITY AND LOVE YOUR SELF-RESPECT DEMANDS.
Wayne realized that meditation provides a powerful tool for inner peace as well as self-understanding. It is one of the major tools I teach my clients. I find that when I meditate, I find profound peace and comfort. I will often do a walking meditation on the beach when I am troubled or perplexed about something and I always find that after the meditation, I have the answer that has eluded me prior to meditation. Meditation provides true healing and clarity and it is something that we can all incorporate easily into our lives. Strangely, even this blog came about as a result of a meditation on the beach. I wanted to write something more personal and didn't know where to start and then as I was doing a walking meditation, the suggestion to write about my greatest learnings from my mentor, hit me square in the face and I knew that I wanted to share this with you. Walking meditations can be so powerful! Let go of preconceived ideas that meditation needs to be done a certain way, such as sitting in an upright position. In fact, walking meditations are my favourite type of meditation and one I turn to whenever I feel stuck or in need of inspiration. Choose a spot in nature that you love. Allow every step to be enjoyable and rejoice at the wonders of life. It can be something mundane (eg, you might see a weed growing through a crack in the concrete, and be grateful at the miracles of life). As you walk, be joyful and aware that your mind, body and soul walk with you. Be present to each step and allow each step to bring greater awareness of joy and peace in your life.
It is important to commit to meditations regularly. It is better to do a short two minute meditation several times per week, than a forty minute meditation once per week. Focus on your breathing and always breath in through your nose. If you are looking an object such as a candle, keep your gaze softly on that object. If you are not using an object, just close your eyes and sit in a comfortable position with your feet flat on the floor. (Longer mediations can be done lying down). Relax your body and take a number of deep breathes and exhale slowly. Turn your attention to your breathing. Breathe naturally, preferably through the nostrils, without attempting to control your breath, and try to become aware of the sensation of the breath as it enters and leaves the nostrils. This sensation is your object of meditation and you should try to concentrate on it to the exclusion of everything else.
At first, your mind will be very busy, and you might even feel that the meditation is making your mind busier; but in reality you are just becoming more aware of how busy your mind actually is. There will be a great temptation to follow the different thoughts as they arise, but simply acknowledge the thought and then let it go and focus on the sensation of the breath. Meditation WILL help you to get in touch with your spirituality but please be patient. It won't happen straight away. Remember, it takes 21 days for a habit to be formed. Meditation is also a wonderful way to relieve stress as well as bring clarity. I find I get many answers after I have done a meditation, so if there are areas of your life that you are struggling with, then meditate on them. Medical studies have shown that people who meditate, are happier people! They also sleep better, have better heart health due to decreased blood pressure, etc. These are some other benefits of meditation:
Improving your memory
Enhancing your creativity
Drastically improving your ability to think clearly
Improved problem solving abilities
Decreasing anxiety
Reducing irritability and moodiness
Enjoying a more positive outlook
REVENGE, ANGER AND HATRED ARE EXCEEDINGLY LOW ENERGIES THAT KEEP YOU FROM MATCHING UP WITH THE ATTRIBUTES OF THE UNIVERSAL LOVE
Think about the powerful quote above and realize that if we all came from a place of love and acceptance, that there would be no wars, no turmoil destroying this great world that we live in. There can be no war, where all there is, is divine love. I choose to live a life of love and peace for all of humanity. Sometimes, it gets me in trouble when I defend the marginalized in society, but as Wayne said: "Other people's opinions of you is not your business" so I choose not to care what others think. I have someone close to me who I love with all my heart, but for some reason, that person is unable to love unconditionally and has taken to blaming people in his life for where he is. I feel very sad for him because when he leaves this world, he will go with his music still in him. He is a super-critical person who carries so much anger towards everybody and everything.
This type of negative thinking is draining and soul-destroying. For a long time, I longed for a relationship with this person as he is a direct family member, but I have come to realize, that all I can do, is love him unconditionally from afar and forgive him for the hurt that he has caused our family and pray that he somehow finds the way to a place of non-judgment and forgiveness. I urge all of you today, to forgive those people in your life who you are harbouring a grudge for. It doesn't matter how justified you think you are, it negates you, not the person who you can't forgive. The reality is, that non-forgiveness makes you less of a person, so learn to love everybody unconditionally and to let go and in doing so, let God in to your life.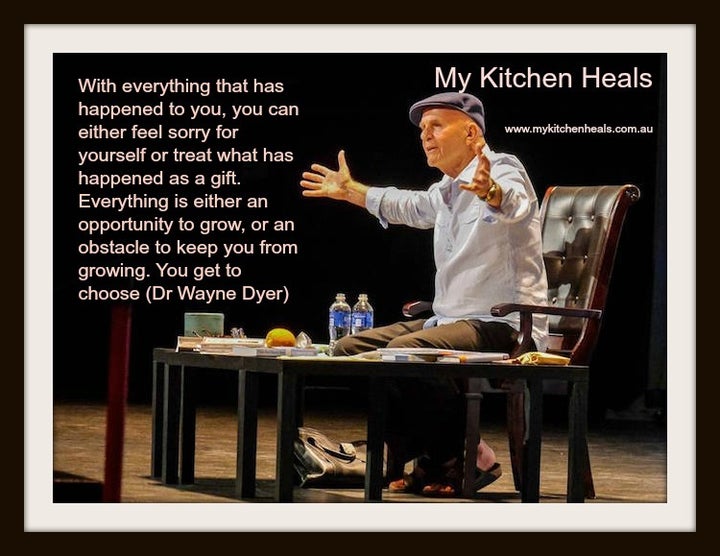 SELF-RESPECT SHOULD BE A NATURAL STATE FOR YOU, JUST AS IT IS FOR THE ANIMAL KINGDOM. THERE'S NO RACCOON OUT THERE THAT BELIEVES ITSELF UNWORTHY OF WHAT IT INTENDS TO HAVE!
As a former teacher, I sometimes feel sad at how young teenage girls feel the need to sexualize themselves in order to get attention. Sadly, this is happening at a younger age and the mad world we live in of "selfies" perpetuates an image that is not real. Social media drives this endless pursuit of living a life that is often not real as we try to be "perfect" and showcase to the world, what we think they want to see from us.
So many of us, show so little love and compassion to our own being. If we love who we are in all the acceptance that is possible through the grace of God/Source, then we are able to respect who we are even in those moments of imperfection. As Wayne said: "Stop striving, and instead focus on arriving". Live in the moment. Feel and know that you are a divine human who God/Source created in all of your majestic beauty. If you live your life with authenticity, then self-respect becomes an easy by-product!
Stop putting yourself down. Stop criticizing those perceived imperfections and instead love yourself unconditionally as it is only in loving oneself that you can truly love another. We can never be there for others, unless we are there for ourselves first. And we can never truly love another unless we love the unique person whom God created - that's right, God made each of us to be a perfect reflection of Him and so we need to love and honour our total being.
Popular in the Community