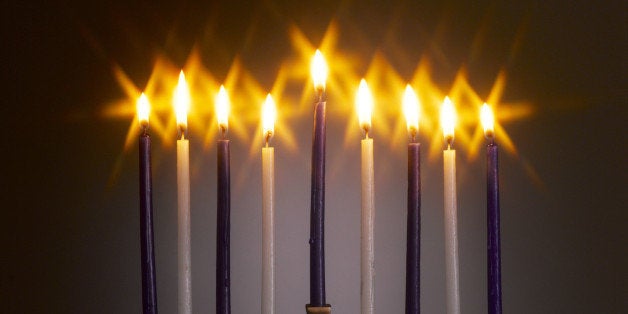 Maybe you know it, or maybe you don't: Chanukah is not actually a major holiday. It became a well-known Jewish celebration in the U.S. because it shares a season with Christmas. Over the last few years, in looking for a way to illuminate Chanukah's ancient miracle, for others and for myself, I found the answer in questions.
I developed eight ponderables to answer with my community over the eight nights of Chanukah. I post the queries on social media, and I enjoy my friends' responses. You can do the same, using the hashtag #eightqs, or you can take a moment to discuss them with your family and friends, before or after lighting.
First night: What is your source of light in the darkness?
Second night: When have you been a match, igniting someone else's spark?
Third night: When has someone else empowered you to discover your own brightness within?
Fourth night: Share a favorite Chanukah memory. What makes that particular memory stand out for you?
Fifth night: The Maccabees fought for what they believed in. What belief, idea, or value would you fight for?
Sixth night: What does the word miracle mean to you? Did you witness any miracles this year?
Seventh night: What is a non-material gift someone gave you this year? What is gift that you gave to someone else?
Eighth night: What have these questions illuminated for you over the last week?
When I ask these questions of my community on social media, it reminds me what I love about my friends. There's always that one person who has to joke, "A flashlight!" in response to the first question. And often, someone I haven't heard from in a long time will surprise me with a thoughtful comment, whether it's about their understanding of miracles, or a gift they shared with someone else.
In this way, the questions themselves become the candles. They encourage us to shine a light on our experiences, and they invite us to enjoy the warmth of each other's company. When we can celebrate our friendships, even over great distance, as part of the holiday, we enjoy a Chanukah that overwhelms the darkness of winter with joy, meaning, brightness, and of course, questions.