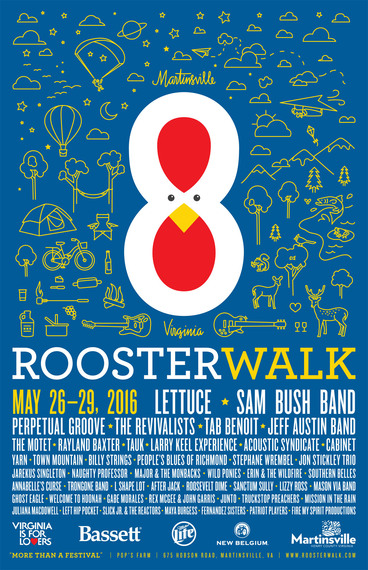 Headliners. I thought the organizers had topped themselves last year but this year's event promises to be even better with 45-plus eclectic acts that include headliners Lettuce, Sam Bush, Perpetual Groove, The Revivalists, Tab Benoit, Jeff Austin Band, The Motet, Rayland Baxter, TAUK, Larry Keel Experience, Acoustic Syndicate, Cabinet, Yarn, Town Mountain and Billy Strings. The full band schedule has been released, so you can start mapping out your minute-by-minute viewing plans here.
Lesser-Known Acts. I discovered several new favorite bands and performers at last year's event including Annabelle's Curse, Major & the Monbacks, Lizzy Ross and Mason Via, to name a few who I am happy to say are returning again this year. Also check out other Rooster Walk and Rives Theatre favorites People's Blues of Richmond, Stephane Wrembe, Jon Stickley Trio, Wild Ponies, Erin & the Wildfire, Southern Belles, Trongone Band, L Shape Lot, After Jack, Roosevelt Dime, Sanctum Sully (Electric Reunion), Ghost Eagle, Welcome to Hoonah, Gabe Morales, Rex McGee & John Garris, Junto, Truckstop Preachers, Mission in the Rain, Juliana MacDowell, Left Hip Pocket, Slick Jr. & the Reactors, Maya Burgess, The Fernandez Sisters, PHCC Patriot Players, and Fire My Spirit Productions, among others.
The Venue. This is second year at the beautiful, rolling, wooded 151-acre Pop's Farm in Axton, Virginia, just off U.S. 58. From 10 a.m. to 4 p.m., which features five stages and plenty of trees to hang your hammock. On Saturday, May 28, and Sunday, May 29, canoes and safety equipment will be available for rent at a cost of5 per 30 minutes thanks to partnership with Martinsville Parks and Recreation.
Brunch, Ballads and Beer (and Mimosas). Another new event this year featuring Larry Keel, Wild Ponies and Lizzy Ross at Rooster Walk 8! Bad news is that it is sold out but you should definitely remember to grab a ticket next year for what promises to be a festival highlight.
Smith River Float Trips. Canoe and kayak rides on the Smith River will be available May 28-29 from 10 a.m. to 2 p.m., but you had better act fast because organizers say there are only 12 tickets per trip and they are going fast. "One of the places we really have had the most growth this year is outdoor offerings," said Rooster Walk Executive Director Johnny Buck. Smith River Outfitters provides boats, paddles, safety equipment and a shuttle service in the ticket price. Children younger than 14 must be with an adult. The cost is $40 for a single-person kayak or $45 for a canoe or tandem kayak for two.
Tuff Strutter 5K. If you think a good time is going out and running 3.1 miles, you're going to love the Tuff Strutter 5K, a trail race put on through a partnership with the Martinsville-Henry County Family YMCA, set for 9 a.m. on Sunday, May 29. After a year's hiatus, Buck says the new trail should hold a wide appeal because it's not nearly as tough as the former one at Blue Mountain Festival Grounds that was dubbed the toughest 5K on the East Coast. "This one is far more approachable to your weekend runner," he said. Register online here.
Local Libations. In addition to the return of Miller Lite and New Belgium, Rooster Walk will feature Winston-Salem's Foothills, Founders Brewing and Lagunitas this year as well as local wines from Hamlet Vineyards and hard ciders.
Yoga, massages and more. Healing Arts practitioners from across the region will be at Rooster Walk bringing the best techniques to help optimize your energy flow. From reiki to massage to yoga, the Healing Arts Area, located on the shady shores of Pop's Pond behind the Bassett Furniture Lake Stage, will have just what you need to get your batteries recharged, according to the website.
There's also 35 arts and crafts vendors, a disc golf tournament, laser tag, bike rides and a kids activities area called the "Kids Coop."
Rooster Walk Inc., a 501c3 nonprofit, partners with with fellow nonprofits Arts at the Rives Theatre, Piedmont Arts Association and the Martinsville-Henry County EDC's Tourism Division to help bring in more than 4,000 visitors to the area over the Memorial Day 2016 weekend. In addition, a portion of festival proceeds will be donated to the Penn-Shank Memorial Scholarship Fund at Martinsville High School and Rooster Walk Inc.'s Band Instrument Donation & Repair Program for entry-level band atpublic schools in the city and county.
"Rooster Walk has grown to become one of the premiere cultural events in our community, and the EDC is delighted to assist them in securing state marketing funds," said Jennifer Doss, director of tourism with the Martinsville-Henry County Economic Development Corporation (EDC), in a release. "Visitors travel from all over the Mid-Atlantic to participate in the multi-day festival each year and we know that with increased marketing this following of loyal fans will continue to grow, boosting area tourism."
General admission tickets are still available and there's plenty of fully-shaded GA tent camping with your name on it. Single-day tickets start as low as $25 each, and three-day passes are just $120, but be warned, prices go up May 25. Visit http://www.RoosterWalk.com or email info@roosterwalk.com for more info.
Calling all HuffPost superfans!
Sign up for membership to become a founding member and help shape HuffPost's next chapter