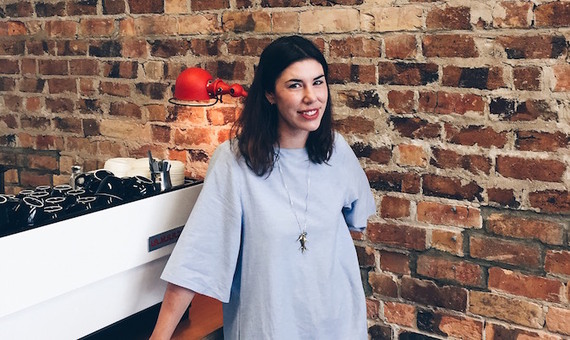 Reflecting a return to socially-minded business practice being seen increasingly around the globe, there's a tight-knit but growing group of independent, owner-operated hospitality outfits in Auckland, New Zealand. Those that pay staff a living wage, think about their footprint and work hard to ensure customers feel not only welcome, but like they're part of a community. Eighthirty Coffee Roasters is such an enterprise. I spoke to part-owner Christy Tennent about the company's operations and ethos for Impolitikal.
How long has eighthirty been running?
Five years. It was just our little site on K Rd then. I was our third employee, we've done one espresso bar per year since. Ponsonby Central, then Little Johns in Parnell, and then High Street. And we partnered with a couple in Sydney, who have started a place called Skittle Lane over there.
What's your role at the company?
We've just gotten to a point where we've got a really great team, and a really great core team. So we're working out what each of our roles are a bit more robustly and where we are headed towards. Currently my role involves being our coffee trainer and doing wholesale account management stuff, as well as making coffee at our espresso bars. We're also working on building our education of our staff and baristas on our accounts, and hopefully the wider population soon as well.
How would you describe the ethos behind how eighthirty do business?
First and foremost we're about doing the best coffee we can, but the ethos of how we create that - and I guess the benchmark of measuring the success of our business - is three-pronged. Rather than just profit, we're interested in environmental, social and economic factors. I like to say: people, profit and planet. More of a triple bottom line. We really do hold dearly to each of those principles, and outwork them in different ways.
How does that work in application?
With the people side of things, we really value and try to look after our team and our staff really well. Every staff member is on more than the living wage, which is something that we believe in really strongly - that all staff get to share in the profit side of things, and the success. I'm also proud of our ownership structure. There's space for employees to buy into the business. Three of us are part-owners, and that door's open for future employees to come in. It's all owner-operator, and all the owners work within the business. For staff also, we're really committed to creating space for people to achieve their own goals, or develop their own careers within the company. Lots of staff have done that in different ways. I guess we're fortunate in that a lot of our staff are really passionate about things within the coffee world. We really want to support them to be able to do the various things that they want to do. Whether that's participate in a barista competition, or be a part-owner of one of the stores, or learn how to roast - or go and set up a café in Sydney.
Also, I love that people feel welcome in our spaces. Our local homeless on K Rd know that they can come in and have coffee; we know their names and they are welcome there as much as the business owner around the corner or whoever. I like that those places are melting pots where worlds break down, and the only barrier is the appreciation of a good coffee. I like that the space can do that, and that coffee can do that.
Calling all HuffPost superfans!
Sign up for membership to become a founding member and help shape HuffPost's next chapter