Davis Museum at Wellesley College,
Wellesley, MA
Exhibition run: Sep 18 - Jan 5, 2014
http://www.wellesley.edu/davismuseum/whats-on/current/node/38887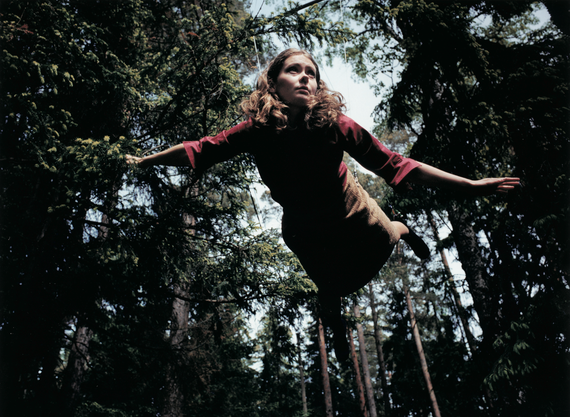 Eija-Liisa Ahtila,The House, 2002. Super 16mm color film transferred to three-channel video, 14 min. loop, Courtesy of Marian Goodman Gallery, New York and Paris. © Crystal Eye Ltd, Helsinki
I hesitate to say anything about the visually rich and smart film pieces in this Eija-Liisa Ahtila survey show at the Davis Museum before I take a paragraph to put her work into historical context. I'm not really burying the lead here. Promise.
When early film/video artists and their minions ascended into the gallery, producing cinematic work with high film production values was not the point. This pioneering work was full of possibility by virtue of its anti-cinematic stance. Think of John Baldessari's 1971 performance video I Am Making Art. The artist filmed himself making slow-motion, Tai Chi-like gestures and dryly announcing with each movement, "I am making art." It parodied the earnestness of much performance and conceptual film art while it also paradoxically announced a certain sincerity in earnest Duchampian attitudes: that anything can be art. The banal production values exacted a kind of perfection on the piece. This was the same year that Baldessari famously had students repeatedly write, "I will not make any more boring art." Pretty cool: using banality to make work that is not boring.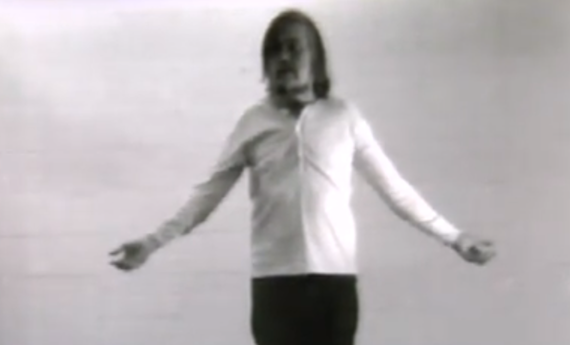 John Baldessari, I am Making Art, video, 1971 . Used with permission, Courtesy of Marian Goodman Gallery, New York and Paris.
Link to video: http://www.vdb.org/titles/i-am-making-art
This Baldessari kind of wit and understated production still overlays a lot of film/digital work in the gallery today, most of it unfortunately not as smart or as good as Baldessari's.
Then there is a completely different lineage that is feeding some film/digital artists today. It is a Bill Viola kind of high aesthetic, acoustic, and production value.
Enter, Eija-Liisa Ahtila (b.1959)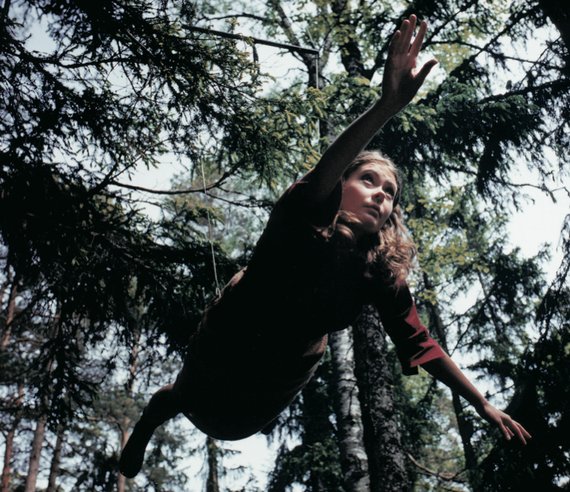 Eija-Liisa Ahtila, The House, 2002, 14 min. DVD installation for 3 projections with sound. Photo: Marja-Leena Hukkanen, Courtesy of Marian Goodman Gallery, New York and Paris. © Crystal Eye Ltd, Helsinki
For two decades, Finnish artist Eija-Liisa Ahtila has been a figure in the vanguard movement re-imagining film art. Like Viola she uses cinematic production values but then goes even farther, adhering to some old-fashioned ideas about film, like telling a story. There is more Bergman in her work than Baldessari. But as Ahtila keeps many cinematic conventions, she breaks just as many. That is why a term like expanded or extended cinema suits this kind of work. An example? She keeps to the traditional idea of showing one moment to moment in linear flow but she does it on multiple screens from multiple viewpoints. Imagine seeing close-ups, distance shots and cutaways of the same scene and moment simultaneously. Imagine being surrounded by these multiple channel images that curve around you, requiring you to make choices about what to look at rather than being spoon-fed edits on a single screen.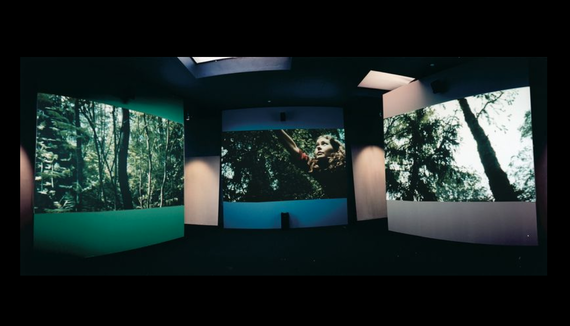 Eija-Liisa Ahtila, The House, 2002, 14 min. DVD installation for 3 projections with sound. Photo: Marja-Leena Hukkanen, Courtesy of Marian Goodman Gallery, New York and Paris. © Crystal Eye Ltd, Helsinki
The best work in the show is House. The film opens with a woman, Elisa, coping with her mental illness by driving up to her isolated house in the pristine wilds of Finland. In one of the most inspired scenes, Elisa rises and floats 20 feet above the forest floor, then slowly and peacefully flies (drifts, really) through the thick conifers leading to her house. Elisa has lost her grip on what is real. Gravity is no more. She moves through lush foliage, grasps the eaves, then her legs sink to the ground, as if in water. The multiple screens give us Elisa's own point of view, simultaneously with alternate perspectives and angles, and we feel transported: airborne.
The integrity of this sensation is enhanced by the rich sounds of brushing through pine needles high up in the trees, the wind, and birds -- all without musical score, an admirable sparseness used in the whole film. This scene is by far the most eloquent and beautiful stream of images that I have experienced in a gallery film piece. And I dare say that it is better than the entire computer generated flight we see in theaters. Ahtila authentically made the actor airborne via some circus gear and heavy lifting.
Extended cinema allows us something that is closer to the visual decisions we make in non-virtual space. And then at the same time it defies real world experience with its poetry. Images do not link up into panoramas; they give us eyes that are a bit more omnipresent. As we view this surround, even as we listen to the narrative of Elisa's existence and intellectual inventory, a neutral, documentary style pervades as the narration speaks to us directly with the calm of an objective outsider. The only voice in the film is Elisa's own narration -- a voice that stays coherent and steady. While Elisa's monologue expresses that her awareness is disintegrating, the narration itself does not loose lucidity: "Everything is now simultaneous. Things don't have causes. Things that occur no longer shed light on the past. Time is random and spaces have become overlapping. No place is just one anymore."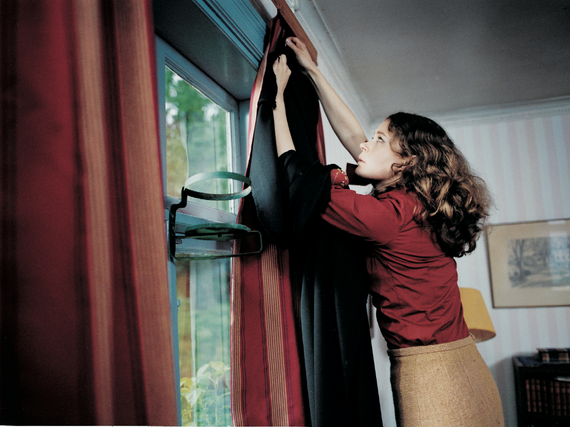 Eija-Liisa Ahtila, The House, 2002. Super 16mm color film transferred to three-channel video, 14 min. loop, Courtesy of Marian Goodman Gallery, New York and Paris. © Crystal Eye Ltd, Helsinki
In the pre-production of House and the four other episodes in Love Is a Treasure, Ahtila interviewed several women who either had been or still were ill with psychosis. Based on those stories she wrote the script. When I interviewed Ahtila in 2011, she said, "I did not use anyone's story as it had happened in reality, but rather I took some elements of him or her. House is not really anyone's story. It's more like an abstraction of the illness: a process of falling ill with psychosis." 1
House has appeal for the art museum sophisticate as well as those with a more casual interest in contemporary art, and it has something for those who are drawn to the inner world of mental illness and the meaning and depth of those afflicted. Ahtila captures and reveals the circular, yet fractured, pattern of the psychosis of the protagonist (Elisa) through the constant and simultaneous movement flowing between the three panels. At the same time she utilizes the poetic overtones and synchronicities of great triptychs traditionally found in the repertoire of painting. Treated in this way, paranormal episodes transcend into iconography that at times feels mystical, even miraculous.
Thus, House adds up to an empathetic work that, in its beauty and innovation as high art, validates those with mental affliction without melodrama. Beyond that, the work is emblematic of the collective human will and perception and, ultimately, is an affirmation of our existence and the yearning for transcendence, even in our own flawed and challenged condition.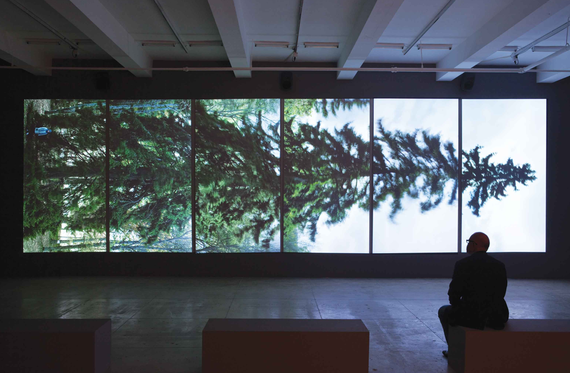 Eija-Liisa Ahtila, The Horizontal, 2011, 6 min. 6-channel projected installation. Screening format: synchronized HD files. (Original format: 5K Red raw), 16:9/1:1,78. Dolby Digital 5.1 No dialogue. Photo: John Berens, Courtesy of Marian Goodman Gallery, New York and Paris. © Crystal Eye Ltd, Helsinki
Another standout piece in this show is The Horizontal. Ahtila filmed a giant spruce in six sections on a very windy day and projected it horizontally on a huge stretch of wall. Since the filming was asynchronous, the wind movements do not match panel-to-panel, creating a mesmerizing, wave-like complexity.
Ahtila got the idea for The Horizontal when shooting the scenes for The Annunciation (also in this show) in a nature preserve in Southern Finland. In my interview with her, she said:
The intention was to shoot first a few landscapes and then some of those huge trees that grow there. But soon it became obvious that we could not shoot a big tree with a film camera. The reason for that is obvious: Due to the aspect ratio of the film frame, one cannot capture the size and height of the tree. One only gets part of it. And if one uses a wide-angle lens, the tree appears distorted. If one walks further away from the tree, the result will be a landscape, not a portrait of a tree. This led me to think about the relationship of the mechanics of film and the central role of the technical devices and equipment, which have been created for the extension of our perception.1
Ahtila finally -- and wisely -- decided to film one section at a time, moving the camera into six positions up the full length of the tree. Then, in the museum, turning the tree horizontally permits enlargement of the spire into an intimately gigantic portrait of poetic movement that I could walk by every day, like a great painting. The tree is the protagonist in the simplest of narratives and is neither exactly cinema nor painting but still beholden to both. If Eija Liisa Ahtila's works were literature, The Horizontal would be pure poetry and House would be prose.
See this affirming work if you can.
It shows that work with a regard for beauty and transcendence, even in our bewildered state as sentients, does not have to be put into the satirical air quotes of postmodernism to be critically and aesthetically relevant.
Eija-Liisa Ahtila is a name worth remembering ( pronounced Eye-ya Lisa Ah- teel- ya).
1 Knudsen, Stephen, "Breaking the Rules of Storytelling/ A Conversation with Eija-Liisa Ahtila", Spring 2011, ARTPULSE Magazine, Link to interview :
http://artpulsemagazine.com/breaking-the-rules-of-storytelling-a-conversation-with-eija-liisa-ahtila
Popular in the Community