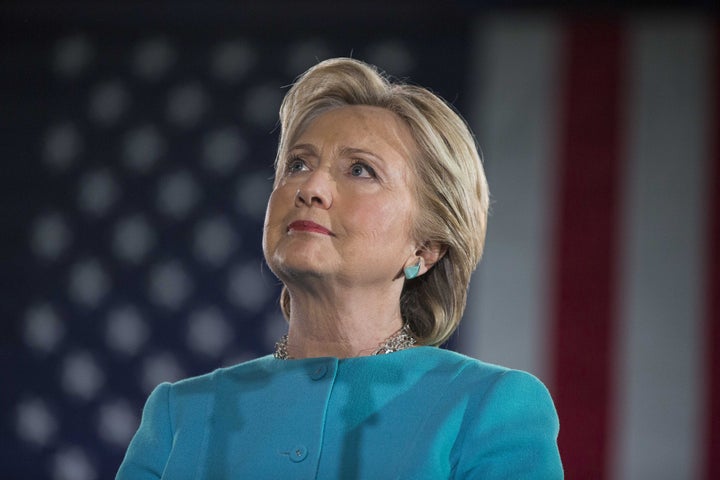 This election may feel like a crisis our country is merely getting through. We've endured falsehood-riddled debates, petty name-calling, and genuinely damaging rhetoric that has unearthed a once-buried propensity for hatred hidden among our country's citizens.
It makes sense, then, that election countdowns populate personal Twitter feeds, and The New Yorker's cover this week is a playful riff on the possibility of an unprecedentedly scary outcome, with a man hiding behind a newspaper with a bold, bombastic headline that reads "OH, SWEET JESUS, PLEASE GOD, NO".
There's so much ado about avoiding apocalypse that it's easy to lose sight of the history that could be made tonight: Hillary Clinton is predicted to become America's first woman president. And that's something to celebrate.
In an exclusive poem and interview with Vice's i-D, poet Eileen Myles eloquently voiced support for Clinton. Myles doesn't write about Clinton as merely a better choice than the blatantly unfit Trump. Instead, Clinton's "female campaign" and "focus" are praised. 
In an interview, Myles told i-D that if they met HRC, they'd say, "I think you're incredible. I have complete confidence in your leadership," which is a refreshing alternative to the rhetoric that a vote for Clinton is a weak-willed decision to pick "the lesser of two evils."
Myles isn't the only writer to come out in unabashed support of HRC in the past week. In a short op-ed in The New York Times, Roxane Gay, the author of Bad Feminist, wrote, "I like, admire, and respect so many things about Mrs. Clinton. She is fiercely ambitious, intelligent, funny, interesting and complex." She waited until Nov.6 to voice this opinion, because she hasn't "had the energy to deal with the inevitable harassment that rises out of demonstrating any kind of support for Mrs. Clinton."
Both writers imply that it's time to reframe the conversation about Clinton's accomplishments. Yes, she might successfully stop a bigoted candidate from getting elected. But she's also made it further than any woman candidate ever has in America. 
Calling all HuffPost superfans!
Sign up for membership to become a founding member and help shape HuffPost's next chapter
BEFORE YOU GO
PHOTO GALLERY
#NationalPoetryDay Off-Topic Tweets