SAN FRANCISCO — The Oakland mayor's race has gone to the dogs — or actually, to one dog.
"I like to run. A lot! I mean A LOT! So make no mistake, I can make it all the way to the finish line," says Einstein's website.
But will the Catahoula hound's handlers keep him on a short leash on the campaign trail? Is his bark worse than his bite?
"I can tell you that he's never bitten anyone," Michael Wilson, Einstein's political adviser, told HuffPost.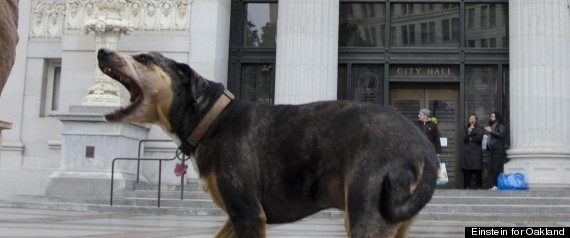 Barking up the wrong tree? Einstein on the steps of Oakland's city hall.
The path to victory isn't just ruff — it's legally impossible. Still, Einstein's supporters ask voters to cast a ballot for the only candidate on four legs by ignoring county law requiring office seekers to be a citizen and registered voter.
"There is a legitimate reason to wonder whether a dog can serve as mayor of Oakland, but he provides a great voice for low-income and otherwise marginalized people who live in Oakland," Wilson told HuffPost. "They have no candidate to represent them."
Einstein presented his radical platform on Thursday morning in front of City Hall, according to CBS San Francisco.
He throws a bone to mainstream liberals with a dog-eared call for a single-payer health care system. But he roams far afield with proposals to reform the police and curb the influence of elites. He favors a maximum wage to limit income inequality and longer prison sentences for wealthy offenders.
Catahoula hounds are bred as hunting dogs in Louisiana. Einstein lacks that instinct, but Wilson says it won't hurt him in the dog-eat-dog world of Oakland politics.
"We don't feel competing and trying to undermine our opponents serves the interest of people we'd like to serve," Wilson said.
Popular in the Community