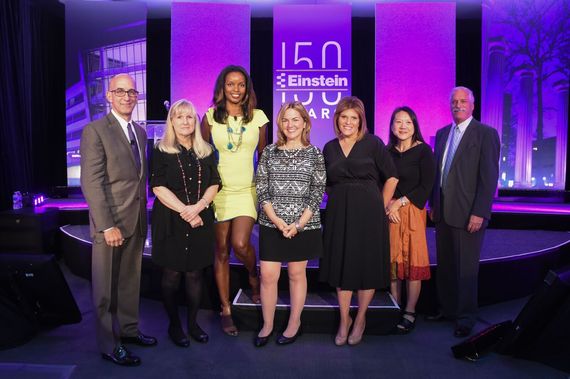 Einstein Healthcare Network of Philadelphia celebrated its 150th anniversary by throwing a bash featuring Diana Ross singing and Jason Alexander of "Seinfeld" fame as master of ceremonies in January 2016. Einstein began in 1866 as the 22 bed Jewish Hospital, an institution where Jewish doctors could treat their patients and others that needed medical attention. Jewish soldiers returning from the Civil War, former slaves, and immigrants were among its first patients. The Einstein network now employs 8500 employees spread across 3 acute care hospitals and the world renowned Moss Rehab outpatient centers. The president and CEO of Einstein, Barry R. Freedman, announced at the event that the hospital had raised more than $150 million to mark this milestone.
The ethos of its founding mission did not allow Einstein to stop with a lavish party. Throughout the 150th anniversary year, the hospital held a series of community events to discuss the health issues that are on everyone's mind such as Alzheimer's, concussions, stress, weight gain, and geriatric pregnancies. These issues may keep us up at night, but doctors typically don't have time to ask about these issues within the allotted 15 minute time frame for modern day appointments.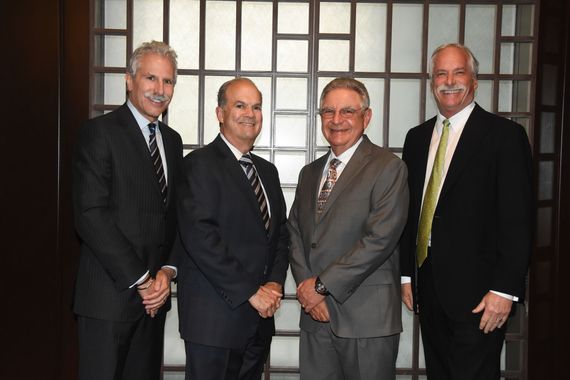 Dan Harris of ABC News moderated the first event, "Brain Waves, Provoking New Thoughts," on February, 25, 2016. His New York Times bestselling book, "10% Happier: How I Tamed the Voice in My Head, Reduced Stress Without Losing My Edge, and Found Self-Help That Actually Works -- A True Story," is a candid, but humorous account of how he turned to meditation after suffering an on-air panic attack on network television. Harris did not flinch from telling the audience that he formerly used illicit drugs to relieve stress and the symptoms of Post- Traumatic Stress Disorder (PTSD), but he also shared his current happiness with his life, marriage, baby, and job. Harris suggests "starting meditation with 5 minutes a day, but warns it is hard to do especially if you are doing it right."
Dr. Madeline DiPasquale, who is the supervisor of ambulatory programs at MossRehab's Drucker Brain Injury Center, probably put a lot of minds at ease with her frank discussion of Alzheimer's at the same event. 35% of adults over the age of 60 fear getting Alzheimer's. The clinical neuropsychologist said, "Forgetting why you walked into the kitchen or where you put your car keys is probably not Alzheimer's, but chances are it is sign you are getting older. Normal aging of the brain starts around 40 although most of us don't feel the effects until the sixth or seventh decade."
DiPasquale. gave kale haters good news. She noted "no amount of kale or yoga will slow down the process of aging". She recommends instead that "people do something physical, cognitive and social every day," she said, such as walking, reading and getting together with friends." She endorses playing brain games as a way to keep sharp.
The Einstein Health Network continued their anniversary celebrations with the panel discussion, "Conversations: The Words that Change Lives" on September 8. Dr. Douglas McGee, chief academic officer of the Einstein Health Network, probably has conducted the highest number of difficult conversations of anyone in the room. As a nationally renowned emergency room physician, he is in the unenviable position of telling family that a patient has died. Most of us, fortunately, do not have to deliver such tragic news but his advice still can be applied. His recommendations include: Practice in the mirror before delivering the news, say everyone's full name, and never make them wait."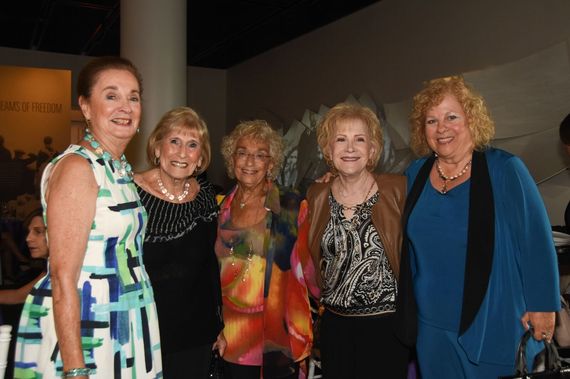 His colleague, Dr. Janet Ko, who is the assistant program director of the obstetrics and gynecology residency program, gave no-nonsense advice about geriatric pregnancies. She said, "The clinical term for pregnancies where the mother is over 35 is geriatric pregnancy. I have had 21 year old mothers with problems in delivery and 35 year old women that have sailed through pregnancies. You just never know."
Tory Johnson, host of "Deals and Steals" on Good Morning America, recounted the conversation that changed her life-her boss at Good Morning America told her that she don't look as good as she could and wanted to send her to a stylist. Johnson, who was overweight at the time, took this as a threat to her continued employment. . Her #1 New York Times bestseller, "The Shift," tells how she went about losing 60 pounds in a year and changed her life.
She cautioned that weight loss is a long process and relayed some of her weight loss tips to a rapt audience. Before putting any food in her mouth, Johnson always asks, "Is this priority or a preference?" She advises that the scale is your friend and therefore weighs herself every day. While many diets use a cheat day, Johnson recommends against them. She said, "No cheat days--that's one of my major rules. Every diet says eat healthy six days, then reward yourself by indulging on the seventh. But I realized that having pizza and cake is akin to an alcoholic celebrating a month of sobriety with a few beers. It doesn't work. So I abolished that concept. Now my treats are inedible--flowers, an iTunes song, a walk in the park."
Let's hope that Einstein continues these informative community outreach events, which are the modern equivalent of the doctor's house call with the wonderful addition of good food and drinks.
Photo credit: Lisa Borowski
REAL LIFE. REAL NEWS. REAL VOICES.
Help us tell more of the stories that matter from voices that too often remain unheard.