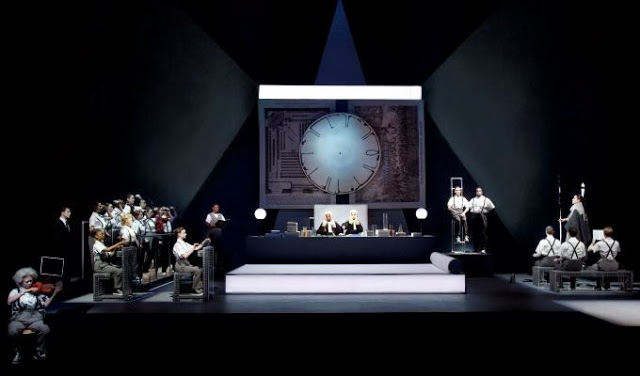 Einstein on the Beach arrived at Los Angeles's Dorothy Chandler Pavilion last week like a beatific visitation from another realm. With its creative team reunited for what is likely their last artistic tweaking of the iconic work, the production was an authentic, if slightly trimmed, facsimile of the original version. Its rapturous welcome nearly four decades after its premiere begged the question of why it had taken so long to get here.
Philip Glass's path-blazing first opera, co-created with director/designer Robert Wilson and choreographer Lucinda Childs, had premiered in 1976 in Avignon, France. It was the first post-modern opera; ground zero in the theatrical use of the then newly hatched music style called Minimalism. Its self-contained production unit was offered to L.A. shortly after the premiere, but management of the still fledgling LA Opera deemed it too radical for conservative local tastes.
Einstein's current two-year road trip came as close as UC Berkeley last year, but LA Opera's current season later sold without the work in the line-up. Only last month the combination of a schedule opening and guaranteed funding prompted General Director Plácido Domingo to announce it for October. LA Opera's marketing team went on overdrive. Positioning it for a new era, young ladies in Einstein wigs and mustache get-ups handed out promotion cards to curious hipsters on Hollywood Boulevard. (One was handed to me, definitely not a hipster, as I left the Chinese Theater's screening of the 3-D Wizard of Oz).
I caught the middle one of Einstein's three performances. It came across to me as part normal Kansas and part surreal Emerald City. While visually and musically accessible, it was also strange and unsettling. But more importantly, a clear majority of those who took in last week's L.A. performances clearly liked it. Originally five hours long, the program booklet had pegged it at four and a half, but in actual performance it came in at four. Audiences had been prepared to come and go at will during the performance, but they took limited advantage of the offer. The hour's trim, sanctioned by the work's creators, probably kept the work's mesmeric appeal from flagging.
A series of eleven precisely etched tableaus (described in Wilson's visual-art terminology as "portraits, interiors and landscapes") marked a theatrical journey on two parallel tracks. One reportedly alluded to Einstein's theory of relativity and his unified field theory as a kind of mind-portrait. The other was a slice-of-life story of "crime and punishment," or, metaphorically, a parable of human fallibility. In this manner, Wilson and Glass examined extraordinary and ordinary human manifestations.
Four acts (Train, Trial, Prison and Spaceship) related a human story of two lovers on a train having a falling out, leading to a murder with a trial and declaration of guilt. Wilson's set pieces for the first three were spare but apt. The final act's field-force of lights, combined with increasingly urgent amplified music, propelled the work to a powerful climax. The acts were bound together by "Knee Play" interludes, allowing time for scenery changes and reinforcing imagery and musical thrust. The Chandler's vast stage tends to swallow up the sets of touring operas. Not so this Einstein, where the stage's amplitude only accentuated the vastness of the Wilson-Glass conception.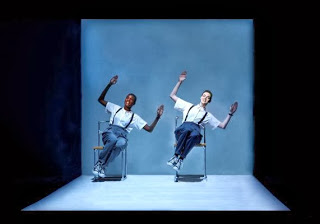 Wilson's glacially slow stage movements, coupled with Glass's pulsing and slow-changing harmonic consonances can induce hypnotic stupor for some. In this work the effect of vocal repetitions of numbers suggested stillness within movement, akin to the shimmering surface of a placid lake. Breaking the spell in two tableaus were large ensembles of the Lucinda Childs Dance Company. Moving singly and in combinations of two, three and four, their patterns echoed the choral iterations of Einstein's numbered universe. In another scene, the numbing pulse gave way to a solo saxophone playing a bluesy riff, suggesting one of Hopper's lonely urbanites.
The two storylines eventually converged in the spaceship, where technological achievement (in the form of an atom bomb depicted on the scrim curtain) met what might be called humanity's original sin. After the spaceship's calamitous departure, redemption arrived in the form of a kindly bus driver who pulled up and described the universal story of two lovers meeting on a park bench. The ordinary had become cosmic with the renewed miracle of human intimacy.
The term "opera" must be used advisedly for Einstein. The stage action was depicted in mime. What little singing existed was peripheral to the action and almost entirely a choral intonation of endless reams of numbers, sung by the Philip Glass Ensemble's chorus. Their number schemes were devised by Christopher Knowles, the autistic poet who had during the Seventies drawn the attention of Wilson. Conducted by music director Michael Riesman, the Ensemble's combined instrumental and choral forces executed with impressive precision.
The eponymous star of the show was, literally, a cypher that sat and played a violin. (Albert Einstein had taught himself to play the violin as a boy and in later years as he played the instrument he often gained scientific insights. Hence the numerology symbols.) Violinist Jennifer Koh (top photo, at the left) performed the Einstein character in this production in Kabuki-like white face and wig. She neither sang nor acted, and showed no affect, so the audience could not develop the usual empathy for her as one might in a traditional opera.
Principal performers, in addition to Koh, were Helga Davis, Kate Moran, Jasper Newell and Charles Williams. Additional spoken texts came from Samuel M. Johnson and Lucinda Childs, the latter contributing a prose passage referencing a bathing cap of either blue, yellow or green. It is the sort of absurdist, obsessive trope that fascinates the work's converted or drives its skeptics nuts.
The historic impact of Einstein on the Beach was in some ways as shattering to the world of music -- certainly of opera -- as that of Einstein's discoveries to the world of theoretical physics. Whatever one thinks of the entirety of this unconventional work, it was a theatrical event not to be missed. Those who attended were grateful to have experienced it, however belatedly.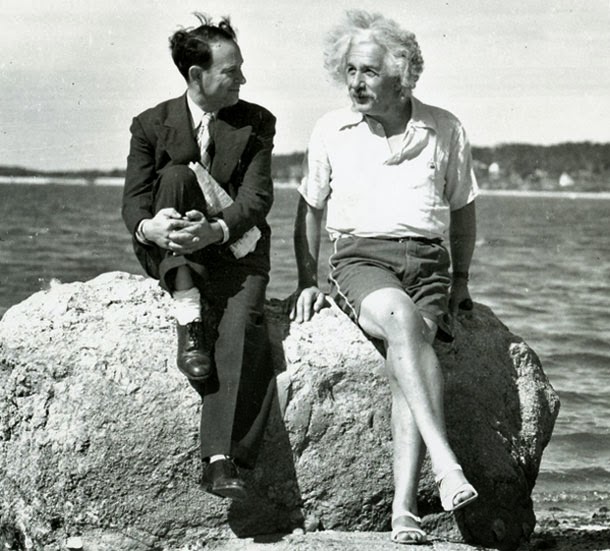 The life story of the opera's subject, Albert Einstein, is particularly relevant to Los Angeles. In the wake of the diaspora of European intellectuals fleeing fascist Europe in the early 1930's, the esteemed physicist resided in the city on several occasions. Even before his more permanent academic association with Princeton University, local brain trust Cal Tech snapped him up for three extended residencies in Pasadena.
Apropos, the title "Einstein on the Beach" is not a reference to nearby Southern California beaches. Rather, a famous photo (above) documents Einstein's 1939 summer residence at Nassau Point, Long Island, where he was casually dressed in shorts and sandals with a businessman and friend named Rothman. In that fateful summer Einstein signed a prepared letter to President Roosevelt warning of Nazi plans to invent a nuclear weapon. The missive would instigate the Manhattan Project and, thirty-five years later, become the pivotal inspiration for the subject matter of the Wilson/Glass opera.
Of the fourteen Glass operas to date, Einstein is still probably most revolutionary in form. With Satyagraha (1979) and Akhnaten (1983), its immediate followers, it formed a trilogy of "portrait operas" that probed the minds of non-violent change-agent personalities in human history. The three are landmarks that have taken the lyric stage in entirely new musical and theatrical directions.
This is the opera that paved the way not only for other Glass operas, but for John Adams' Nixon in China, seen at LA Opera a quarter century ago. (The Adams opera is, by the way, in a far more traditional style.) Glass's techniques have long been incorporated in other mainstream lyric stage works, as for example Jonathan Dove's Flight, produced at UCLA three years ago. Einstein is the granddaddy of them all and it remains the most daring opera in the vast note-bank that is the Minimalist style.
Einstein on the Beach, An Opera in Four Acts
Music/Lyrics: Philip Glass
Direction/Set and light design: Robert Wilson
Choreography by Lucinda Childs
Date reviewed: Saturday, October 12, 2013
Dorothy Chandler Pavilion, Los Angeles
Except as noted below, all photos are by LA Opera and used by their permission.
Photo of Einstein in beachwear is by Reginald Donahue and courtesy the Rothmans
Calling all HuffPost superfans!
Sign up for membership to become a founding member and help shape HuffPost's next chapter