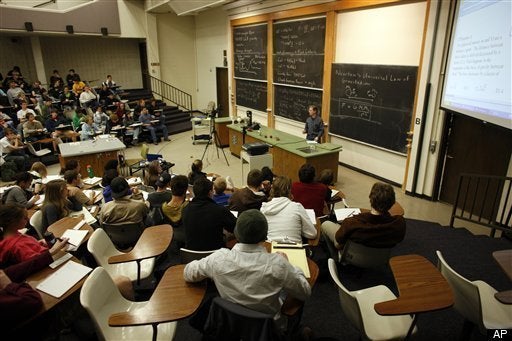 An interview with Marco Masoni, CEO of Einztein, former high school teacher & lawyer, inspired this article, provided a great interview, and got me thinking more about what's next in education as a result of his team's efforts.
As graduation seasons draws to a close, study groups disband, and the reality of student loans sets in. Ron Lieber cogently writes of student loan debt in the New York Times:
It is utterly depressing that there are so many people like her facing decades of payments, limited capacity to buy a home and a debt burden that can repel potential life partners. For starters, it's a shared failure of parenting and loan underwriting.
Partially in response to declines in state support and endowments, and a bevy of bureaucratic business reasons, it has become abundantly clear that in our own time higher education has aggressively priced itself out of it's young (mostly lower wage, non-earner, parent-dependent) market. More importantly today's college youth are not our exact replicas, in spite of efforts to educate them and sell education to them as if they were!
There's a battle brewing to circumvent the bureaucracy of universities and the classroom execution of the traditional professoriate. It's not a new story, in fact it's been in slow motion for more than 25 years, perhaps beginning with easier online access to used books outside of university bookstores, distribution and even the requirement that professors publish their syllabi online. The abundance of personal blogs and sites of registered students who share knowledge acquired in their classrooms.
The education content industry has been destabilizing slowly for years, but we've reached a pivotal moment greatly exacerbated by the recession. According to Grapevine's 200-10 report, 10 states had one-year declines of state support more than 5 percent:
California (down 6.8 percent), Hawaii (down 7.4 percent), Iowa (down 9.5 percent), Louisiana (down 6.2 percent), Michigan (down 7.1 percent), New Mexico (down 10.2 percent), Ohio (down 7.9 percent), Virginia (down 10.4 percent), Washington State (down 8.4 percent) Wisconsin (down 6.7 percent)

*read Scott Jaschik's Historic Declines Inside Higher Ed, 01.2010
Indeed, today's students are often the hyper-connected and information is available to them for consumption in many forms. But, those aren't the only differentiators. Students now bear new financial challenges, which impact their ability to attend traditional universities like traditional students, according to a recent study released by Public Agenda of the Bill & Melinda Gates foundation: 45% of students in four-year schools work more than 20 hours per week, 6 in 10 students attending community colleges work more than 20 hours per week and more than 25% work more than 35 hours per week, and 23% of college students have dependent children.
American colleges and universities have a history of iterating under pressure, most obviously in the 20th century redefining admissions standards for women, minorities, working class students, those students with disabilities, veterans, and more. Colleges and universities have likewise been challenged (at times fiercely, and especially by the new historian movement of the 60s and 70s) to overturn core curricula to newly discovered truths (please read Lawrence W. Levine's Opening of the American Mind).
Those students who have found themselves burdened by college loan debt or simply priced out of the higher education market have formed a new underclass, and from within this predicament the internet, spread of the open content movement, and sheer ease of peer-to-peer sharing models offer alternatives to a life without access to higher education. If this disruption even faintly resembles what we've seen happen to the music, video, TV, you can plan on bearing witness to a major upheaval characterized by the spirit of an insatiable appetite to learn.
MP3s and iPods proved just how freely music could flow. Before Google scanned and digitized 7 million books and Wikipedia users created the world's largest encyclopedia. Before YouTube Edu and iTunes U made video and audio lectures by the best professors in the country available for free, and before college students built Facebook into the world's largest social network, changing the way we all share information. Suddenly, it is possible to imagine a new model of education using online resources to serve more students, more cheaply than ever before.
The opportunity to innovate on top of open content is there for the taking, and former DC public school teacher and lawyer, founder/CEO, Marco Masoni of Einztein is guiding perhaps the most ambitious undertaking, making waves, and happy to enact a measure of change to inspire universities, the professoriate, and students to become participates and leaders in the movement to make education affordable, accessible, and downright smarter with less red tape and politics, and way more transparency.
Einztein is a non-profit search guide, set up to support the process of searching and developing new models for what Kamenetz has coined the DIY-U movement. Positioned as a non-profit, Einztein provides a unique service in the online learning space organizing more than 2,000 complete courses across 35 categories in multiple media formats from over 100 early providers. An editorial team of PhD resident scholars curates the content for relevance and quality. This initial platform is just the tip of a much larger endeavor, forthcoming is a larger social network with premium features, Einztein Knowledge Network.
Though the Einztein Knowledge Network is still in stealth development, we believe that the exploding popularity of online education will lead to dramatic increases in online educational content. Not only will the format, quality and price range of the content vary widely, the content, itself, will be dispersed throughout the four corners of the web. Human curators and a streamlined platform for the social exchange of knowledge will be as vital to making sense of this new content as Google and Facebook are, respectively, to sorting information with sophisticated algorithms and sharing experiences via customizable community pages. --Marco Masoni
If Einztein's social knowledge network is as successful as its founders predict, the education
publisher paradigm will consequently experience a dramatic shift, much like blogs and Twitter have done for journalists, celebrities, and the internet famous, online courses will create a new cadre of academic rockstars. Like artists, designers, and programmers, who post the products of their labor online, academics and teachers of all sorts will find it necessary to include an online course in their repertoire.
Publish or perish as a benchmark of academic success and viability is likely to be rivaled by a new question: what have you taught online lately (and how engaging was it)? If you're a young-ish academic who can't articulate what you know for the online public, you might want to consider a different career because it's likely that you'll end up on the endangered species list. --Marco Masoni
Einztein is accelerating a shift to take place, much like we witnessed in the canon and curricula revolutions of the mid-to-late 20th century, and it's inevitable that universities will be forced to change. The simple fact that they have out-priced themselves makes it necessary that they find and experiment with new models. Otherwise those institutions might find themselves less relevant to students coming of age in the webcentric world, immersed in a hipper, smarter, more germane culture of open content.
By serving as a social platform to connect and share knowledge, Einztein is working to make learning more relevant and timely. We recognize how traditional education has increasingly become a sterile exercise that takes place in a vacuum, disconnected from real problems (and solutions). With its greater capacity for adapting and absorbing new information, online learning is poised to undergo a transformation, whereby the acquisition of knowledge and skills aligns itself more perfectly with the actual needs of society. --Marco Masoni
Will it even make sense to young people, especially those already under the influence of online self-education to pay 6-figures for what they can get in more relevant formats for free or greatly reduced prices online? As Masoni pointed out to me, someday soon the word "accredited" may become associated with "expensive."
Flexible modes of accreditation will emerge, enabling students to adopt a la carte approaches to their academic work. They'll have the option of cherry picking courses from a menu of educational providers and combine these together to earn an accredited degree. Think of how airlines started partnering with other companies, allowing customers to earn and use miles in a myriad ways like a form of currency. A similar phenomenon, inevitably, will transform the post-secondary education market. --Marco Masoni
I'm starting to imagine a world where Mark Zuckerberg creates a way for Facebook users to get badges for completing courses inside the platform and Larry Lessig of Creative Commons creates an equally powerful and culture-changing licensing structure that enables a form of "credit" for open course completion. How different is it really for a student who takes a course from a graduate teaching assistant to now take one with a similar peer-to-peer interaction online? Could NYC-based Fred Wilson of Union Square Ventures create an online business course with years of real-world lessons that was more credible, interesting, and affordable than a semester-long business course at a state university? I think YES! The "consortium" and resident guest scholars aren't new concepts at all, but creating a online connection to bring them together in a credit-driven program certainly is.
Professor David Wiley of Brigham Young University has often stated that "Universities who fail to recognize and respond to the technological and other changes occurring in the societies in which they are embedded will find themselves irrelevant by 2020." By 2020, if not sooner, universities will have indeed undergone dramatic change, and though perhaps not irrelevant for not heeding Wiley's or the other harbingers, they will be positioned differently. Some will have moved forward to integrate online course and degree programs with corporate partners. Others will suffer from troubling tuition programs, and Pay Per Click (PPC) marketing efforts already in motion will replace decades of brand-driven reputation to attract and "sell" to prospective students.
Most exciting for underpaid, overworked, and often dispirited educators, is that alongside Einztein model, new jobs in online education will emerge. Among them, course curators, the human filters and influencers who become known for their course discovery and recommendations. Around the course curators a culture of pitches and marketing will emerge, and much like technologists launch products at tech conferences, educators may begin launching online course experiences and content in similar venues, vying for attention, uptake, and publicity.
As the Internet evolves toward becoming a truly sophisticated medium for sharing knowledge, in addition to information, entertainment and experiences, there will be a greater need for people with subject matter expertise who can serve to guide online learners seeking new knowledge and skills. These guides or "curators" will be experts in amassing, evaluating and disseminating educational content for popular academic audiences. --Marco Masoni
There is a battle brewing against universities and the professoriate and American education, and alongside are the courageous endeavors to take on big, hairy, audacious goals, by organizations like Einztein and visionaries like Masoni. We are living and learning in interesting times! Let the battle brewing bravely begin!
Marco is a lawyer and educator with several years of management experience in the nonprofit sector. He combines a passion for education that began when he taught law to public high school students in Washington, D.C., with the savvy that comes from having successfully launched a user generated video startup in the pre-YouTube era. He foresees a day when anyone with access to a web connected device will be able to individually customize a college degree by combining world class courses from multiple providers at an affordable cost. As the father of three small children, his personal goal is to bring that day closer to reality through his work building Einztein into a leading online learning community.
Calling all HuffPost superfans!
Sign up for membership to become a founding member and help shape HuffPost's next chapter