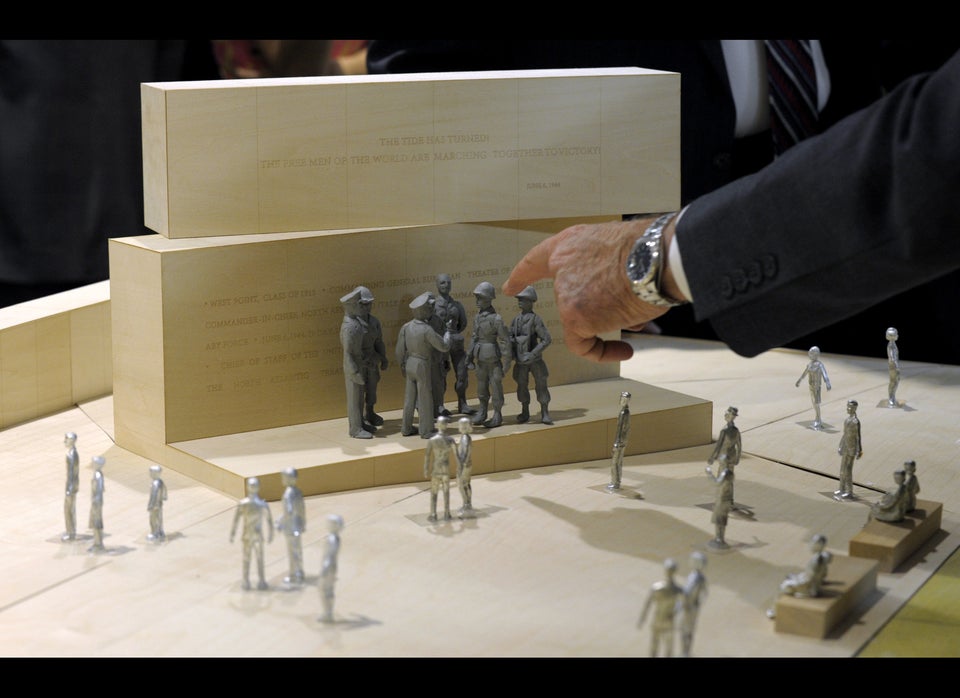 Eisenhower Memorial Proposed Design
By Emma DumainRoll Call Staff
The Eisenhower Memorial Commission would not receive any new funds in fiscal 2013 under a draft bill unveiled Tuesday from the House Appropriations Subcommittee on the Interior, Environment and Related Agencies.
Opponents perceive the move as another blow to the 11-member commission tasked with overseeing the realization of a monument to former president and World War II hero Dwight Eisenhower.
"[It] reflects a growing public concern over this controversial project. It shows that objections to the memorial's content, size and selection process are being heard," said Sam Roche, a University of Miami architecture lecturer and author who is acting as a spokesman for the coalition of activists opposed to the current design.
Rep. Rob Bishop (R-Utah), chairman of the House Natural Resources Subcommittee on National Parks, Forests and Public Lands, which has held a hearing on the project, said the decision not to further fund the commission was a sound one.
"I think it's wise until we can get more clarity on what the memorial should be," said Bishop, who indicated that he would recommend the Appropriations Committee withhold additional funding until "consensus" can be reached.
The Eisenhower Memorial Commission has been the subject of scrutiny in recent months, with critics alleging it is pushing ahead with a controversial design by renowned architect Frank Gehry despite opposition from, among others, the Eisenhower family.
Multiple meetings to approve the design for groundbreaking have been postponed as more stakeholders demand to see models and speak with the commissioners about the process used to select Gehry.
Earlier this month, Interior Secretary Ken Salazar requested another delay in order to have a private viewing of the design.
For fiscal 2013, the Eisenhower Memorial Commission had requested $59.8 million, the bulk of which would go toward construction costs. For fiscal 2012, it received roughly $32 million.
Rep. Jim Moran (D-Va.), the ranking member of the House subcommittee who has spoken out against Gehry's concept, suggested Tuesday that the decision to withhold money would send a message.
"It's a tight budget year and it seems to me, on something like this, you should have consensus before you commit any further money to it," he said.
The subcommittee's chairman, Rep. Mike Simpson (R-Idaho), is also among the eight Congressional lawmakers who were tapped to serve on the Eisenhower Memorial Commission. It struck many stakeholders as surprising that he would allow funding to be cut off for an ambitious undertaking in which he is significantly involved.
"I'd be lying if I didn't say I was surprised, but Mr. Simpson is a very rational person who understands he is under tremendous pressure to bring balance to everything, and if this is controversial, if consensus is not there … it's logical," Bishop said.
Simpson told Roll Call that he did not feel a tension between his two roles that would now seem at odds with one another.
"This was not a repudiation of what the Commission is doing," he said. "It's not at all. It's just, you know, we've only got so much money, and if we had another $50 million we'd put that in."
In fact, Simpson and Moran both said the commission still has close to $30 million left from its fiscal 2012 appropriation. Commission spokeswoman Chris Cimko also told Roll Call that the project was still funded through fiscal 2013, possibly because ground was never broken and construction deferred.
"They don't really need any more money this year," Simpson said, adding that he would also "like to see a resolution between the commission and the family."
Rep. Raúl Grijalva (Ariz.), ranking Democrat of the National Parks subcommittee, still said he is concerned about what effect the lack of new funding would have on the Commission's efforts and momentum.
"[Eisenhower] deserves it, there should be a place of honor for him and it has already been consigned by Congress," Grijalva said. "To zero it out is kind of a back door way to kill the project."
Grijalva said he is prepared to offer an amendment on the House floor to restore some of the funding.
Copyright CQ Roll Call, Inc. All materials herein are protected by United States copyright law and may not be reproduced, distributed, transmitted, displayed, published or broadcast without prior written permission of CQ Roll Call.
MORE FROM ROLL CALL

Related
Popular in the Community