Revolutionary sex toys just keep coming and coming.
First, there was a device called the Tenga VR that was introduced in 2013 to give humans the robotic handjobs they didn't know they craved.
Now comes the "eJaculator," a dirty device that allows a person to enjoy 3D porn while feeling every thrust while it happens onscreen.
The eJaculator comes in four parts: An app that is downloaded onto a smartphone; a headset that holds the phone and allows the user to see specially made porn scenes; a masturbation sleeve that works in conjunction with the headset; and a wireless remote control.
The end result is virtually the pinnacle in virtual sex, claims Steven Csanyi, the eJaculator creator.
"What you see is what you feel," Csanyi told HuffPost. "Whether that is a guy moving in and out of a girl or a woman jumping on top of the guy."
Csanyi is attempting to raise money for this virtual sex machine via an IndieGoGo campaign. Early adopters can get the eJaculator for $125 a pop. So far, nearly three quarters of the $48,000 goal has been raised in eighht days with 22 days left.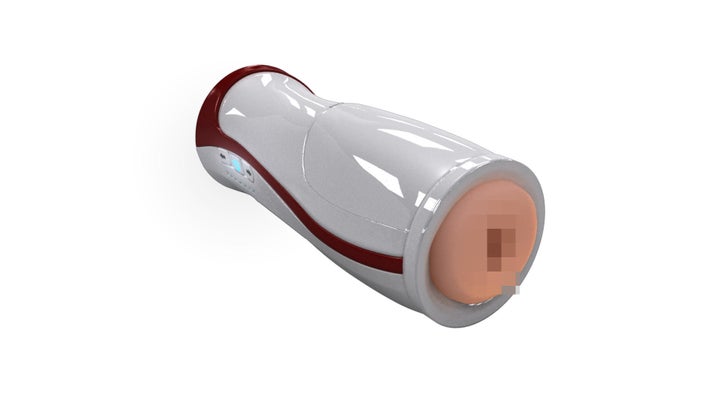 Opportunity, not necessity, was the mother of this invention, Csanyi said.
"I've lived in Shenzhen, China, for the past several years and it's the largest electronics market in the world," said Csanyi, who hails from Canada. "You can get any kind of component and I realized the technology to do this was there."
It helped that Csanyi had purchased the domain name ejaculator.com in 2012 and spent a couple years figuring how to take advantage of it.
When the eJaculator is finally available, consumers will be able to buy silicone inserts in two sizes, "Mainstream" and "Holy Shit," in shapes like mouths, anuses and even extraterrestrial sex organs, Csanyi told TechInAsia.
At first, the eJaculator will rely on small rubber feet to keep it in place at the edge of a hard surface. Csanyi hopes to develop a "desk mount" that can be attached to a variety of surfaces, and a "leg mount" that will allow it to be used while laying down.
Csanyi and his sex tech team are also talking with various porn producers to create POV content that will be suitable for the eJaculator.
To do that, there are various challenges, such as being able to synchronize the masturbation sleeve's movements to a performer's particular bumps and grinds.
Porn actress Veronica Avluv worries the eJaculator may inhibit spontaneity during sex scenes.
"It could be constrictive if the producers want a specific reaction as opposed to organic sexual expression," Avluv told HuffPost. "What are they going to do? Map my vagina?"
That's not happening -- yet.
Currently, the prototype virtual porn gadget relies on multiple cameras to create a 360-degree environment for the headsets. The physical sensations felt by the user will be programmed frame-by-painstaking frame after the fact.
However, eJaculator publicist C.J. Moore predicts the eJaculator experience will soon be close to the real thing.
"We are confident that within the next year or two, our devices will reach a level where, if you did a double-blind test with the actual talent physically entertaining in the flesh compared to our eJaculators, you would not be able to tell the difference," he told HuffPost.
That has Avluv slightly concerned.
"Damn! They are going to put all the hookers out of work," she laughed.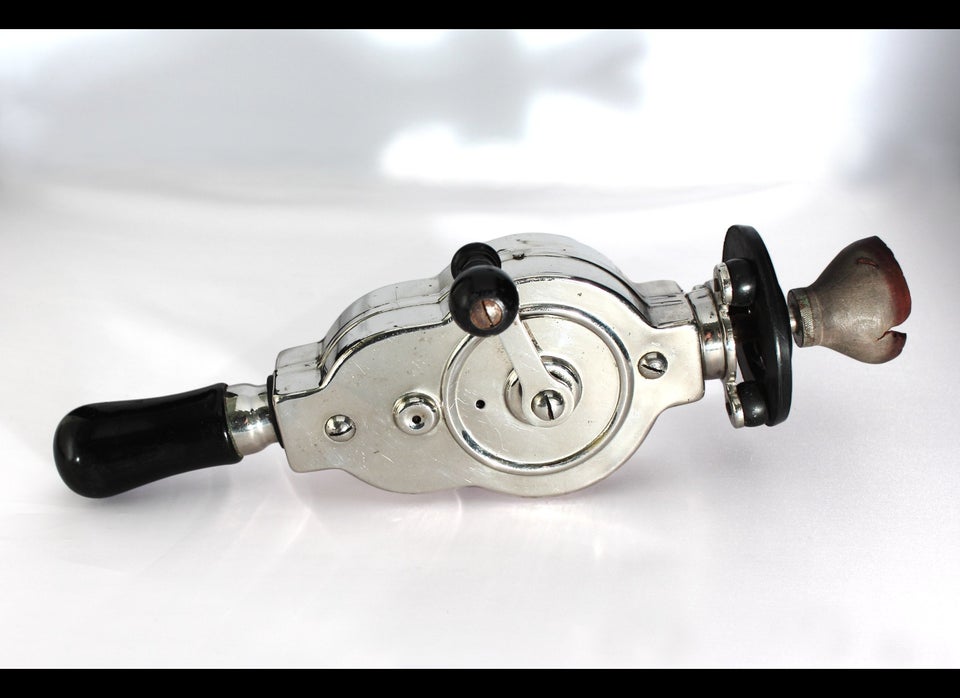 Antique Vibrators Get Their Own Museum In San Francisco
Popular in the Community