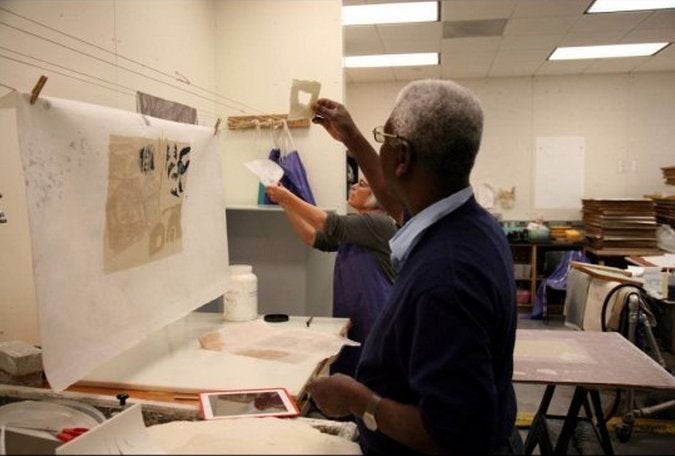 Last week I visited the artist El Anatsui at the papermaking studio of The Judith K. and David J. Brodsky Center for Innovative Editions at Rutgers University in New Brunswick, New Jersey. He had come to the United States from Nigeria to install his work at The High Line, the Diller Scofidio + Renfro and James Corner-designed park in New York City. But in the aftermath of Hurricane Sandy, with installation of his work postponed, Anatsui spent a week at the Brodsky Center experimenting with papermaking under the guidance of master papermaker, Anne Q. McKeown. There is a reason I had to go to Brunswick, apart from catching up with Anatsui on the state of the art world and reminiscing about our days at the University of Nigeria, Nsukka: Major stylistic turns in his work have frequently followed a short studio residency overseas that allowed him to experiment with a new medium or technique. At the 1980 Cummington Community of Arts residency in Cummington, Mass., he found the chainsaw's expressive power; and at the Cyfuniad International Artists Workshop in Barmouth, Wales (1999), he discovered how to translate the formal language of his well-known wood panel sculptures into the metal sculptures that would propel him to art world stardom. So, I wondered this time if the papermaking experience might trigger another shift in his work, and if so, I had to witness the moment.
Watching Anatsui work with McKeown, as he composed and executed his multi-layered paper pictures, I could not help but think back to many years ago at Nsukka. Then he was the master of "Africa Studio," and I was his assistant. The incompleteness of his instructions about a new work to be executed often left me with much anxiety and excitement about his inscrutable creative process. Here he was the student trying his hands on a medium that had long-held his fascination, thrilled about its possibilities; and McKeown, ever so gently opened to him her vast chest of knowledge, uncertain about what from it might catch his fancy. A great believer in the creative power of "play" and chance, I am still amazed at how much this still means to Anatsui. Later in the day (he continued work at the studio for another week), I asked him what his work with McKeown meant to him. (I wished I was her student!) He simply noted that he has just begun to understand paper and its language. He has no idea where the Brodsky Center encounter will take him, but he is sure he is not done with paper or with the lessons learned from the technique of layering and the optical effects of translucency.
In the meantime, I had the chance that evening to see images of the new metal works Anatsui will be showing at his upcoming exhibition at Jack Shainman (N.Y.), next month. I could not help but notice that his compositions are much more formless, the shapes of color more organic than ever. Moreover, he has vastly expanded his lexicon of patterns, which has allowed him to create greater range of textures and color effects. In a few of the works, the "burn" marks of the chainsaw and oxyacetylene flame return, but as if rendered with the painter's brush. These new works make me wonder what his work will look like if and when the lessons of his Brodsky Center experiments take full effect. Ah, the waiting game!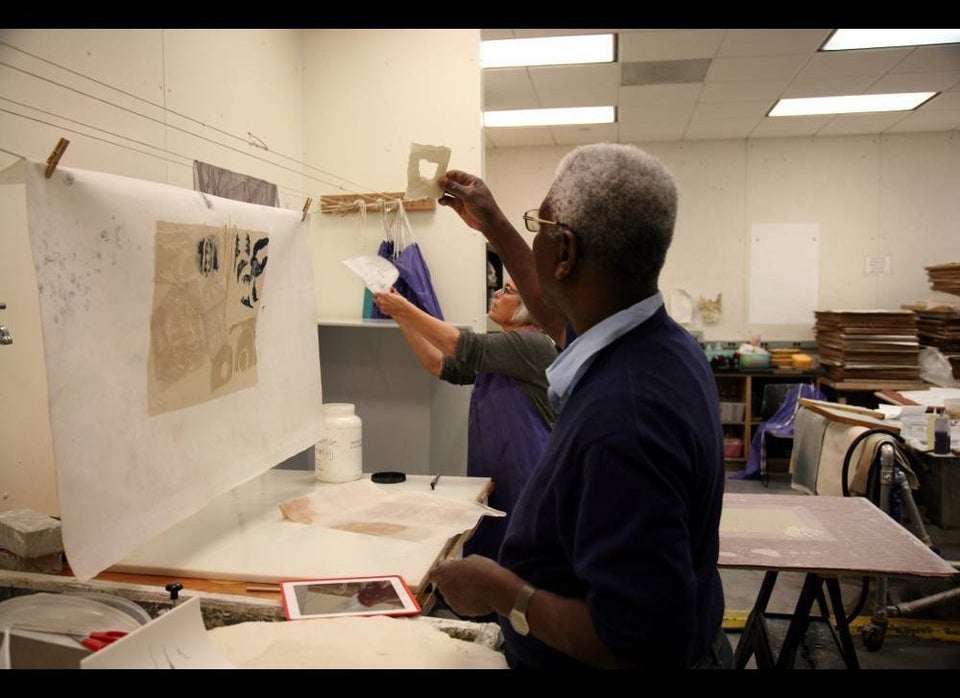 El Anatsui at the Brodsky Center for Innovative Editions
Related
Popular in the Community