If you've tried unsuccessfully to get a reservation at Spain's legendary El Bulli restaurant, dubbed by list makers as the best restaurant in the world, you're probably not alone. (It's only open six months a year.)
Now, however, you can stay in Chicago and still get a great taste of desserts El Bulli style at Nomi restaurant where the restaurant's new pastry chef, former El Bullian Andres Lara has just finished revamping the dessert menu. With their whimsical combinations of sweet and savory, untraditional textures, and fanciful construction, the desserts are an unambiguous homage to the revered but controversial three-star restaurant where Lara has logged more hours than probably anyone in Chicago.
.
"I don't want anything too pastry, too square, or too rectangular," Lara told me. As long as it's fresh, clean, and alive, when it leaves the kitchen, every dish can look different, "like a garden of roses," he said. He could not have summed up his desserts better.
Lara, a Chicagoan and graduate of the city's more traditional French Pastry School, is one of only a handful of pastry chefs every year to land an El Bulli "stage," the restaurant equivalent of an internship. But, in the case of El Bulli, some of the world's most experienced chefs spend unpaid time as El Bulli stages to assist culinary magicians like chefs Ferran Adrià and his brother Albert re-invent contemporary cuisine with the aid of a sorcerer's bag of newly concocted ingredients, chemicals, and technology.
Lara has had his culinary chemistry education. He knows how to transform ingredients like fresh spices into edible powders and oils with the help of devices like the Thermomix, an all-in-one blender, chopper, steamer, and stove whose professional use Adrià pioneered at El Bulli. And although he did a stint at Chicago's Vanille Pâtisserie after returning from El Bulli, Lara's heart remains with El Bulli.
He has stuck close to his El Bulli colleagues ever since leaving. Before signing on at Nomi, Lara spent a year in Copenhagen, hired by El Bulli's former sous-chef, to head the pastry operation at the much hyped, and coincidentally-named, Noma restaurant. He's heading back to Spain at the end of the summer for a brief sabbatical with his mentors.
Lara knows that El Bulli has its critics and anticipates the same criticisms - some fierce - that the Adrià brothers have sparked in the culinary world. Nevertheless, he insists, "There's nothing strange or irrational about the El Bulli style," in a refrain that's almost reflexive for the Adrià's followers.
"Everything comes from a memory with technology applied to it," Lara explains.
That's certainly true of a number of items on the dessert menu. Lara's Lemon Meringue, with its dollops of perfectly tangy lemon cream and swipe of nearby meringue, certainly comes close to evoking the American classic.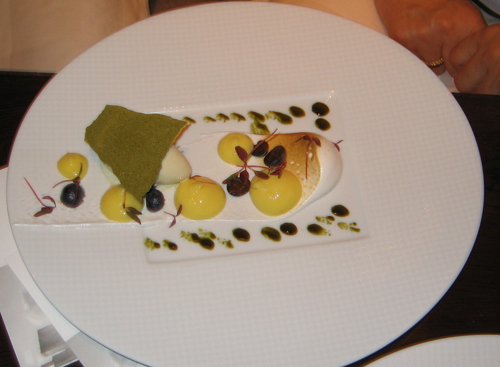 But that's where the similarity ends and the whimsy begins with this dish. A caraway sorbet, recalling one of the favorite flavors of Denmark, adds an unfamiliar but refreshing touch to a dessert that often hovers on the edge of saccharine. So does the green tea dacquoise, a thin wafer of infused meringue, which replaces the traditional crust.
Lara's riff on the traditional Black Forest cake strays a bit further from the familiar, but is delicious on its own terms. Mimicking a forest scene, the dish is assembled around a central "rock" containing an exquisite chocolate praline ice cream garnished with pickled cherries. It contains no obvious trace of cake and for Black Forest die-hards, may disappoint.
But it is Lara's almost pictorial Caramel Garden Roots that departs furthest into the realm of so-called "de-constructed" food for which places like El Bulli, the shrine of the so-called molecular gastronomy, are famous.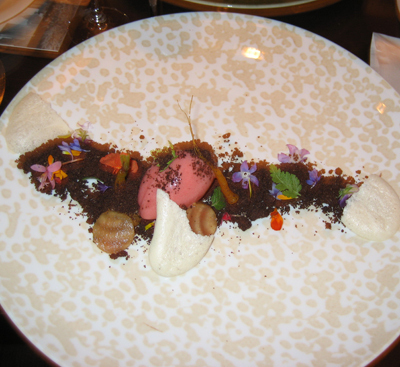 With rhubarb sorbet and licorice caramel sitting on a bed of coffee "soil" running the entire length of the plate, it is designed to look like roots coming from the ground. Of all the desserts, this visual fantasy succeeds the least well on the taste front, with the coffee soil overwhelming the dishes other flavors, especially the rhubarb.
Many people think - and hope - that the El Bulli style is a passing fad. In Chicago, Lara, who is accustomed now to picking his own herbs, is just getting started. He recently convinced Hyatt management to allow him to plant an herb garden for the restaurant on the hotel's patio, which was buzzing with diners when I was there recently. You'll have to return next summer to try his home-grown chocolate mint, lime basil, and lemon rose geranium harvest.
Popular in the Community