One of the world's most notorious criminals broke out of jail late Saturday night in an elaborate scheme that included a mile-long tunnel built for his getaway. Joaquin "El Chapo" Guzman, leader of Mexico's powerful Sinaloa drug cartel, is now on the run as authorities mount an immense manhunt for the criminal kingpin.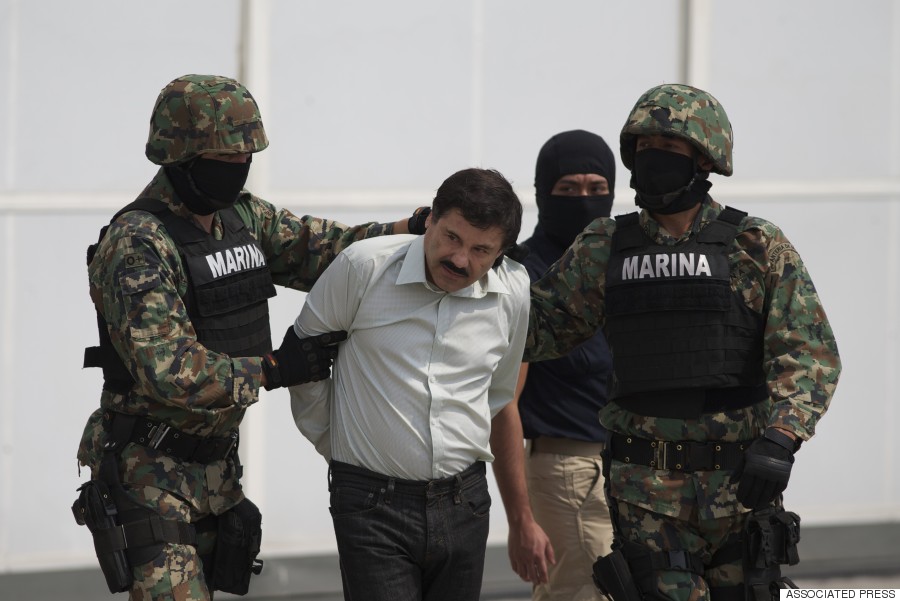 Joaquin "El Chapo" Guzman is escorted to a helicopter in handcuffs by Mexican navy marines at a navy hanger in Mexico City, Mexico, Saturday, Feb. 22, 2014. (AP Photo/Eduardo Verdugo)
He Was Captured Last Year
In late February of 2014, Mexican commandos captured Guzman without firing a shot when they found him and his wife asleep in a Mazatlan condominium. The leader of Mexico's most powerful drug cartel, Guzman was the nation's most wanted man and a towering figure in the crime world.
Rising from humble origins and sometimes cast as a Robin Hood-like figure, Guzman turned the Sinaloa cartel into a multi-billion dollar international operation that, as The New Yorker noted in a comprehensive profile of Guzman, is believed to be responsible for half of the illegal drugs that enter the U.S. from Mexico each year.
The arrest of the brutal and mysterious kingpin concluded a search that lasted more than a decade and spurred conspiracy theories over his capture -- and some protests calling for his release.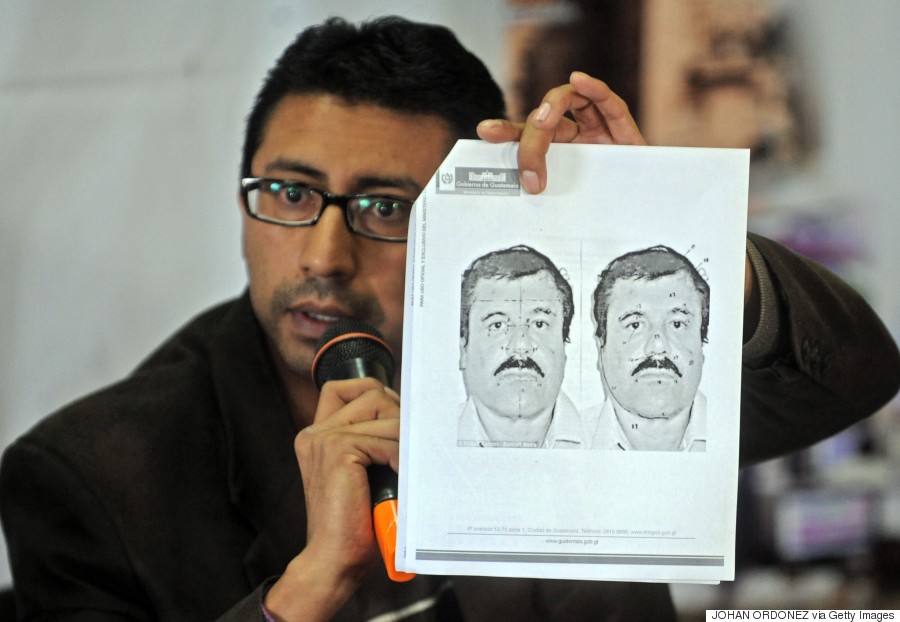 Guatemalan migration director Carlos Pac shows a picture of Mexican drug trafficker Joaquin "El Chapo" Guzman Loera during a press conference in Guatemala City on July 12, 2015. (JOHAN ORDONEZ/AFP/Getty Images)
This Isn't His First Escape
After his 2014 arrest, U.S. authorities sought to extradite Guzman to face charges ranging from murder to running a criminal enterprise -- a request Mexico denied. Concern over Guzman's potential escape was apparent even then, since the kingpin had infamously broken out of Mexico's maximum-security Puente Grande prison back in 2001.
Though accounts vary somewhat, Guzman allegedly snuck out of Puente Grande in a laundry cart. Numerous accusations of complicity on the part of prison staff followed the escape, with charges eventually filed against more than 70 workers there, The New Yorker reported.
This Latest Jail Break Was A Major Operation
A mile-long tunnel, measuring five-and-a-half feet high and two-and-a-half feet wide was built under the prison to facilitate Guzman's escape. The passage was illuminated, ventilated and had a specialized motorcycle inside it.
Guzman took the tunnel after slipping through a hole built into the shower area of his cell and climbing down a long ladder. The Sinaloa cartel is believed to have built sophisticated and extensive tunnels in the past for transport of drugs, using complicated drilling equipment to bore through miles of earth.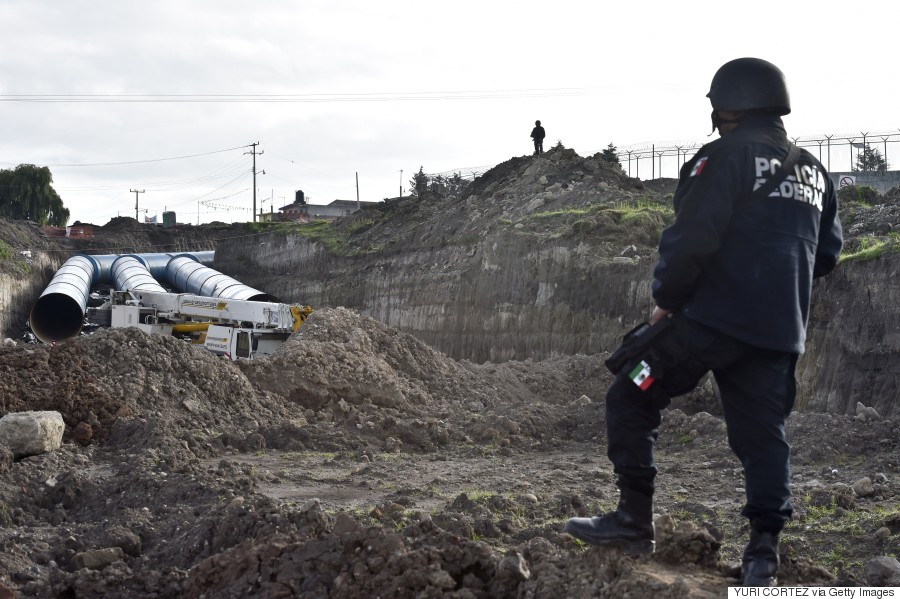 Policemen stand guard near a pipeline under construction by the Altiplano prison in Almoloya de Juarez, Mexico, on July 12, 2015. (YURI CORTEZ/AFP/Getty Images)
The Manhunt Is On
Authorities are in the midst of an enormous search for Guzman, who could return to full control of the Sinaloa cartel in as little as 48 hours, a former U.S. Drug Enforcement Administration official told The Associated Press. Guards at the prison have been detained for questioning and the nearby airport of Toluca was shut down. Neighboring Guatemala is also on high alert, with special forces watching the border.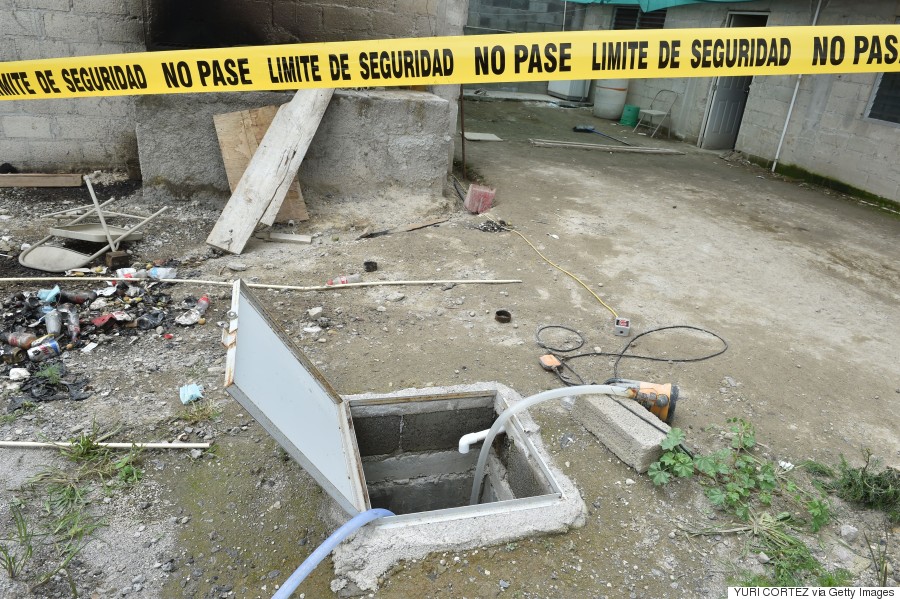 Yellow tape around the house at the end of the tunnel through which Mexican drug lord Joaquin "El Chapo" Guzman could have escaped from the Altiplano prison, in Almoloya de Juarez, Mexico, on July 12, 2015. (YURI CORTEZ/AFP/Getty Images)
Bad News For The Mexican Government
President Pena Nieto's administration touted Guzman's 2014 capture as a major success of the government's crime policy, and the implications of his escape are more than just humiliating. Pena Nieto had repeatedly assured critics that Guzman was completely secure in detainment. Now, having been proved wrong, the president could face significant backlash from U.S. officials who wanted him in custody north of the border.
The escape could bolster future extradition requests, an analyst told The New York Times, which would seriously undermine Pena Nieto's claims that he brought order to the country.
The sophisticated escape is also a testament to the reach and power of Mexico's cartels, which persist despite the government's long-running war against drug traffickers during which more 100,000 people have died.
REAL LIFE. REAL NEWS. REAL VOICES.
Help us tell more of the stories that matter from voices that too often remain unheard.
BEFORE YOU GO
PHOTO GALLERY
The Hunt For El Chapo