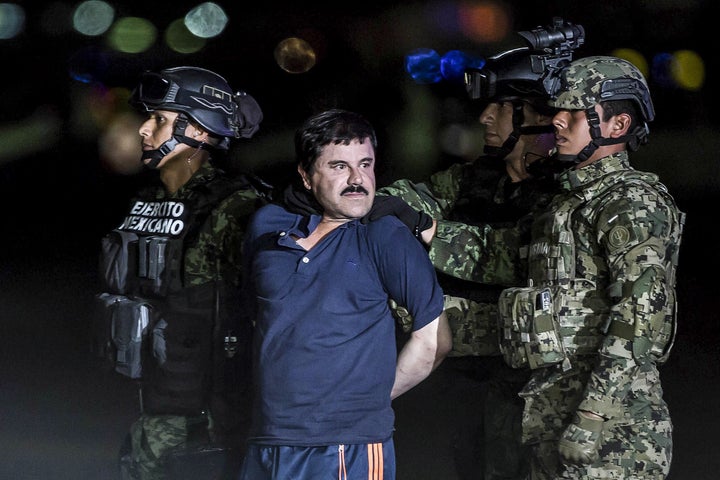 Drug lord Joaquín "El Chapo" Guzmán faces enough criminal charges in Mexico to keep him locked up for the rest of his life. But breaking out of prison isn't one of them.
After Mexican authorities recaptured him last month, Guzmán returned to the maximum-security Altiplano prison outside Mexico City from which he'd escaped through a tunnel back in July.
While his legal team fights off American efforts to extradite him to face drug trafficking charges in the U.S., Guzmán continues to serve the remainder of a 20-year sentence he hadn't finished before breaking out of jail the first time back in 2001. Another 10 criminal charges are winding their way through the Mexican courts for crimes ranging from drug trafficking and organized crime to importing firearms, according to one of his attorneys, José Refugio Rodríguez.
But though he's escaped from prison twice, that won't be added to his rap sheet.
"For the moment, he doesn't face any charges for escaping," Rodríguez told The World Post. "That conduct is not considered a crime [in Mexico]."
Article 154 of the Mexican penal code specifies that "a prisoner who escapes will not face any penalty," unless that person conspires to help others escape as well or commits acts of violence while busting out. The following article of the code notes that if an escaped prisoner is recaptured, the time he spent on the run won't count toward fulfilling his jail sentence. Good conduct accrued before the escape will also be nullified, the penal code says.
Mexican authorities have arrested more than a dozen prison guards and bureaucrats on allegations of facilitating Guzmán's escape through a hole in his shower that led to a one-mile tunnel. Audio from surveillance footage released months after his escape showed that the cell sounded like a construction site, yet prison guards failed to react.
Josh Bowers, a professor of law at the University of Virginia, said Mexico's treatment of escaped prisoners contrasts sharply with that of the United States.
"I'm shocked by that," Bowers told The WorldPost. "There's no crime you want to try to deter more than escape. If it's not a crime, what's to keep a person from trying and trying again?" (Bowers later said he had overstated the case, citing many other crimes that society ought to deter, like murder and rape.)
While practice differs across U.S. jurisdictions, Bowers said escaping from prison is generally considered a crime under U.S. law. The model penal code, a document developed by legal experts and criminal justice professionals to provide a template of standards, suggests criminalizing prison escape and classifying it as a third-degree felony, he noted.
"I would be surprised if there were any jurisdiction in the United States that did not consider escaping from prison a crime," Bowers said. "Escape or the like is typically treated as a felony, and a felony is typically an offense for which the sentence is a year or more in prison."
Still, some other countries take an approach similar to Mexico's. German law also doesn't regard escaping from prison as a criminal offense, based on the logic that prisoners can't be faulted for trying to win back their freedom, according to a 1979 article in the California Law Review.
The current version of the German penal code doesn't specify that those who escape from prison won't be punished with jail time, like Mexico's does, but it also doesn't classify individual escapes as a crime like U.S. law does. Those who help people escape may face prison sentences in Germany, as may those who escape as the result of multiple prisoners teaming up.
Watch El Chapo loudly escape from prison in the video below.
UPDATE: Bowers later told HuffPost that he overstated the importance of deterring prison escapes, citing many other crimes that society ought to deter, like murder and rape.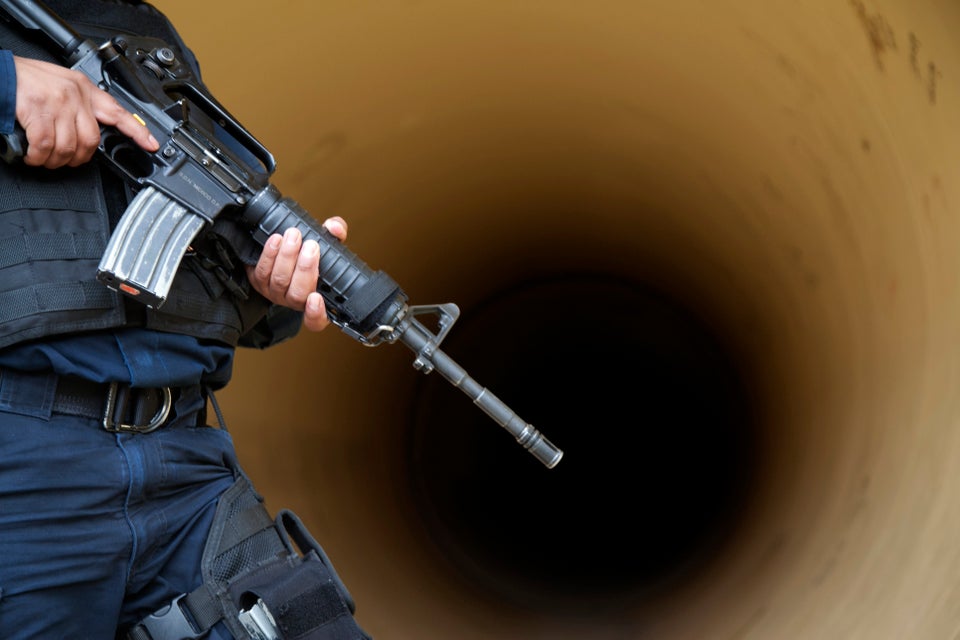 The Hunt For El Chapo
Related
Popular in the Community