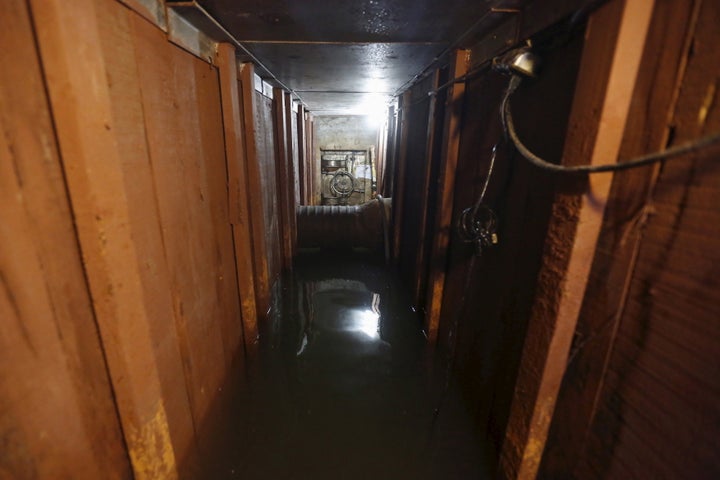 Mexican authorities still haven't closed up the hole that drug lord Joaquín "El Chapo" Guzmán Loera used to escape from a maximum security prison in July.
Secretary of the Interior Miguel Ángel Osorio Chong told reporters Wednesday that authorities were waiting for a judge's order to plug the hole at the end of the mile-long tunnel that leads to the shower of Guzmán's old cell.
"There is a process underway with respect to the tunnel," Osorio said, according to Mexican magazine Proceso. "It's moving in that direction at the moment, toward closing it. It's not closed yet, and the judge will decide when to do what has to be done. But it's being guarded."  
El Chapo was recaptured last week and placed once again in El Altiplano maximum security prison -- the same one he broke out of last year. 
NBC News reporters noted the tunnel remained open in a report published Tuesday. They saw several guards at the tunnel's entrance, one of whom said that no one was allowed to enter the tunnel without permission.
"There are plans to cover it," one officer told the reporters. "But they haven't done it yet."
It would seem like a basic precaution to take for an archcriminal who has escaped from prison twice. Authorities believe the Sinaloa cartel obtained the blueprints of the Altiplano prison to plan Guzmán's most recent escape.
Mexican authorities say they hope to extradite Guzmán to the United States, where he faces charges in multiple jurisdictions for drug trafficking and other crimes.
Former Mexican Attorney General Jesús Murillo Karam had said last year that Mexico would refuse to extradite Guzmán, but the Enrique Peña Nieto administration changed its position after the drug lord's July escape.
Read more: 
Calling all HuffPost superfans!
Sign up for membership to become a founding member and help shape HuffPost's next chapter