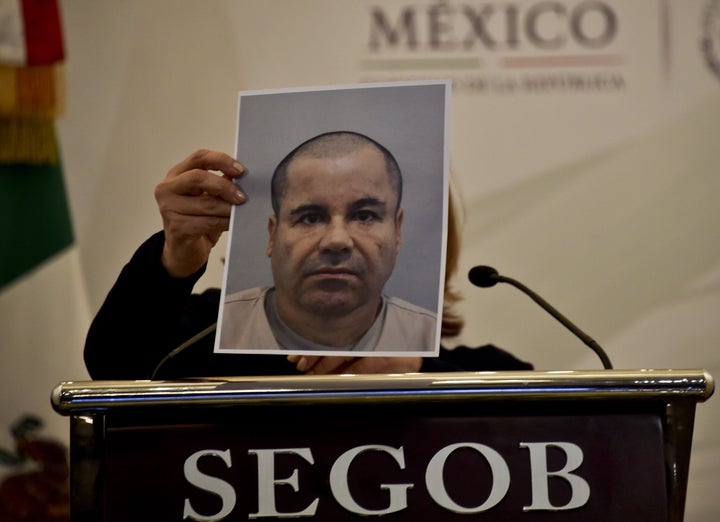 Jesus Alfredo Guzman likes to tweet a lot. Mainly, he likes to tweet pictures of big guns, fast cars, wads of money and his pet lion cubs. But above all, he enjoys goading Mexican authorities about the location of his father -- Mexico's most wanted man.
Alfredo is the 29-year-old son of Joaquin Guzman, also known as "El Chapo," one of Mexico's wealthiest and most powerful drug lords. El Chapo embarrassed the Mexican government with his second audacious prison break last month.
"Having fun here with you know who," Alfredo tweeted last week along with a picture of a man bearing an uncanny resemblance to his father, his face partly obscured by a giant yellow smiley emoticon.
A spokesman for Mexico's attorney general office said they were aware of the photo, without elaborating. Another Mexican official told CNN that he believes the photo does show the fugitive leader of the Sinaloa Cartel, although it's not clear when or where it was taken.
The location on the tweet was set as Costa Rica, although experts noted that Alfredo could have manually changed the location as a decoy, and that it could refer to either the Central American country or a town in Mexico of the same name. Even so, authorities in the nation of Costa Rica said they would investigate whether El Chapo had entered the country.
Alfredo retweeted the ensuing media furore with apparent glee, in between tweets laying into Donald Trump and defending El Chapo as a good father.
He and his 32-year-old brother, Ivan, have made a game out of taunting the authorities about their father on social media. They run multiple Twitter accounts, which several experts believe to be authentic.
The day after the 60-year-old drug lord vanished from maximum security jail, Alfredo tweeted: "My father just has to want it, and he escapes from prison."
"Drinking vodka with Ivan," Alfredo's Facebook status read the same day -- "Cheers to [Mexican President] Enrique Pena Nieto."
Ivan had been dropping hints of his father's impending escape for months. "I promise that soon the General will be back," he wrote in one post earlier this year.
Like other cartel members across Mexico, the brothers use social media to advertise their wealth and bravado, to threaten their enemies, and to communicate with supporters and local communities, according to Zulia Orozco, who studies the cartels' use of social media. El Chapo's sons are flaunting his escape to boast that they are above the law, but many Mexico experts say the lines are even blurrier, pointing to the evidence of collusion between cartels and law enforcement in Mexico.
Despite their prolific social media presence, El Chapo's sons have so far skirted the law. Ivan was arrested on money laundering charges in 2005, but his sentence was revoked by a judge who was later suspended on suspicion of taking bribes from the cartels. Mexico announced the arrest of Alfredo in 2012, but authorities later said they had the wrong guy.
Mexican authorities have previously used social media posts to track down other cartel members, and the elder generation is much more cautious online. "El Chapo, El Mayo and other drug lords are terribly discreet, but not so much those who surround them, mainly their children and nephews," Guillermo Valdes, the former head of Mexican intelligence agency CISEN, told El Pais. "It is possible that the younger generation see themselves as untouchable, or perhaps they simply do not care," explains Insight Crime, a foundation tracking organized crime in the Americas.
Mexico has made seven requests to Twitter for account information since the beginning of the year, but a Twitter spokesman said the company would not comment on specific accounts or government requests.
Ivan took over the reins of the cartel during his father's incarceration, following orders communicated by his father from behind bars, according to U.S. officials. Alfredo is also believed to play a role in the cartel's operations, and both sons are wanted by U.S. authorities. El Chapo is believed to have at least six children from at least three different mothers.
A few months after the drug lord was jailed in 2014, U.S. officials received information that Ivan had hired ex-military advisers to hatch his father's next escape plan. "Good things come to those who wait," he wrote on Twitter the week before his father disappeared from inside his cell.
El Chapo was on the run for over a decade after his last prison escape in 2001. Over 70 staff members at the prison, including its director, were arrested after his escape. He was eventually re-captured last year, and Mexico's government vowed they would not let him slip through their fingers again.
He was last seen on July 11 on the CCTV camera in his cell, walking into the shower area. Then, he vanished. Authorities later discovered a ventilated, spacious tunnel from his cell, which they estimated would have taken one year to construct. El Chapo, who spearheaded the use of drug tunnels under the U.S.-Mexico border, is an expert in such projects. On Monday, officials said two secret service agents at the prison and two control room employees meant to monitor his cell had been charged with aiding his escape.
While his sons taunt the authorities, El Chapo is still missing. He was reportedly sighted at a Mexican hospital last week, but Mexican troops who flooded the scene turned up nothing. "It was worth waiting so long to achieve the goal," a Facebook account linked to Ivan posted the morning after Guzman broke out of jail. "A Guzman is not to be locked up."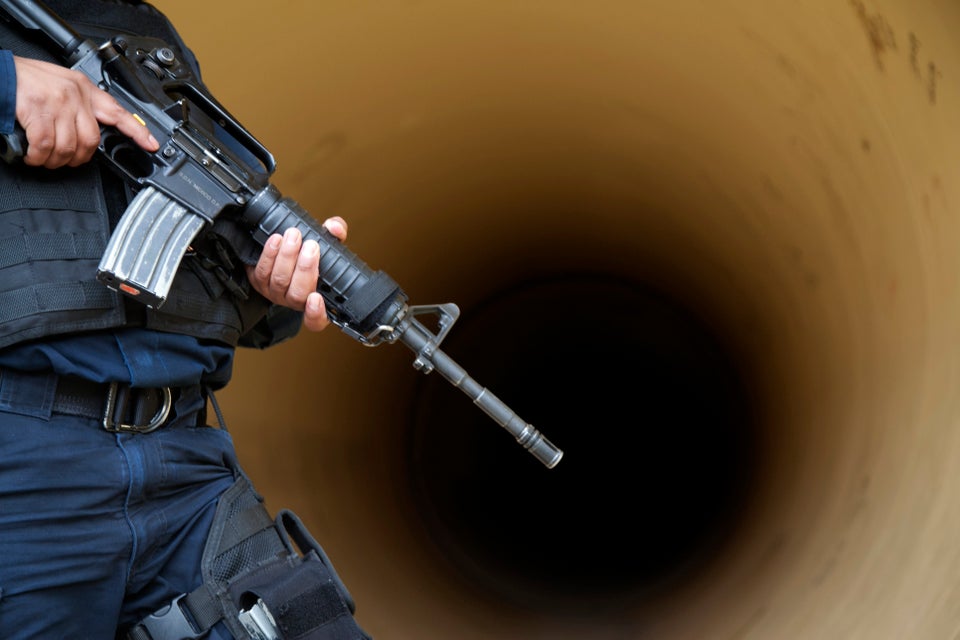 The Hunt For El Chapo
Related
Popular in the Community